Israel moves forward with new settlements in West Bank, east Jerusalem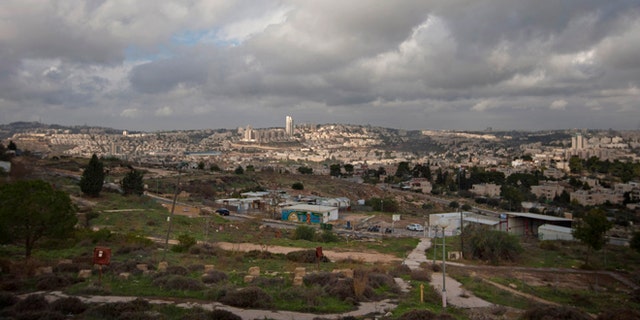 JERUSALEM – Israel on Wednesday pressed forward with the construction of thousands of new homes in the West Bank and east Jerusalem, part of a series of new settlement plans that have drawn worldwide rebuke, including from its closest ally, the United States.
Separate planning committees on Wednesday gave approval to a new settlement in east Jerusalem, the first to be built in the contested area since 1997, and construction of 1,000 new homes in existing settlements across the West Bank.
The announcements drew harsh Palestinian condemnations and were likely to heighten the already rising tensions between Israel and its allies in the West. The Palestinians claim the West Bank and east Jerusalem, captured by Israel in 1967, as parts of a future state. The international community opposes all Israeli settlement in the two areas.
Prime Minister Benjamin Netanyahu, speaking at a gathering of foreign diplomats, refused to back down.
"All Israeli governments have built in Jerusalem. We're not going to change that," he said. "I want you to ask any of you to imagine that you would limit construction in your own capital. It doesn't make sense," Netanyahu said.
Israel annexed east Jerusalem, home to sensitive Jewish, Christian and Muslim holy sites, after the 1967 war in a move that has never been internationally recognized. While Israel claims the entire city, the Palestinians want to make east Jerusalem their capital. The battle over east Jerusalem is perhaps the most intractable and explosive issue in the Israeli-Palestinian conflict.
Netanyahu authorized the construction of thousands of new settlement homes in response to the U.N. General Assembly's recognition of Palestine in the West Bank, east Jerusalem and Gaza Strip as a nonmember observer state. Israel rejects a full pullback to its 1967 lines and accused the Palestinians of trying to bypass negotiations with the move.
The Palestinians say they turned to the U.N. in frustration after four years of deadlock in Mideast peace efforts. The Palestinians have refused to negotiate with Israel while settlement construction continues, saying the building in territories they claim is a sign of bad faith.
"The Israeli settlement enterprise in the West Bank and east Jerusalem is killing the two-state solution, and we are taking the battle against this enterprise to the international community," Palestinian Foreign Minister Riad Malki said Wednesday.
Israeli critics have accused Netanyahu of backing the plans to pander to hard-line voters ahead of Jan. 22 parliamentary elections. While Netanyahu's Likud Party holds a firm lead in opinion polls, they also show him losing support to even harder line religious and nationalist parties.
Construction on most of the projects could be years away, making it easy for Netanyahu to court voters while leaving open the possibility of putting the projects back on hold after the vote.
But his strategy has antagonized Israel's allies, and the fierce international reactions appear to have caught Israeli officials off guard.
The United States, using especially harsh language, on Tuesday accused Israel of engaging in a "pattern of provocative action," and the U.N. Security Council debated the matter on Wednesday. There was no vote.
Palestinian officials predicted that the entire council except the U.S. would condemn the settlements. Despite its opposition to the settlements, Washington has a long history of using its veto power to protect Israel at the U.N., saying that such condemnations do not promote peace.
In Wednesday's decision, Jerusalem Planning Committee approved 2,612 housing units in the new east Jerusalem settlement called Givat Hamatos, said Jerusalem City Councilor Pepe Alalu.
The area, inhabited by a few dozen Jewish and Palestinian families who live in rundown trailers, would be the first new settlement to be built in east Jerusalem since 1997. Alalu, who voted against the project, said construction could begin in a year.
Critics consider Givat Hamatos a particularly problematic area to develop because, along with another contentious plan in an area known as E-1, it would hinder access to east Jerusalem from the West Bank. The Palestinians claim east Jerusalem as the capital of their future state.
In a separate move, Israel's Housing Ministry said it would soon issue tenders for 1,000 new homes in a number of settlements, some deep inside the West Bank. Those settlements are Givat Zeev, Beitar Illit, Karnei Shomron, Geva Benyamin, and Emanuel.
Seeking bids for construction is the final stage of approval, and Hagit Ofran of anti-settlement watchdog group Peace Now estimated it would take six months to a year before building begins.
The projects approved Wednesday were all among the plans announced by Netanyahu following the Nov. 29 U.N. vote.