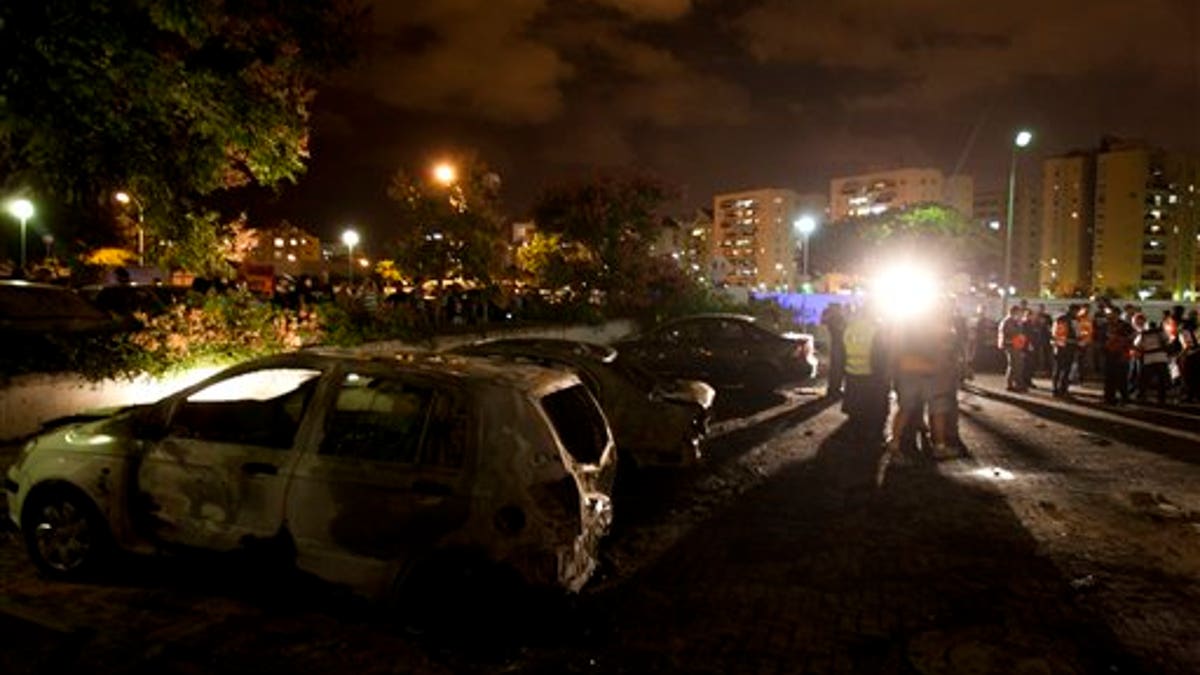 JERUSALEM – Israel has authorized its military to take all necessary steps to stop rocket fire from Gaza, including a ground operation, an Israeli military official said Tuesday, as Egypt worked on a truce and said Israel had agreed to delay stepping up its response.
The Israeli government decision stopped well short of ordering tanks to roll into Gaza, and it appeared unlikely that would happen, as rocket fire all but stopped over the past day. The official said the decision authorized the military to act in accordance with the severity of Palestinian attacks, meaning that a ground offensive would be ordered only after massive rocket fire.
The Israeli official spoke on condition of anonymity because no statement was made.
Egypt's ambassador to the Palestinian Authority said Tuesday that Egypt obtained an Israeli pledge to hold its fire while efforts were under way to persuade Palestinian militants to stop the rocket barrages.
This is the third case of Egyptian diplomatic involvement with Israel over the last month, after two prisoner exchanges. Israel has been concerned that Egypt's new rulers might toughen their line on Israel in accordance with widespread public dislike of the Jewish state despite a 1979 peace treaty. Egypt's diplomatic activity might calm those concerns.
The sudden spike in violence began when militants in Gaza started firing salvos at Israel late last week, and Israeli retaliated with airstrikes. One Israeli civilian and at least 10 Palestinian militants were killed in the worst violence on that front in months.
The confrontation threatened to spiral into a larger conflict, and Egypt stepped in to try to restore calm.
"In the past few hours, Egypt saved Gaza from severe destruction and succeeded in securing Israeli restraint to give Egyptians time to reach a cease-fire agreement with Palestinian factions," Egypt's ambassador to the Palestinian Authority, Yasser Othman, told The Associated Press Tuesday.
On Monday, Netanyahu warned from the podium of the Israeli parliament that Israel would operate "vigorously and resolutely" against those who would threaten its security.
"A security philosophy cannot rely on defense alone," Netanyahu said. "It must also include offensive capabilities, the very foundation of deterrence."
Mark Regev, a spokesman for Israeli Prime Minister Benjamin Netanyahu, said Israel's position has not changed.
The military said there have been no Israeli airstrikes since around midnight Monday. Two rockets were fired from Gaza during that time. The relative calm prevailed through Tuesday afternoon.
The rocket attacks have disrupted life in southern Israel, forcing schools to close. About 1 million Israelis live within range of rockets from Gaza.
The Islamic Jihad faction was behind the initial rocket attacks. On Sunday the militant faction agreed to stop the violence if Israel also did. Rocket fire that drew retaliatory Israeli airstrikes persisted afterward, but it was claimed by a different militant group, the Popular Front for the Liberation of Palestine.
Gaza's ruling Hamas group, which has killed hundreds of Israelis in past violence, has not directly been involved in the attacks. Israel holds Hamas responsible for all violence from the territory.
In another development, Israel announced late Tuesday that it has ordered accelerated construction for Israelis in east Jerusalem, the section claimed by the Palestinians as their capital, and nearby West Bank settlements.
A statement from Prime Minister Benjamin Netanyahu's office said 2,000 new apartments would be built. Actual construction would be years away because of planning and permit procedures.
An Israeli official said the new construction is an answer to recent unilateral moves by the Palestinians. He was speaking on condition of anonymity due to the sensitivity of the issue.
Palestinians are seeking recognition of a state by the U.N. On Monday, a key U.N. body, UNESCO, accepted Palestine as a full member. Israel insists creation of a Palestinian state must be the result of negotiations.
Palestinians demand an end to all construction in Israeli settlements before peace talks can resume. Israel rejects that as a precondition.
Announcements of new Israeli building projects in east Jerusalem regularly draw stiff criticism from the Palestinians. the U.S. and Europe.