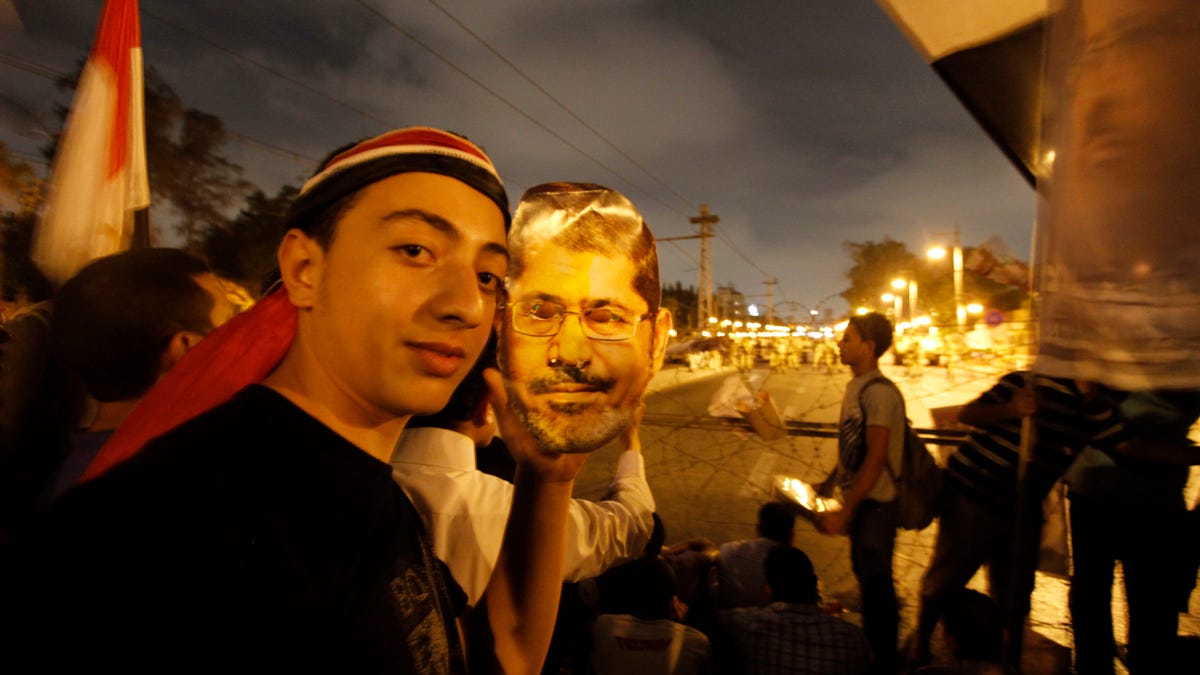 CAIRO – Islamist lawmakers in Egypt's disbanded upper house of parliament demanded Saturday the army reinstate ousted President Mohammed Morsi, and called on other legislatures around the world not to recognize the country's new military-backed leadership.
Morsi's supporters, including his Islamist allies, remain steadfast in their rejection of the popularly supported military coup that toppled Morsi nearly two weeks ago. They have staged a series of mass protests in Cairo to push their demands, and are vowing to stay in the streets until Morsi is returned to office.
Speaking at a mass rally staged by Morsi's Muslim Brotherhood in Cairo, the two dozen former parliamentarians, all Islamist members of the Shura Council that was dissolved by court order, accused the military of attempting to restore a "corrupt and dictatorial" regime.
Morsi was Egypt's first freely elected president, succeeding longtime autocrat Hosni Mubarak who himself was toppled in 2011. The military ousted Morsi after millions of protesters took to the streets calling for his removal.
The military has brushed aside the Brotherhood's demands, while the new army-backed administration of interim President Adly Mansour has forged ahead with a swift timetable to amend the now suspended constitution, drafted under Morsi, and to hold parliamentary and presidential elections by early next year.
While the presidency has floated offers of reconciliation with the Brotherhood, authorities are simultaneously clamping down the group. So far, five of its top leaders have been arrested, and arrest warrants have been issued against the group's top leader and nine other Islamists. Islamist TV networks, meanwhile, have been shuttered.
Prosecutors on Saturday said they continue to investigate allegations that Morsi and 30 other Brotherhood leaders escaped from prison in 2011 with help from the Palestinian militant group Hamas. That jailbreak occurred amid the uprising that toppled Mubarak.
Street violence has largely ceased since Monday's deadly clashes that left more than 50 Muslim Brotherhood supporters dead and hundreds wounded after they were holding a sit-in in front of Republican Guard forces club. The Brotherhood accuses the military of opening fire on protesters, while the army says Morsi supporters instigated the violence.
The Brotherhood has remained adamant in its opposition to the new political landscape, and shows no sign of backing down in its showdown with the military-backed interim leadership.
On his Facebook page, Mohammed el-Beltagi, leading Brotherhood member said that "those who want reconciliation, our arms are open ... but those who want reconciliation, do not fire bullets ... they say they made a mistake and tell the killer to step aside."
Morsi's supporters have pledged to keep protesting until the military meets their demands -- the reinstatement of Morsi, the Islamist-drafted constitution and the Islamist-dominated legislature -- and leading Brotherhood member Essam el-Arian called for another mass rally on Monday.
The deposed president's supporters have been holding a sit-in in front of the Rabaah al-Adawiya mosque in eastern Cairo for two weeks. The rally has taken on a more permanent air, with tents going up as well as bathrooms being constructed behind brick walls to provide some privacy. Army soldiers stand guard from a relative distance, staking out positions about a kilometer (half-mile) away to try to avoid any direct confrontation.
On Friday, tens of thousands of Morsi supporters, many of them from the provinces, turned out for a mass protest in front of the mosque, filling up the large intersection and spilling some ways down the boulevards. Witnesses said that military helicopters dropped leaflets on the crowd encouraging them to leave the sit-in.
"The measures which have been taken were not targeting you and were not meant to belittle your role and your status," the leaflets said. "We assure to you that there will be no manhunt for those who want to end the sit-in and return to his home."
It also warned them not to approach nearby military buildings.