ISIS vows Eiffel Tower drone attack in new poster
ISIS has threatened a drone attack on the Eiffel Tower with a chilling new poster.
The threat comes just four months after Paris installed a 10ft anti-terror wall around the landmark, using bulletproof glass to protect visitors from potential attacks.
The red and black poster shows a drone carrying a sizeable object while flying next to the Eiffel Tower, which is framed in crosshairs.
CLICK HERE FOR MORE FROM THE SUN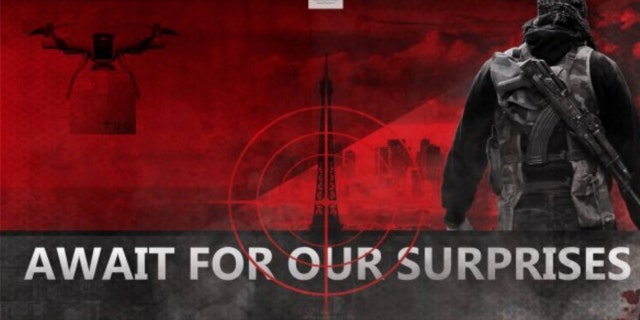 A jihadist is depicted walking nearby.
The poster warns: "Await for our surprises."
ISIS-LINKED EXTREMISTS IN NIGERIA KILL 2ND OF 3 ABDUCTED HEALTH WORKERS
The propaganda piece was put out by ISIS-affiliated media group Muharir al-Ansar, which circulates terror material in English.
ISIS BOOB-TRAP MASS GRAVES OF SLAUGHTERED INNOCENTS TO BLOW UP GRIEVING RELATIVES
This story originally appeared in The Sun. For more from The Sun, click here.