ISIS' retreat to Mosul brings surrounding villages back to life, reveals extensive tunnel system
ON THE OUTSKIRTS OF MOSUL, Iraq – As the noose tightens around the ISIS stronghold of Mosul, there is a flurry of activity in the city's surrounding villages, where the black-clad jihadist army's retreat has revealed destruction, booby traps and underground warrens where terrorists cowered under coalition airstrikes.
FoxNews.com recently toured the various frontline villages of Mosul, where around 30 families of the minority Shabak and Kakayi people have returned four months after their homes were liberated from ISIS. Like other villages on the Nineveh Plains just miles from the city's center, the longtime inhabitants are trickling back in to rebuild their homelands – and lives. Even though that means their families – including their young children – are living on the frontlines amid one of the most highly-anticipated battles to recapture a city from jihadist hands.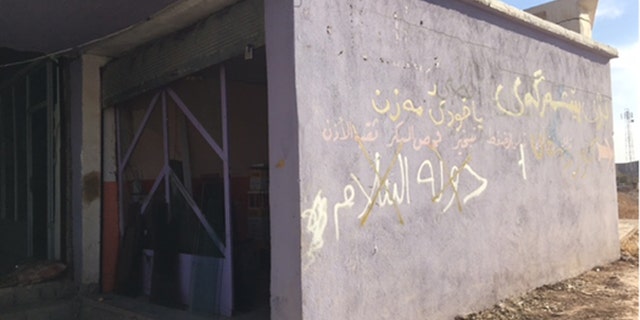 "This is where I was born and raised," said Falah, a Kakayi, who returned three weeks ago with his wife and two daughters, aged six and four. "This village belongs to us, to our grandfathers. That is why I came back. It's a strange feeling, an exciting feeling."
But since returning, his youngest daughter Raiffifa has stopped speaking. She refuses to stand, and must constantly cling to someone, whimpering softly.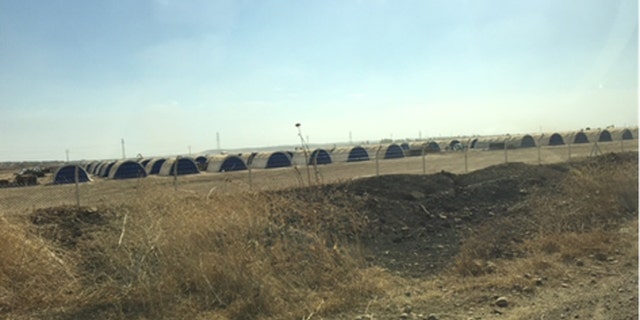 "We think she has a sickness maybe," her dad whispers. "She has shock from coming back."
Still intact in all of the homes ISIS occupied are the intricate and expertly constructed underground tunnels leading to the front line in the battle with Kurdish Peshmerga fighters. The labyrinth allowed fighters to move from their commandeered quarters to the long trench while protected from routine airstrikes.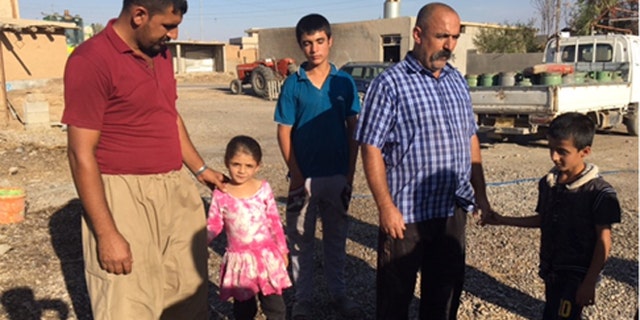 The tunnel opening is a round hole less than three feet wide, requiring a jump down it's roughly 5-foot, 10-inch height. The tunnel contains rooms built to the side and still strewn with odds and ends – pillows and blankets, slippers, cut electrical cords and a phone charger, a broken fan, bottles of engine oil and antiseptics, cans of food and yogurt tubs, water bottles and even empty cigarette packets.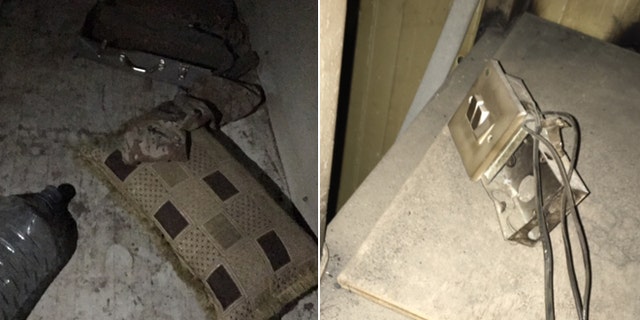 "ISIS might tell everyone else smoking is haram (forbidden)," observed the guiding Peshmerga soldier. "But their fighters did what they wanted."
Barricades block the remaining, long and interwoven tunnel, the soldier explaining the rest has "not yet been cleaned" of explosives in a job that will take "many many months."
And for the families who have already come back, the tunnels connecting their homes serves as a chilling reminder of who and what stole their space. The Kakayi are part of the ancient Yarsan or Ahl el-Haqq (people of truth) and much like the Yazidis, were threatened with annihilation after ISIS branded them "infidels," and forced them to flee soon after Mosul City was overrun in June, 2014.
But given the families' premature return, there is no running water, no electricity. They all share a well for water and a small generator, which gives them enough electricity - lasting just two hours a day - to cook some food and charge their phones. The men take turns guarding the roof overnight to watch for any potential ISIS infiltrators, and the parents are on constant high alert to ensure the children don't cross the road into fields pocked with landmines.
Five of their Kakayi shrines were bombed into oblivion. Only one business has re-opened. It used to be a medical clinic, and is now a window repair shop as some start repairs. Graffiti still adorns the side walls. The black words "Medical Clinic" were written over in gray with "Islamic State Remains," but most recently "Viva Peshmerga" was scrawled over that in gold paint by locals.
Falah's other brother Dyab frequently stops by with his young family. He says he can't yet return to his home in the neighboring town with the ominous name Wardak, but comes to visit and help out with house rebuilding. Their third brother Ahmed, however, returned 18 days ago with his four children, aged five to fifteen, despite his house being partially damaged in multiple rocket attacks.
"We couldn't keep paying rent anymore," Ahmed explained helplessly.
The brothers once all had good jobs as former soldiers turned truck drivers and construction contractors, with one proudly showing off his service to U.S. troops during the war. But they have all been rendered jobless by the ISIS onslaught - now with nothing to their name.
"ISIS looted everything, everything," one of Ahmed's sons says in fluent English, as he guides us through his home which still chillingly bears the graffitied name of the fighter - Abu Janat- who seized it. "Even the doors and windows."
Dyab had the opposite problem – he said when he returned to his house it was filled to the brim with beat up furniture and random objects.
"My house was the headquarters," he said. "So they threw everything in there. I had everyone come in. Some of our neighbors were able to recognize their things and take them back."
But along the roadside are remnants of the horrors that not too long ago plagued this very parcel of the Mosul, still a disputed land area between the Bagdad Central Government and the Kurdish Regional one. Entire villages decimated by airstrikes and heavy fighting, charred skeletons of cars and buses, and a mere barbed wire fence to barricade vast expanses of land not yet cleared from the last 30 years of chaos caused by the hard-line Islamist outfit.
Miles of trenches have recently been built to keep the car bombers from breaching the Peshmerger controlled area. But the alert remains high.
"At one point," the accompanying Kurdish official, who requested anonymity, told FoxNews.com. "ISIS even had armored lifts it was using to put bombs inside the ditch."
A handful of laborers have already begun rebuilding the nearby road adjoining Al-Khazer Bridge. At one point it served as a key supply route for ISIS between towns, before becoming a casualty of a targeted airstrike.