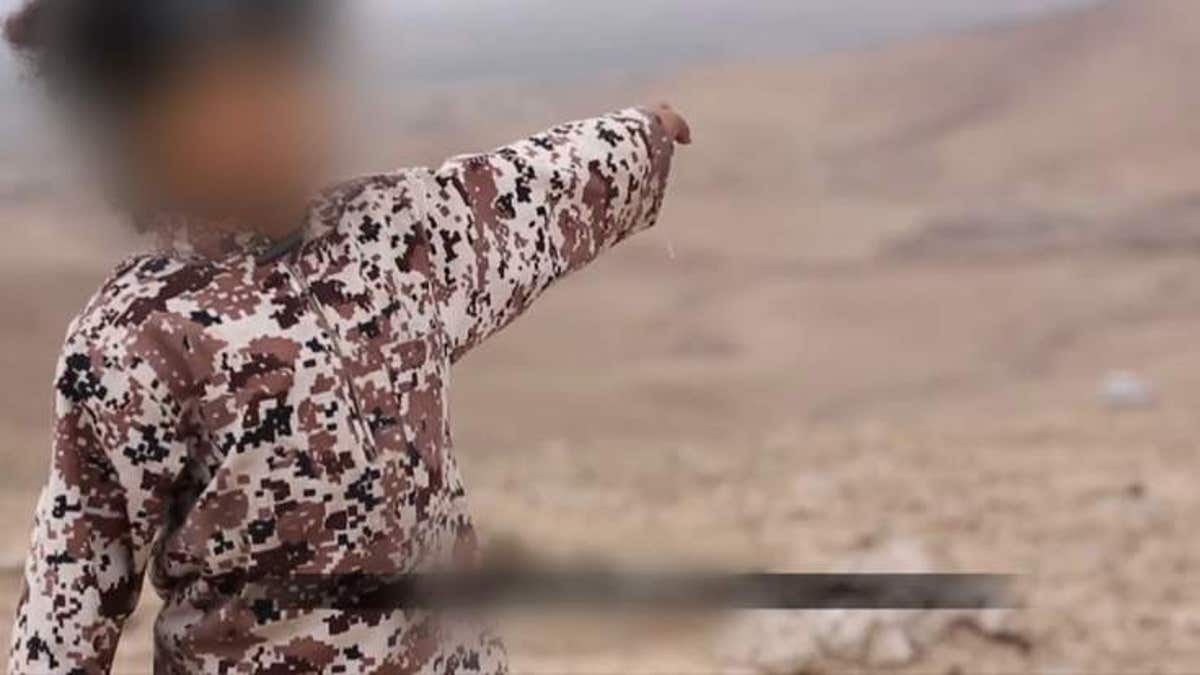 The Islamic State terror group has as many as 50 British boys and girls in its grip, with some children just one year old, The Times of London reported Tuesday.
The terror group's latest video features one of those children, a boy named Isa Dare, according to British media. London resident Henry Dare told The Guardian the boy is his grandson.
Henry Dare's daughter, Khadijah, converted from Christianity to Islam before joining ISIS in Syria, The Guardian adds.
A terror propaganda photo in 2014 showed her son, Isa, holding an AK-47 rifle. He reportedly was 4 years old at the time.
The child appears near the end of the terror group's new 11-minute video, vowing to "go kill" non-believers.
Henry Dare told The Guardian his grandson "doesn't know anything. He's a small boy. They are just using him as a shield."
British parents took as many as 30 children to Iraq and Syria to fight with the terror group, according to the Times study. It also found that many radicalized teenagers joined ISIS on their own.
London Mayor Boris Johnson said Tuesday that the boy should be placed in foster care.
"This child is a victim of child abuse and he is, as I understand it, a British national," Johnson said. "I think we have a duty of care."
British intelligence officials wouldn't comment on what they call a live anti-terrorism investigation.
Helen Bower, spokeswoman for Prime Minister David Cameron, said an initial assessment has been completed, but that officials won't comment on the identities of the people involved "at any stage of the process."
The video, posted Sunday, also features a masked man who speaks with a British accent before he and four masked colleagues use pistols to kill five purported spies at close range. The masked man appears to have stepped into the role formerly played by British citizen Mohammed Emwazi, who was killed by a drone strike in November after taking part in a series of beheading videos that earned him the nickname "Jihadi John."
The Associated Press contributed to this report.