ISIS claims responsibility for deadly Orthodox church attack in Russia
ISIS claimed responsibility Monday for the deadly attack on Orthodox churchgoers in Russia that left at least five women dead.
In a statement posted on an ISIS-affiliated website, the group said a Muslim fighter attacked a "a Christian temple" in Kizlyar, located in a predominantly Muslim region of Dagestan situated between Chechnya and the Caspian Sea.
The authenticity of the statement couldn't be confirmed, but the website is regularly used by ISIS to post statements.
Russian investigators said Monday they were examining all possibilities as to what motivated the attack.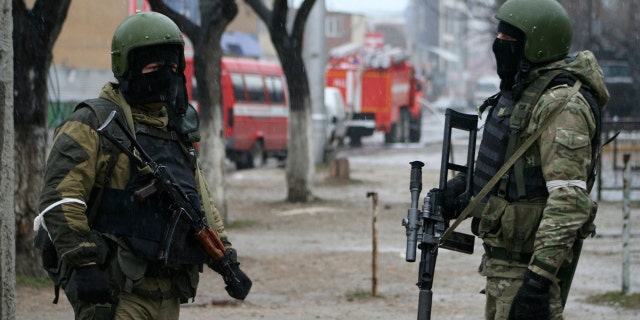 "Investigators are looking at various theories of the incident, trying to find out the attacker's motives," Russian Investigative Committee Spokeswoman Svetlana Petrenko told the TASS news agency. "A terror attack is among possible theories."
Authorities said the gunman, 22-year-old Khalil Khalilov, opened fire on people leaving the church after they finished celebrating the end of the Russian festival of Maslenitsa, a holiday which marks the start of Lent for Russian Orthodox Christians. Khalilov was shot dead by police while trying to leave the scene, and his wife has been detained for questioning.
Russian television station REN-TV posted surveillance video showing the Khalilov walking with the gun along main streets of the city.
Four women were killed at the church, while four others, including police and National Guard officers, were injured, according to TASS. Another woman later died at the hospital.
RUSSIA CHURCH SHOOTING KILLS 5 AFTER GUNMAN OPENS FIRE ON PEOPLE LEAVING SERVICE
"The victims remain in the same condition, two women are seriously injured, and they are in intensive care," Kazanfar Kurbanov, the chief doctor at the Dagestani emergency medicine center, told TASS.
All of the victims had gunshot wounds, and one of the injured women had her arm cut off Sunday, the news agency reported.
The Dagestan region has dealt with an Islamist insurgency that spread into the area following two separatist wars in neighboring Chechnya.
The region also is where Boston Marathon bomber Tamerlan Tsarnaev visited in January 2012, when he was under surveillance by Russian officials.
The Associated Press contributed to this report.