Iraq's 'Black Devils' strike fear in the ISIS terrorists they hunt
Within the Kurdish people's rugged army is an elite unit that specializes in rooting out ISIS sleeper cells and responds first when the black-clad jihadist army strikes in northern Iraq's no-man's land. They are called the "Black Devils" by the terrorists they hunt, and they embrace the name.
Made up of 400 of the Kurdish forces known as Peshmerga, the Black Devils boast a high enemy body count, a Spartan regimen and the ability to induce panic in the dark hearts of their foes. Their fierce tactics and effective intelligence gathering make them as feared as they are despised.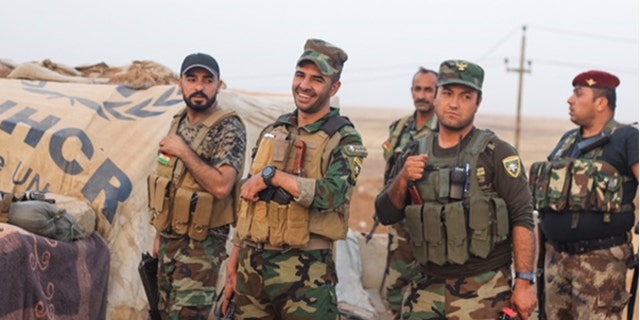 "It is a special kind of hate they have for us," Major Raad, a former interpreter for the U.S. Army during the Iraq war, told FoxNews.com from the group's headquarters in Teleskof, just 8 miles outside of the ISIS stronghold of Mosul. "They never have mercy on us. They just kill us."
Hunkered down in their headquarters in the town seized May 3 by Kurdish and U.S. forces in a battle that claimed the life of U.S. Navy SEAL Charles Keating, the unit surveys the desert villages on the outskirts of Mosul, collecting information, preparing for a looming battle for Iraq's second-largest city and remaining ready to move at a moment's notice.
"We look for anything that might be strange," Col. Mahmud Darwesh told FoxNews.com. "When we see extra movements, it is likely an attack might be coming."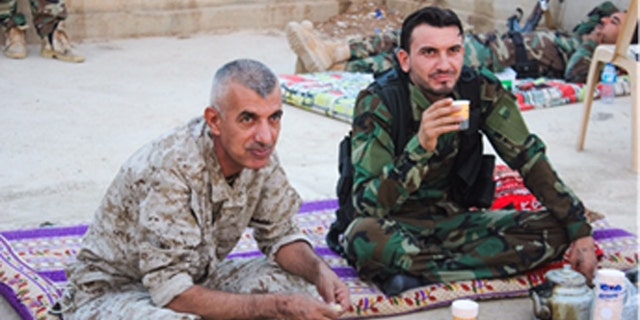 Led by Peshmerga Gen. Wahid Majid Mohammed, the exclusive unit was formed in May of 2014, just as ISIS – known primarily as the Da'esh in the Middle East – was becoming known to locals. Although it primarily engages in counter-terrorism in tandem with the Kurdish intelligence forces known as Asayish, the unit also serves as the army's "quick reaction force."
"If anyone has a problem and gets attacked, we go there," said Raad.
Much of the Black Devils' work is focused in cities recaptured from ISIS such as Kirkuk, Makhmour and Sinjar Mountain, where ISIS slaughtered hundreds of Yazidi two years ago. Liberated to rebuild, the cities are nonetheless plagued by sleeper cells and covert ISIS missions.
The unit routinely foils suicide bombers, including one whose story made international news as an emblem of the hapless desperation of ISIS' deadly dupes. The would-be bomber was captured before he could detonate his vest, then begged his Black Devils captors to kill him because the "Prophet was waiting."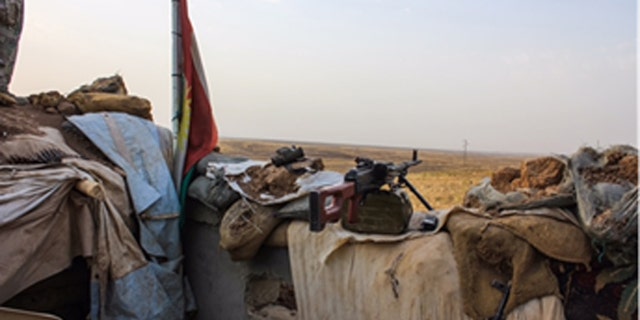 The Kurds listened in as the operative's handlers told him by cellphone to kill himself and make it to his celestial appointment. He was instead arrested, treated for injuries, interrogated and handed over to authorities.
Key intelligence Kurdish and U.S. forces gather about ISIS comes through the Black Devils. Members told FoxNews.com the terrorist army is deteriorating, increasingly younger and often fueled by amphetamines.
The unit – whose youngest member is 20 and oldest is 55 – is tight-knit and includes fathers and sons, uncles and brothers, cousins and childhood friends.
To date, the Black Devils have seen seven members killed and 57 wounded in fighting against ISIS. Almost daily, their line is hit with everything from Soviet-style heavy weapons such as Doshkas, to 120-mm mortars and artillery launched from Katysha tanks. ISIS snipers often take advantage of darkness, dust and fog to creep close to their line and hide in ditches before striking.
Last year, members of the unit walked out to those ditches a few hundred meters away and proudly put up a Kurdish flag. When eight ISIS fighters finally took down the flag two weeks ago, each paid with their lives, Raad said.
In their makeshift barracks, members train with weapons and listen to classical and Kurdish music while sipping tea and smoking cigarettes. They've also dedicated countless hours to cracking codes used by ISIS in radio transmissions. Sources said ISIS communicates via a strange brew of military terms and odd phrases. For example, "visiting the farmer" for a time meant an airstrike was imminent and "taxi" referred to heavy fire.
When ISIS fighters sought to announce a mortar launched toward a Black Devils redoubt, they called it "sending a bird," Kurdish sources told FoxNews.com.
Teleskof serves as a crucial gateway to liberating Mosul, due to its close proximity to the city and symbolic importance as an ancestral home to Christians, regional allies of the Kurds. Two years ago, Christians fled in the face of a fierce ISIS advance and the town that was once home to 11,000 people has since been largely uninhabited.
"This village is for all Christian people and we do want to protect them," said Col. Ziravan Bavoshky, manager of security in Teleskof, who operates in conjunction with the unit. "Sometimes the people who lived here come just to collect things they need from their houses. We want to make it our duty to protect it for when they are able to come back when the Da'esh is gone."
Mylee Cardenas contributed to this report