Iraqis recount ISIS burning to death mothers with their sons for resisting caliphate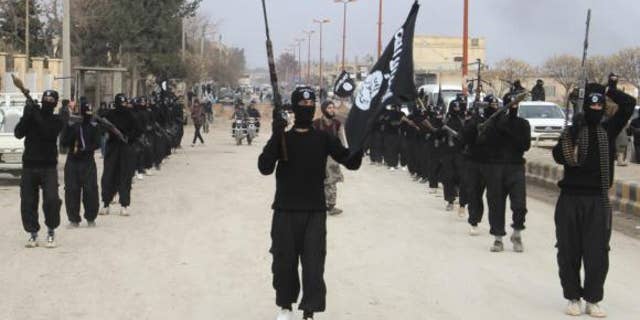 NEWYou can now listen to Fox News articles!
Even women and children are not safe from ISIS.
A tribal leader whose group has been fighting the Islamic State in Central Iraq recently described in gruesome detail how the terrorist group burned five women along with their sons in the Anbar Province, because they refused to hand over their children to the caliphate. Sheikh Naim el-Kaoud, leader of the al-Bounmar tribes in Anbar told Asharq al-Awsat, a Saudi newspaper published out of London, that gangs of ISIS fighters burned the women and their sons in front of residents in the Al-Jamiya neighborhood of Heet, a city 31 miles west of Ramadi.
"ISIS could argue that jihad--meaning joining ISIS--is obligatory of all Muslims, so the civilians' refusal qualifies them for execution as apostates," Ryan Mauro, a national security analyst for the Clarion Project, told FoxNews.com. "Acts like these are also effective for ISIS because it reminds [local Muslims] of the price they'll pay for standing up to the group."
"As the Islamic State is getting locked down, they are squeezing the local population."
The international community is likely to see more of these horrific acts from ISIS in the future, Mauro said.
"The story from the tribal leader shows that burning civilians alive and ripping sons away from mothers is now accepted practice among ISIS members," Mauro also said. "ISIS justified the burning of [captured] Jordanian pilot [Moath al-Kasasbeh in January] by arguing that Islam justifies the immolation of those who burn Muslims, such as by dropping bombs."
The report also comes amid other accounts of the Islamic State brutally killing civilians in both Iraq and Syria. In the area of al-Kaim, ISIS militants allegedly killed two women by drowning them in the Euphrates River after accusing them of cooperating with Iraqi security forces.
Activists in Syria released video footage showing dozens of men crucified for violating the terror group's strict regulations during the holy period of Ramadan. And on Wednesday, reports surfaced out of Mosul of ISIS forces killing civilians for violating Ramadan.
A report on Monday by the Clarion Project charged that the terror group has even started selling women into forced slavery.
Nearly 50 Yazidi girls, some as young as 10, were sold at slave markets and in auctions in Syria. Some were sold for as little as $80, according to the report.
Global intelligence analysts say these reports, like many that come out of the region, can be hard to verify.
"Some of it is hard to tell, but in general, this stuff is happening," Scott Stewart, vice president of tactical analysis at Stratfor, told FoxNews.com. "It's logical, as they have lost the East to Kurdish forces and, dealing with a large increase of Turkish forces at the border, they are really trying to gain back more ground."
Coupled with coalition forces coordinating attacks against the terror group, it appears that ISIS is trying to bolster its numbers.
"As the Islamic State is getting locked down, they are squeezing the local population," Stewart said, "not just for more fighters, but for resources and money for funding.
"And that's going to build resentment among the people in the region eventually," he said.