Iran's foreign minister says new sanctions would kill nuclear deal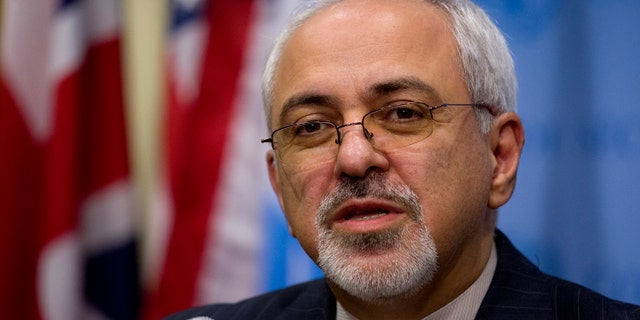 Iranian Foreign Minister Javad Zarif says the nuclear deal aimed at curbing Tehran's uranium enrichment program would be dead if American lawmakers pass new sanctions, even if they do not take effect for six months, Time Magazine reported Monday.
"The entire deal is dead," Zarif told TIME in an interview conducted Saturday. "We do not like to negotiate under duress. And if Congress adopts sanctions, it shows lack of seriousness and lack of a desire to achieve a resolution on the part of the United States."
Several Senate Republicans and some Democrats would like to vote on new sanctions on Iran, a prospect that unnerves the Obama administration amid fears it would undermine a new agreement with Iran on nuclear weapons.
Sens. Robert Menendez, D-NJ, and Mark Kirk, R-Ill., have been working for several weeks on legislation to reinstate the full force of sanctions and impose new ones if Iran doesn't make good on its pledge to roll back its nuclear program.
State Department spokeswoman Jen Psaki said Monday that imposing new sanctions on Iran, even those that are delayed, would be counter productive and could "unravel the unity" of the six world powers working to implement the deal.
"It could certainly put the negotiations that we have all worked so hard on that we believe is the best chance we've had in a decade to achieve a peaceful outcome at risk," Psaki told reporters.
Psaki said Secretary of State John Kerry will make an appeal against passing new sanctions during a hearing Tuesday before the House Foreign Affairs Committee.
The United States and other Western powers suspect Iran's nuclear program is aimed at weapons development. Iran says it is for peaceful purposes like power generation, medicine and research.
Iran's President Hassan Rouhani on Sunday told an open session of parliament that, after the "success" of the nuclear talks, investors were gravitating to businesses and the stock exchange.
"Economic activities have been shifted to the stock exchange from gold, hard currency and real estate," said Rouhani in his televised speech. He gave no specific figures.
Iran's economy has been hit hard by sanctions imposed over its nuclear program. Rouhani has recently stressed the deal's offer of sanctions relief in return for a halt to parts of Iran's uranium enrichment program to challenge criticism from hard-liners who say Iran is giving up too much for too little.
The Obama administration estimates relief from some sanctions in exchange for a temporary pause in Iran's nuclear enrichment program will amount to just $7 billion, a meager amount for a nation of nearly 80 million people — it's less than one month's worth of Iran's oil production and just 7 percent of Iran's overseas cash that remains frozen under the sanctions.
The Associated Press contributed to this report.