Iranian prison guards threaten to extend sentence for U.S. pastor, wife claims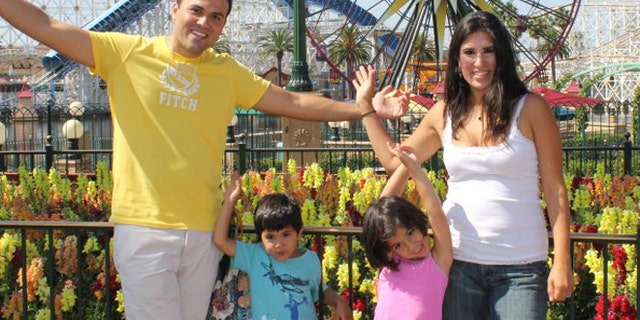 The wife of an American pastor locked up in Iran said prison guards have repeatedly threatened to extend the sentence for her husband, who was detained in 2012 over his Christian faith.
Naghmeh Abedini said her husband, 34-year-old Saeed Abedini, lives in constant fear of having his eight-year sentence increased for allegedly preaching his religion inside the Islamic republic.
"The urgency of getting my husband home has never felt so real," Naghmeh Abedini told FoxNews.com Monday. "His physical and psychological strength has been greatly weakened throughout his imprisonment. The lack of clean water and good nutrition have taken a toll on Saeed's physical well-being."
"Guards have repeatedly told him that the price of his freedom is denying Christ and returning to Islam – and yet, Saeed's faith in Christ remains strong," she said.
Abedini, a U.S. citizen and father of two from Idaho, has been held in Iran for two and a half years after being accused of proselytizing in the Islamic republic. The American Center for Law and Justice and Abedini's family have pleaded with the U.S. and UN officials to secure his release -- including a meeting between Naghmeh Abedini and President Obama earlier this year in Idaho that renewed hope for the family.
Abedini traveled to his native Iran in the summer of 2012 to visit family and work on the building and opening of an orphanage in the city of Rashit. On July 28, 2012, the Iranian Revolutionary Guard detained Abedini and ordered him to face criminal charges for his Christian faith. He was placed under house arrest and told to wait for a court summons, but on Sept. 26 he was taken from his family's home to the notorious Evin Prison, where he was placed into solitary confinement and subjected to regular beatings.
Prison doctors refused to treat Abedini for his wounds -- calling him "unclean" and an infidel -- and he remains in urgent need of medical care, according to the ACLJ.
Although Abedini was born a Muslim, he converted to Christianity in 2000 while living in Iran. He became active in the nation's network of home churches, which were at the time tolerated by Tehran. His supporters say he helped establish as many as 100 home-based Christian churches prior to a crackdown in 2005 which prompted him and his family to flee to the U.S. He returned in 2009, and was detained and threatened with execution for apostasy, although he was ultimately freed under the condition he not evangelize.
Abedini's latest cry for her husband's release comes amid continued negotiations between the U.S. and Iran over a nuclear deal.
"With the United States sitting down with Iran again this week, it is essential that our government not forget Pastor Saeed Abedini, a U.S. citizen," ACLJ executive director Jordan Sekulow said in a statement Monday. "President Obama communicated to Pastor Saeed's wife and children that bringing Pastor Saeed home was a top priority. We urge our negotiators to put those words into action.
"Regardless of the outcome on the nuclear deal, the U.S. government should not leave the table until it has secured the freedom of Pastor Saeed," Sekulow said. "Let us leave no man behind."
Abedini's 7-year-old son, Jacob, penned a heartbreaking birthday invitation to his father last month that a relative managed to smuggle into the prison.
"I saw your beautiful birthday invitation that you had made me and I know how much you want me to be there on your birthday. Daddy loves you so much," Abedini wrote back to his son. "I long to be there for your birthday and to make this reunion happen, but my chains are keeping me from you."
"...That breaks my heart as your father," he said.
FoxNews.com's Cristina Corbin contributed to this report.