Iran lawmakers vote to boost spending on missile program
By a huge majority, members of Iran's parliament voted Sunday to increase spending on the nation's ballistic missile program and finance its paramilitary Revolutionary Guard.
Members of Parliament chanted "Death to America" during the session, the Associated Press reported.
The vote was viewed as a response to recently announced U.S. sanctions against the Muslim country.
Iran's state-run IRNA news agency reported that 247 lawmakers attended the vote session, with 240 approving the spending plan and one lawmaker abstaining.
No specifics were available about how the new funds would be used.
The bill now heads to an oversight committee called the Guardian Council, which is expected to approve it.
Abbas Araghchi, a deputy foreign minister and senior nuclear negotiator on hand for the vote, said moderate President Hassan Rouhani's government would support the bill.

"The bill has very wisely tried not to violate the (nuclear deal) and also gives no chance to the other party to manipulate it," he said in comments reported by IRNA.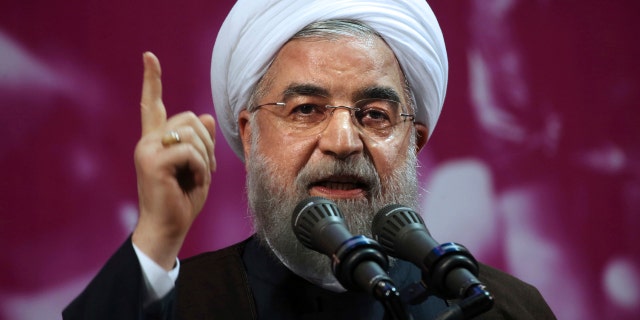 Under terms of the bill, some $800 million will be put toward several projects, including the Defense Ministry and its intelligence agencies. Among the agencies receiving money would be the Revolutionary Guards' Quds force, an expeditionary force run by Gen. Qassem Soleimani, who has been in Syria and Iraq.

The Guard, separate from Iran's conventional military forces, answers only to Supreme Leader Ayatollah Ali Khamenei.
The bill also imposes a visa and travel ban on U.S. military and security organizations and their commanders who have provided financial, intelligence, military, logistic and training support to terrorists in the region, naming the Islamic State group and the Syrian branch of al Qaeda.
Iranian officials often accuse the U.S. of being involved with both groups. The U.S. is actively involved in a massive military campaign against the Islamic State group and has struck the al-Qaida affiliate as well.
Perhaps more relevantly, the bill also includes banning visas for American officials involved with the Iranian exile group called the Mujahedeen-e-Khalq. Prominent U.S. lawmakers and politicians have met with the group and spoken at its rallies. The MEK has paid one of Trump's Cabinet members and at least one adviser in the past for giving such speeches.
IRNA also referred to the money also being used to develop nuclear propellers. In December, Rouhani ordered officials to draw up plans on building nuclear-powered ships, something that appears to be allowed under the nuclear deal, over an earlier dispute on U.S. sanctions under the Obama administration.
Trump signed a sanctions bill earlier this month that included new measures imposed on Iran. That sparked new outrage in Iran, with Foreign Minister Mohammad Javad Zarif accusing Trump of trying to "kill" the nuclear deal.
Earlier this month, Iran reiterated a previous assertion that new U.S. sanctions against it would constitute a "breach" of the 2015 nuclear deal between Iran and a group of Western powers.
Araghchi said the country had prepared a list of 16 measures to take against the U.S. in response to the sanctions, but would not elaborate.
The U.S. sanctions impose penalties on people involved in Iran's ballistic missile program, enforce an arms embargo and apply terrorism sanctions to Iran's powerful Revolutionary Guard.
In remarks aimed at Trump earlier this month, Rouhani issued a warning for anyone looking to discard the 2015 deal.
Those who intend to tear down the deal should know that they are tearing down their political life," Rouhani said during a swearing-in ceremony to launch his second term.
Trump has repeatedly criticized the 2015 negotiated by the Obama administration, calling it "bad" and vowing to come up with a better plan for discouraging Iran's nuclear ambitions.
The Associated Press contributed to this report.