Iran hard-liners rally as new protests over economy challenge government
Pro-government Iranians rallied in Tehran Saturday following spontaneous angry protests in the capital and other major cities over the country's failure under President Hassan Rouhani to revive the economy.
Many of the marchers carried banners in support of Supreme Leader Ayatollah Ali Khamenei, Sky News reported.
But local media reported that small anti-government protests were continuing around the University of Tehran.
President Trump tweeted in support of the anti-government protests Friday.
"Many reports of peaceful protests by Iranian citizens fed up with regime's corruption & its squandering of the nation's wealth to fund terrorism abroad," he said. "Iranian govt should respect their people's rights, including right to express themselves. The world is watching! #IranProtests."
Saturday's rally commemorated a mass 2009 pro-government rally challenging those who rejected the re-election of hard-line President Mahmoud Ahmadinejad amid fraud allegations.
However, the allegations took on new importance after the economic protests began Thursday, sparked by social media posts and a surge in prices of basic food supplies, like eggs and poultry.
The protests—the largest to strike the Islamic Republic in years—drew scant coverage in the government-controlled Iranian media.
An online report Saturday by Iranian state television said national media in the country hadn't reported on the protests on orders from security officials.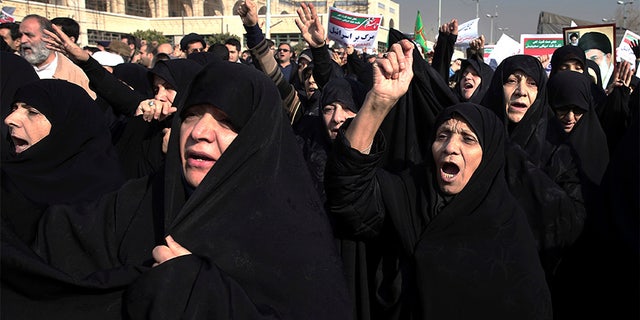 State TV also aired its first reports on the protests Saturday, acknowledging some protesters chanted the name of Iran's one-time shah, who fled into exile just before its 1979 Islamic Revolution.
"Counterrevolution groups and foreign media are continuing their organized efforts to misuse the people's economic and livelihood problems and their legitimate demands to provide an opportunity for unlawful gatherings and possibly chaos," state TV said.
Around 300 protesters gathered in the western city of Kermanshah on Friday, chanting anti-government slogans, while approximately 50 people protested at a public square in Tehran on Thursday to protest price hikes and the president's economic policy.
After a police warning, most of them left but a few remained.
Other angry demonstrators protested in cities across Iran on Thursday over rising food prices and inflation. Some unverified footage in social media showed police used water cannons and tear gas to disperse demonstrators.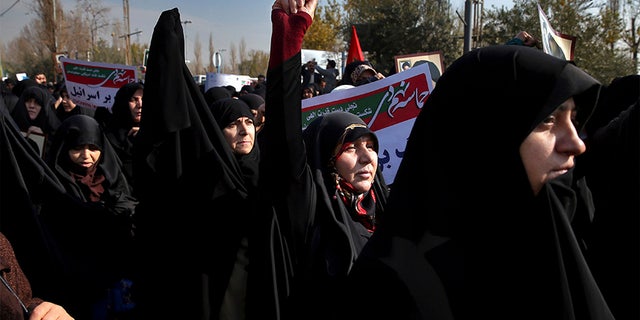 The head of the Revolutionary Court of Mashhad told Fars news agency that 52 protesters were arrested in Mashhad over their "illegal" gathering on Thursday. The security deputy of Tehran's governor said people should seek permission from the authorities before showing their anger and amassing in large numbers.
The State Department late Friday also offered support to the protesters: "Iran's leaders have turned a wealthy country with a rich history and culture into an economically depleted rogue state whose chief exports are violence, bloodshed, and chaos. As President Trump has said, the longest-suffering victims of Iran's leaders are Iran's own people."
Despite some improvements in the economy since the landmark 2015 nuclear deal lifted sanctions, the effects have yet to trickle down to ordinary Iranians. The prices of many basic goods, including eggs, have recently increased by 30-40 percent.
An Iranian analyst based in Tehran accused rivals of Iran's president of having orchestrated the protests. He told the Associated Press, "The hands of political groups could be seen in (Thursday's) gathering in Mashhad."
The Associated Press contributed to this report.