Iran body rules Ahmadinejad can't be oil caretaker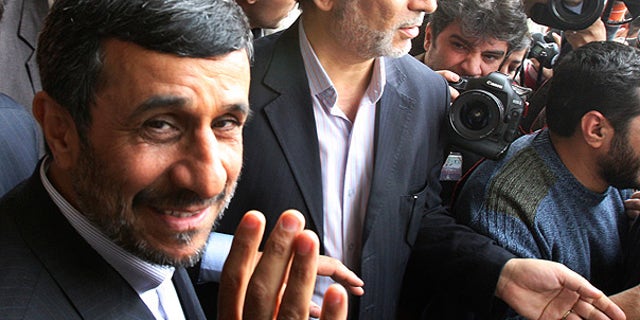 TEHRAN, Iran – In a fresh blow to the embattled Mahmoud Ahmadinejad, Iran's constitutional watchdog body has ruled that the president cannot serve as the country's caretaker oil minister, a news agency reported Friday.
The decision by the Guardian Council comes as the country's hardline religious rulers seek to weaken Ahmadinejad after he publicly challenged Supreme leader Ayatollah Ali Khamenei last month.
Ahmadinejad made clear this week that he was taking on the job of caretaker oil minister after firing the previous minister last week.
In that role, Ahmadinejad planned to personally chair an OPEC meeting in Vienna in June since Iran holds the rotating presidency of the oil bloc.
The semiofficial Fars news agency said in a report Friday that the Guardian Council — which oversees government adherence to the constitution — ruled that Ahmadinejad's move was a "constitutional violation." It didn't provide details.
The council ruling is yet another indication that Ahmadinejad's support base is rapidly shrinking. The crisis began last month after Ahmadinejad forced out his powerful intelligence chief, Heidar Moslehi, without first consulting Khamenei.
Khamenei promptly reinstated the intelligence chief in a public slap to Ahmadinejad. Ahmadinejad's critics say he is seeking to expand his powers at the expense of the ruling clerics, who were once his solid allies.
Ahmadinejad's dismissal of Oil Minister Masoud Mirkazemi came last week amid a Cabinet restructuring in which the government is required to merge eight ministries into four.
On Monday, Ahmadinejad chaired a meeting of the oil ministry as caretaker and on Wednesday an official announced that the president planned to participate in the June OPEC meeting in his capacity as caretaker.
After Friday's announcement it is unclear who might be named as the next oil minister or who would represent Iran at the OPEC meeting.