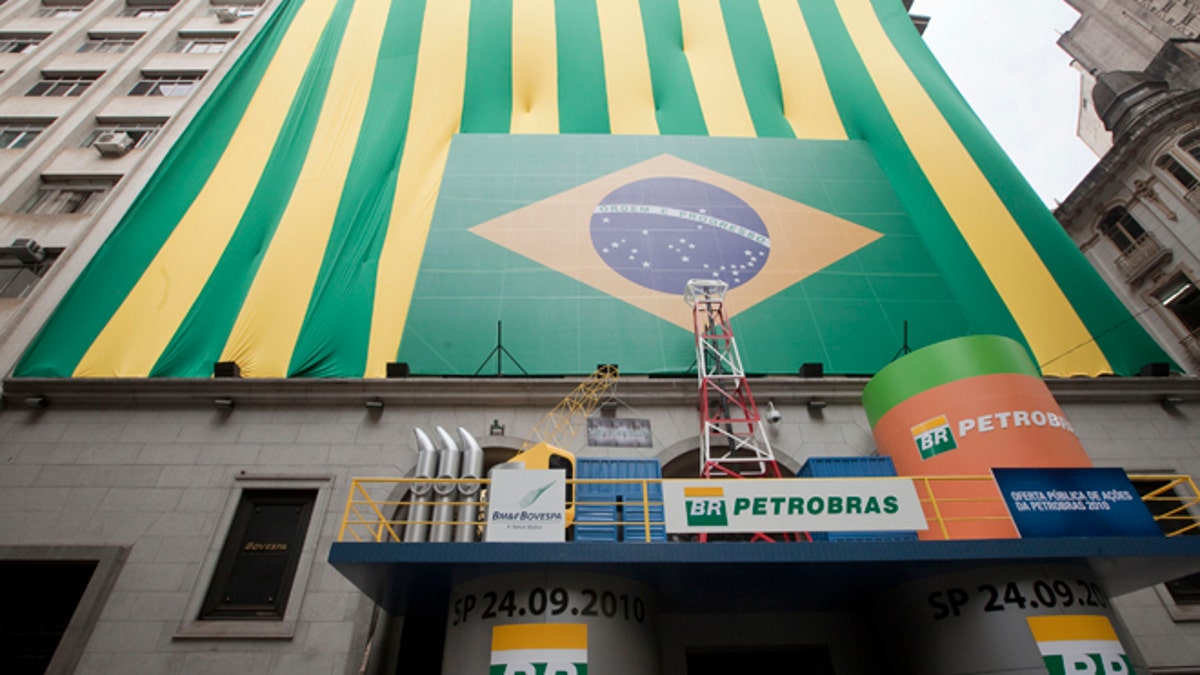 RIO DE JANEIRO (AP) – The inquiry into the biggest corruption scandal yet uncovered in Brazil entered an expansive new phase, as the attorney general formally requested the Supreme Court's permission to open investigations against 54 people, most expected to be top political figures.
The kickback scandal involves state-run oil company Petrobras, which investigators say awarded inflated contracts to construction and engineering companies, which in turn paid back at least $800 million. Prosecutors say some of that money was funneled into the campaign coffers of the ruling Workers' Party.
Previously, federal investigators had focused efforts on the companies but on Tuesday Attorney General Rodrigo Janot took aim at politicians, dealing what is seen as a blow to President Dilma Rousseff, herself a former chairwoman of Petrobras' board.
Rousseff hasn't been directly implicated in the scandal, denies wrongdoing and has publicly applauded the investigation as crucial to diminishing corruption in Brazil. But her approval rating has plummeted since being sworn in to her second term three months ago.
Janot needs the Supreme Court's permission to investigate federal congressman and top figures from the executive branch. It's widely expected he will receive the green light to proceed within days. He didn't release the names of the people he wants to investigate.
"We're going to work with tranquility, with balance. Those who must pay will pay," Janot said the evening before he made the request to the top court. "We're going to investigate. This will be a long process, we're just now beginning. The investigation begins and we'll follow it through to the end."
The scandal has dented the reputation of Petrobras, Brazil's largest company. It's tasked with tapping upward of 100 billion barrels of offshore oil found in recent years, wealth leaders have repeatedly said they view as the nation's "passport" to achieving developed-world status. But the debt-plagued firm is struggling. It was recently downgraded to junk status by Moody's Investors Service and said this week it would sharply cut back investment and sell off assets.
The Petrobras investigation has created extreme turbulence in Brazil's business and political circles, but experts have hailed it as a leap forward in the nation's fight against corruption. It has already landed top executives from Brazil's biggest construction and engineering firms in jail — a first for a nation where the rich have seemingly forever known impunity.
"This scandal has exposed the structure of corruption in Brazil. It was never explained how it worked. This time, it's clear," said Paulo Sotero, director of the Brazil Institute at the Woodrow Wilson International Center for Scholars in Washington. "You have connections between the executives in state companies, the companies that supply goods and services to the government and to some politicians."
Sotero said the investigation and trials will be painful for the nation, but he sees it "as an enormous chance for Brazil to face its demons and correct them."
Others say it's a huge advance for a Brazilian democracy that emerged just three decades ago from a long dictatorship.
"This case signifies the strengthening of Brazilian democracy. Brazil is showing itself and the world that its institutions of control are strong and independent," said Carlos Pereira, a professor of public administration at the Getulio Vargas Foundation in Rio and one of Brazil's top experts on corruption.
The case unfolding now wouldn't be possible had it not been for the groundbreaking 2012 prosecution of top political operatives in the so-called "Mensalao" scandal, which came to light in 2005 and saw top aides of former President Luiz Inácio Lula da Silva paying off congressmen to support their legislation. That resulted jail time for Silva's former chief of staff and others.
"Corruption in Brazil is like a tumor. To cure the tumor, you've first got to dig it out," said Eliane Cantanhede, one of Brazil's best-known political commentators. "Society is learning what went on. Petrobras is paying a huge price for this."