India's Kapur shines at Open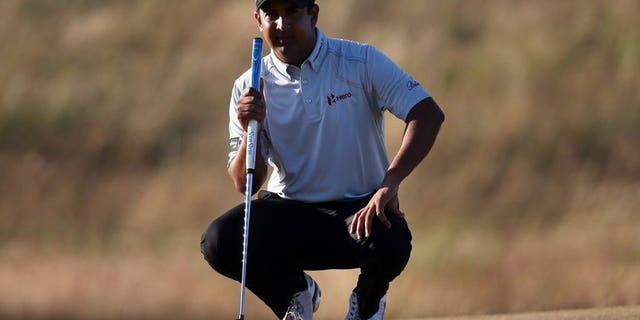 GULLANE, United Kingdom (AFP) – Shiv Kapur of India eclipsed some of golf's biggest stars when he shot a three-under-par 68 for tied fourth in the opening round of the British Open on Thursday.
Kapur was the surprise package on day one when he birdied six of his opening seven holes to turn in 30 and briefly hold a one-shot lead at the demanding Muirfield course.
He birdied the immensely challenging first hole followed by birdies on two and three. He then continued his electrifying momentum by marking three straight birdies from the fifth hole.
Kapur still held his head high despite three-putting for double bogey on 10 and dropped another shot on 14 when his tee shot found the thick rough.
The Indian, who has won once on the Asian Tour, trails first day leader Zach Johnson of the United States by two shots but outgunned world number one Tiger Woods (69) and Major champions Phil Mickelson (69), Bubba Watson (70), Adam Scott (71) and Rory McIlroy (79).
"I was in dreamland for a while when I birdied my first three holes. These are probably the fastest greens I've played in my life. It felt like I was putting on glass," said Kapur, who qualified for the tournament at the Local Final Qualifying in Dunbar, two weeks ago.
"The front nine was a bit special. I was in a bit of a trance there. I wasn't aware of my score. I tried to make every birdie putt that comes my way because I know how tough this golf course can be.
"Nobody is expecting me to be up there and it is a funny name in the middle of proven major winners but it is nice to be up there.
"At least I can hold my head high and say that I led at one point at The Open Championship. That's something I can take a lot of pride in," he added.
The 31-year-old took advantage of his late tee time to watch the early coverage of the tournament to get an idea of how to negotiate his way around the course.
"I watched a bit of the coverage this morning and I saw the balls bouncing. So in some aspect it is good to watch and know. You can learn a bit with a late start.
"I've got nothing to lose. I'm going to go out there to fulfil my own expectations and my own goals. You go out there to play quietly. In fact, my playing partner told me that he was expecting a quiet afternoon until the cameras started following us!"