Indian man accused of raping 10-year-old is not her baby's father, tests show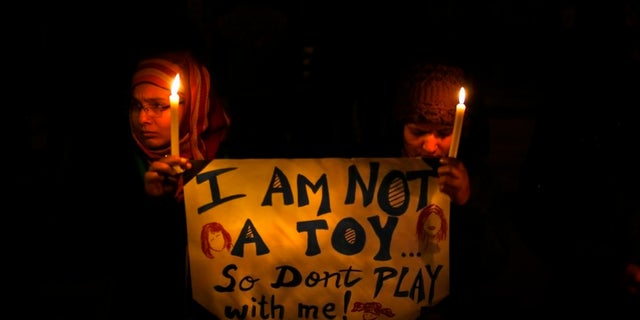 NEWYou can now listen to Fox News articles!
A DNA test revealed on Wednesday the man accused of raping a 10-year-old Indian girl, whose campaign for an abortion made international news when her pleas were denied, is not the father of her child.
The girl had accused her uncle, said to be in his 40s, of raping her several times. Indian police released new DNA results, however, that showed the uncle wasn't the father of the newborn – though the uncle hasn't denied the rape charges against him, the 10-year-old's father said.
"So far no one had thought of any other possibility. The girl had testified to the court on video conferencing and in her statement, she had very clearly named the uncle and revealed facts about her abuse," an official told the BBC.
The uncle was arrested and charged with crimes against children.
The unidentified girl gave birth to the baby girl last month after discovering she was pregnant in mid-July, the BBC reported. The girl said she thought her bulging belly was caused by a stone in her stomach. Her parents only took her to the hospital when she complained about stomach pains.
The parents said they did not suspect anyone else had sexually assaulted their daughter. Police spoke to the girl and her family again on Tuesday.
The local court in Chandigarh denied the girl's plea for an abortion because she was too far into her pregnancy. India law requires a woman to be less than 20 weeks pregnant to perform an abortion. A panel of doctors had also said the abortion would be "too risky." The Supreme Court in India also refused her abortion because of similar reasons.
The girl's baby was placed in child welfare care and will be put up for adoption after the family refused to acknowledge the newborn.
Similar abortion stories have gained global attention in recent month. In May, another 10-year-old girl in the northern state of Haryana, who claimed her stepfather raped her, was allowed to abort her baby. Last Friday, a 13-year-old girl who was 32 weeks pregnant was also granted an abortion.