Indian couple, including one nun, accused of selling baby at Mother Teresa's charity for unwed mothers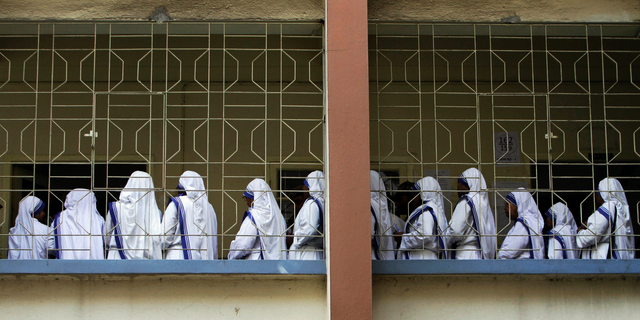 A nun and another worker at a shelter for unwed mothers run by Mother Teresa's charity in eastern India have been arrested for allegedly selling a baby, police said.
An Indian couple claimed they paid 120,000 rupees, or $1,760, to Anima Indwar, who worked at the shelter run by the Missionaries of Charity in Ranchi, police said.
Police were also investigating three other complaints against Indwar for allegedly selling children from the shelter. The head nun, Sister Concilia, was arrested on Wednesday, The New York Times reported.
Twelve pregnant women who were at the charity were moved to a government-run home for care to avoid any similar situation after their babies were born, Officer Aman Kumar said.
FORMER NAVY SEAL ASSISTING IN CAVE RESCUE OF THAI SOCCER TEAM DEAD FROM LACK OF OXYGEN, AUTHORITIES SAY
The arrests earlier this week followed the couple's complaint the charity worker had taken back the baby boy and kept their money. Kumar said 100,000 rupees, or $1,470, were allegedly recovered from the two people arrested.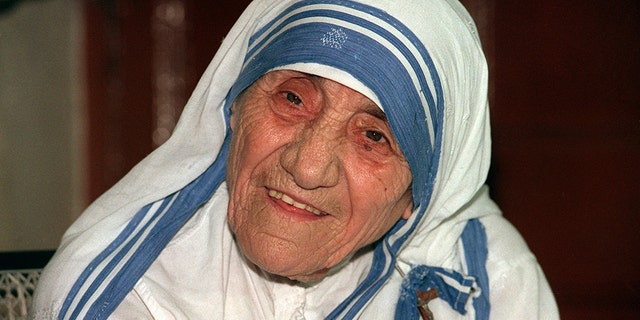 The baby was born May 1 to a resident of the shelter, who reportedly did not want the baby, and it was allegedly handed to an Indian couple by Indwar on May 14 in Ranchi.
The couple told police Indwar called them July 1 and asked them to visit the shelter with the baby to complete some formalities.
Rupa Verma, chairperson of state-run Child Welfare Committee, an organization for children's welfare, said Indwar took the child away when the couple arrived. Verma said the organization alerted police last month following an inspection that showed "the number of children registered on the books did not reflect how many were actually there," she told The New York Times.
"I had a very good image of Missionaries of Charity, but this case came to us with hard evidence," Verma said. "Now we are wondering what was going on there."
Verma said the organization took custody of the child but the couple, who were not identified, was reportedly appealing for custody.
TRUMP'S UK TRIP INCLUDES PALACE POMP, AIMS TO AVOID PROTESTS
Spokeswoman Sunita Kumar said the Missionaries of Charity was investigating.
"There was no question of selling any child as the Missionaries of Charity had stopped giving children for adoption three years ago," she said, adding that the charity had never taken money from parents while arranging adoptions in the past.
Mother Teresa started the Missionaries of Charity order in Kolkata in 1950 and it later set up hundreds of shelters that care for some of the world's neediest, people she described as "the poorest of the poor."
She received the Nobel Peace Prize for her charitable work in 1979 and Pope Francis declared her a saint last year, two decades after her death.
The Associated Press contributed to this report.