India court says cricket board probe 'illegal'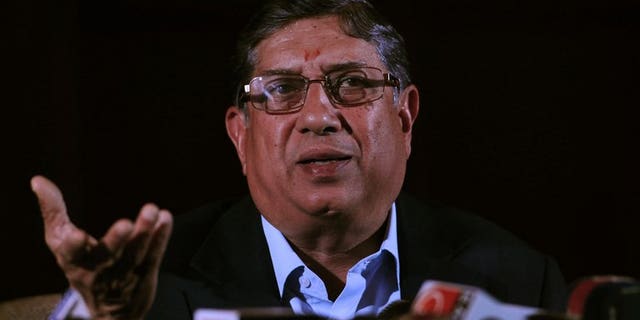 NEW DELHI (AFP) – An Indian court ruled Tuesday a probe ordered by the country's cricket chiefs into a betting scandal was illegal, causing further trouble for cricket head N. Srinivasan, reports said.
The Bombay High Court, which retains Mumbai's former name, ruled a panel set up to probe the betting scandal in the Indian Premier League (IPL) competition was "illegal" and "unconstitutional".
The ruling comes just two days after the panel's report, leaked to the media, found no wrongdoing by senior cricket officials or IPL owners over the scandal.
Tuesday's court ruling could derail the return of Srinivasan, who stepped aside temporarily as president of the Board of Control for Cricket in India (BCCI) on June 2, after his son-in-law was arrested, and later released on bail, over alleged links to illegal bookmakers.
Son-in-law Gurunath Meiyappan is one of the owners of IPL franchise Chennai Super Kings, a team bought by Srinivasan's India Cements conglomerate when the league was launched in 2008.
The BCCI appointed the panel of two retired High Court judges in June to conduct an internal probe. The investigation was separate from probes being carried out by the Delhi and Mumbai police into the IPL scandal, with charges expected to be filed shortly.
A petition was lodged in the High Court against the BCCI-ordered probe, which cricket chiefs said last month would aim to clean up the sport in India.
"We find that the manner in which BCCI has constituted a panel under its own rules is illegal and unconstitutional," NDTV quoted the court's order as saying.
Amit Naik, a lawyer for the petitioner, told NDTV that it was now "up to the BCCI to see what is to be done next".
A BCCI source declined to comment until lawyers had studied the order. The BCCI could still appeal to a higher court.
The BCCI's interim chief Jagmohan Dalmiya was due to place the report, which has yet to be released publicly, before the IPL's governing council in New Delhi on Friday.
The scandal in the money-spinning IPL, a Twenty20 tournament that sees top international stars play alongside domestic players, has shaken fans' faith in India's most popular sport.
Police have questioned Raj Kundra, husband of Bollywood actor Shilpa Shetty and co-owner of the Rajasthan Royals franchise, which had three players arrested for alleged spot-fixing in the IPL.
A BCCI source had told AFP on Monday that the probe had cleared Srinivasan's India Cements, Rajasthan Royals, Meiyappan and Kundra of spot-fixing allegations.
"There is nothing in the report to implicate these people," the source said on condition of anonymity.
"I don't think we can, or have the right, to stop Srinivasan from coming back as president now," the highly-placed source said.