In video, Pope Francis defends Chilean bishop his opponents accuse of covering up sex abuse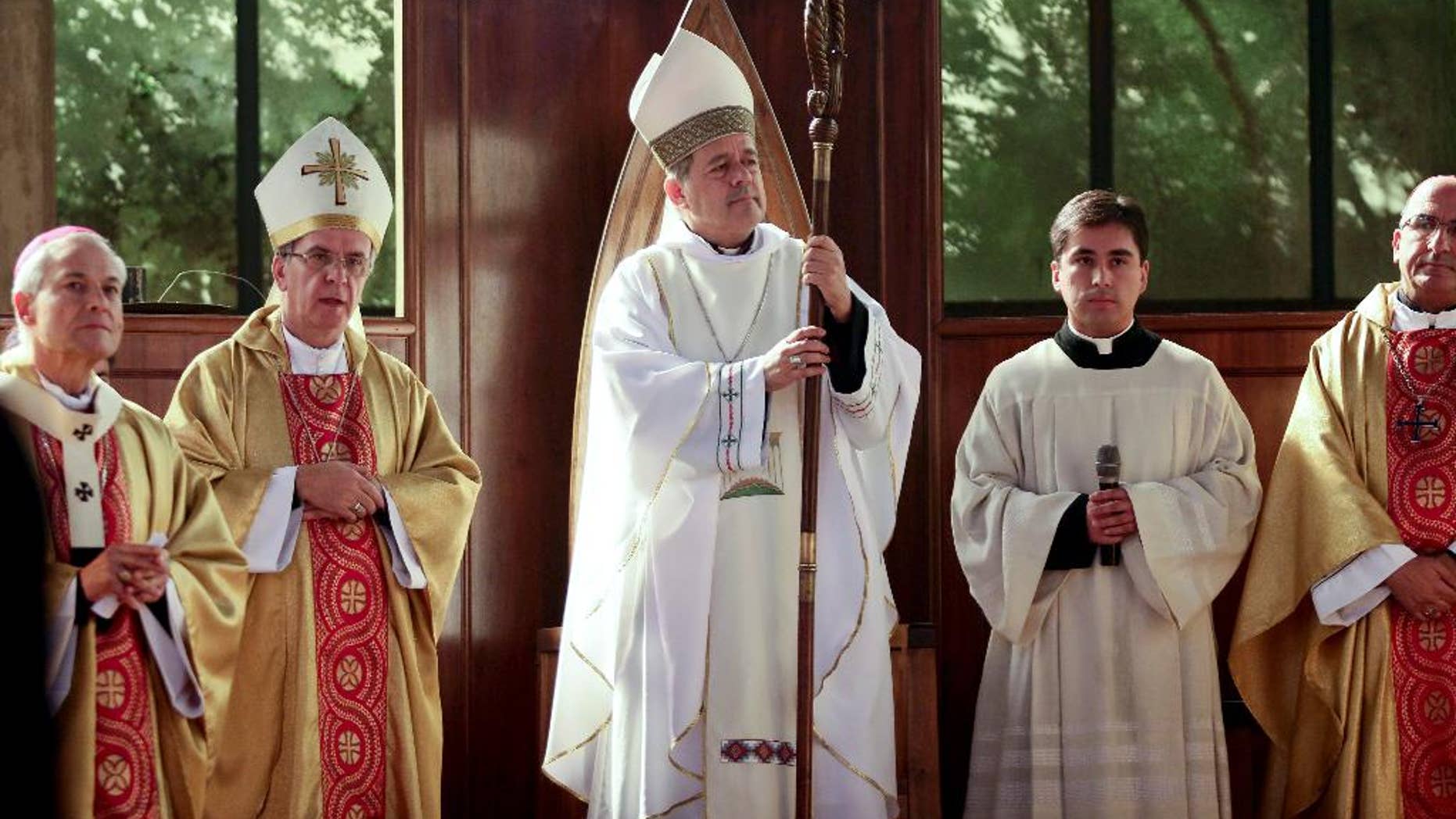 SANTIAGO, Chile – A Chilean television station has aired a video that shows Pope Francis defending a Santiago bishop whose opponents allege has covered up sexual abuse by a notorious pedophile priest.
In the video, shot in May and broadcast on Friday by Chilean TV channel Mega, Francis blames "leftists" for a campaign against the bishop of Osorno, Monsignor Juan Barros.
"Don't let yourselves be led by the noses, by the leftists who have plotted this," the pope says in the video, speaking to Chilean visitors at the Vatican. He noted that the allegations against Barros had been dismissed by a Chilean court.
Jaime Coiro, a deacon and former spokesman for the church in Chile, said on his Twitter account that he was there when the video was made and that Francis was speaking to him. He said the comments were recorded on an iPad by an Argentine standing nearby.
A spokeswoman for Mega told The Associated Press that it obtained the video from a confidential source on Friday.
The office of the Vatican's spokesman did not immediately respond to a request for comment on Sunday. But Francis' comments were in line with his past support of Barros.
In late March, the Vatican released a statement defending Barros, saying the Congregation for Bishops examined his candidacy for bishop "and did not find objective reasons to preclude the appointment."
The priest in question is Fernando Karadima, who was sanctioned in 2011 for sexually abusing teenagers. At least three of his alleged victims have said Barros knew about the abuse and was sometimes present when it took place. Barros has said he knew nothing about Karadima's wrongdoing.
The dispute has divided the Catholic community in Osorno, a city located 560 miles (900 kilometers) south of Santiago. Some churchgoers and priests in Osorno have protested Barros' appointment as bishop in March with marches and boycotts of his Masses.
"Osorno suffers for being stupid because it has not opened its heart to what God says," Francis said in the video.
Osorno Lay Movement member Juan Carlos Claret, who opposed Barros' appointment as bishop, said the comments showed the pope's "true face" on sexual abuse just as the church promises to prosecute clergy and bishops who fail to protect their flocks.
During his recent visit to Philadelphia, Francis met with five victims of child sexual abuse and told them he was "deeply sorry" for the times they came forward to tell their stories and weren't believed. He added that "clergy and bishops will be held accountable when they abuse or fail to protect children."