In U.S., newly arrived migrants and schools struggling to adapt to each other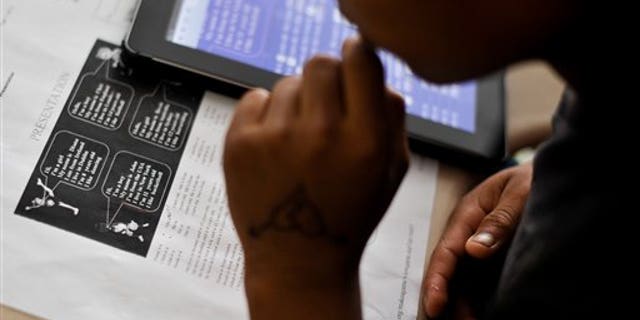 NEWYou can now listen to Fox News articles!
NEW YORK – In April, one person held a gun to Cristian's head while another gang member tried to assault his older sister, Andrea, who fought back and wound up with a black eye.
One week later, the siblings left Honduras to join their parents in Long Island, New York.
The 17-year-old is now enrolled as a freshman in a local high school. Though he feels like he is repeating his Honduran coursework, Cristian keeps focused on his plan to go to college and become an electrical engineer.
"If I am a good student, maybe it will help me to become legal," Cristian said in Spanish.
Unlike Cristian, most high school students are starting to worry about homecoming dates, college applications and extending curfews.
But the roughly 34,000 Central American students who, like Cristian, made their way to the United States in the large influx this spring are receiving court dates, are worrying about deportation, and getting jobs to repay the cost of crossing the border – all while struggling to make up for gaps in their education and adjust to living with family members they haven't seen in years.
Just as the students have their hands full, so do the schools, particularly the ones in Long Island which has two of the top five counties in the country that received the most number of children in the border crisis, according to the Office of Refugee Resettlement. Suffolk County in New York received 1,301 students since January of this year and Nassau received 1,207.
Counties that took in the most children:
Harris County (Texas): 3,231
Los Angeles County (California): 2,313
Suffolk County (Long Island, New York): 1,301
Miami-Dade County (Florida): 1,248
Nassau County (Long Island, New York): 1,207
Fairfax County (Virginia) 1,131
Prince George's County (Maryland) 1,087
Source: Office of Refugee Resettlement
Some of the schools are trying to meet non-academic needs by trying to find ways to connect the children with lawyers or social services – two areas that not all schools have had to supply to their students in the past but they find themselves having to fill a new set of student needs
"The additional students have put a financial burden on us and we're trying to work it out," said Norman Wagner, the president of Central Islip, Long Island's Board of Education. His school board has reached out to U.S. Rep. Peter King, a New York Republican, to help procure federal funding to offset their costs.
This year, about 2,500 students went to a few concentrated and small pockets of Long Island, one of which is Islip.
Taxpayers in tiny Central Islip have to approve the school budget annually and Wagner is concerned that they may reject an increase that would be needed to build additional classrooms.
Central Islip is located within Islip, which houses one of Long Island's largest Central American populations.
The district has taken in more than 200 unaccompanied minors from Central America, most of whom are enrolled in the high school.
That number is a steep increase from the usually anticipated 75 students who range in age from elementary to high school. In the high school, some class sizes increased from roughly 25 to 38 this year.
Like Islip, Prince George's County has also long been a refugee destination.
They reported seeing up to 20 percent of their students with gaps in their education.
Patricia Chiancone, the international student counselor for Prince George County Public Schools, said that students often had gaps because in Central American the local schools only went to sixth or eighth grade and some families couldn't afford education beyond that.
Others couldn't travel to schools because of violence.
And so the district is adding supports for reading comprehension and basic math, in addition to English.
The Migration Policy Institute did a survey of five states and reported that the education gap with which many of these Central American students arrive was a top concern.
"Someone coming in with low levels of proficiency and no credits are unlikely to graduate," said Sarah Hooker, policy analyst with the Migration Policy Institute, which analyzes migration and refugee practices.
Educators and advocates have concern not just about education but about emotional support for the students.
"Sometimes a lot of students are withdrawn or depressed," said Chiancone. "It's very hard to know, when a child is learning English, what the reason for the withdrawal is. Is it because they don't know English? Are they a quiet kid? Or depressed? We do see a lot of anxiety."
Virginia's Fairfax County has a new program to help children adjust to living with parents and relatives who they haven't seen in a long time, said John Torre, information officer for the county public schools.
"They've been having an image of a parent living a great life in the U.S. and they come up and their parent is living in a little one-bedroom apartment," recounted Patrick Young of the Central American Refugee Center, a non-profit facility and advocacy group based on Long Island. "It's not the American dream they've seen on TV."
New York City set aside $1 million to make sure that resources could be made available to the children. Social service groups have been working alongside the Department of Education and legal advocacy groups from across to find ways to get their resources to the nearly 1,500 children that are in the city.
"We have to really see for all of the negativity and the horror there is a lot of beauty and light and potential and opportunity," said Betsy Plum, director of special projects at the advocacy group The New York Immigration Coalition. "It's a real glass-half-full perspective if we're going to work through this issue."
That level of mobilization is harder to achieve in areas like Long Island where finances are separate, districts are small and there hasn't been a political priority to unite schools and advocates across the island.
"The response [on Long Island] should be bigger and it's not and that is problematic," said Young.
Cristian, for example, doesn't think his Long Island high school has social workers to whom students like himself could turn, he said. The social workers are there and available but are unable to address the emotional needs that students like he and his friends have faced.
"There are many kids that have come that have suffered in the way that we did," he said. "If they had them and we could talk to them, that will help a lot."
More than with other groups, advocates are noticing emotional issues are high among this population.
"A lot of these kids have never been treated like kids," said Lauren Burke, executive director of Atlas DIY, a legal aid and community group for immigrant youth. "A lot look hardened. If you've been through that much trauma you don't look like a bright-eyed, bushy-tailed kid."
Besides trauma and gaps in education, the children have to contend with finances.
"We have found a number of these students had to pay enormous amounts of money," said Claire Sylvan, executive director of Internationals Network for Public Schools, an organization that has created 17 public high schools across the country for students learning English.
Sylvan and other advocates have said that children and their families have reported paying a coyote, or smuggler, anywhere between $5,000 and $15,000 to cross the border.
Sometimes, a family will pay the debt to the coyote in installments.
Other times, more often when the children are older, the children assume some or all of the debt. To reclaim their money, coyotes reportedly threaten family members.
"Typically, a lot of kids [who have recently arrived] work while in school," Sylvan said. "But these kids feel an economic urgency. They are going to pay this debt off – there are people whose lives and livelihood are at stake."
Marcos, the youngest of seven children, always dreamed of a better life in the United States.
He imagined himself someday studying to be a lawyer.
His plans accelerated when a neighbor began sexually molesting him.
His tormentor began asking him for money and threatening to harm other family members.
Marcos got depressed, he couldn't study, he couldn't work. In his eyes, his only option was to leave Guatemala.
He estimates that his family paid about $5,000 for a guide to bring him on a one-month trip where he took countless buses from his home in Guatemala to get into Mexico.
He landed in Arriaga, where he recounted boarding a freight train, a treacherous way of passage.
He clung to the sides of the train, called La Bestia, on and off for five days. The scenery of the route was marred by death and violence.
When he arrived in New York City, he rented a room with a family friend.
His family paid the coyote but he repays his family.
His monthly rent is $660, he works in a supermarket from 12 to 15 hours a day delivering groceries and stocking shelves. His take home pay is $4.25 an hour.
"I don't know how to study here," Marcos said. "If I study, I can't work and I can't support myself. If I work, I can't study."
But Marcos has a plan.
He said he wants to attend graduate school and become an attorney. His dream occupation inspired both by advocacy work he used to do in Guatemala and the efforts of Atlas DIY, which is providing his legal representation and is a support group for unaccompanied minors that meets weekly.
He draws three columns on a paper in a way that looks like he has spent countless hours recreating this same form – in one column, a short-term goal, in the next a mid-range goal and in the far column a long-term plan.
If he keeps looking forward, he reasons, he won't dwell on what haunts him from his past.
"When an opportunity passes, it doesn't return," he said, vowing that he will go to school.