In hard-hit Puerto Rico neighborhood, no sign of federal aid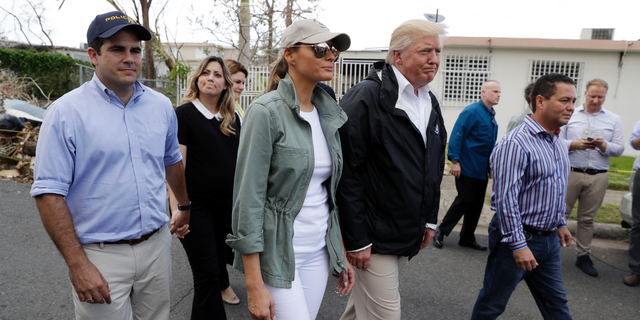 SAN JUAN, Puerto Rico – A few miles from the air base where President Donald Trump was touting his administration's response to Hurricane Maria, Puerto Ricans were stacking fallen tree branches, pieces of zinc roofing and sewage-soaked clothes in shopping carts and piling them on street corners alongside piles of wet mattresses.
There is still no power in the neighborhood known as Playita, and water only came back Sunday. No trucks have come to clear debris in the heart of the capital of Puerto Rico and the few hundred residents of this neighborhood of wood and cinderblock houses are still cleaning sewer water from their homes and business. They say they have not seen federal officials since Maria struck the island on Sept. 20.
"The need is everywhere," Jacke Cordero, 51 said as he used a pressure-washer to spray reeking floodwater out of his small cafe, the Corner of Faith. "Water, food, the supermarkets are closed."
Ray Negron rested nearby in the shade of a church after a morning spent collecting debris.
"What more do they want us to do?" said Negron, who is 38 and unemployed. "We've already cleaned everything up."
He said the residents of Playita were waiting for officials to take away the massive piles of trash that residents had collected.
"Nobody's come," Negron said. Addressing a distant Trump, he said: "Please, stop marginalizing us."
Playita has long been one of San Juan's least-favored neighborhoods, cut off by a highway but close to a housing project that has been receiving a relatively high degree of attention in the recovery effort.
Soon after the storm, residents went to a highway overpass to hang sheets emblazoned with messages pleading for help from the local and federal governments: "Playita needs food and water. SOS."
Janelys Melendez, a 39-year-old evangelical minister, said no one should mistake Playita's pleas for help with an unwillingness to do things for themselves.
"You can see Puerto Rico lifting itself up here. No one's lying back," she said. "They're doing what they can. It's everyone's responsibility, not just the government's."
As she spoke, convenience store-owner Raymond Ortiz walked through Playita handing out Styrofoam containers of rice and beans he and his wife had cooked for people who didn't have enough to eat.
He said the Salvation Army had distributed aid in Playita in recent days, but he had seen no federal effort.
"We're doing what we can," he said. "We really need help. Trump should come help us."
As he spoke, Trump was visiting Guaynabo, one of San Juan's wealthiest neighborhoods and one that has recovered fastest from the storm.
Trump highlighted Puerto Rico's relatively low death toll compared with "a real catastrophe like Katrina" as he opened a tour of the island's devastation Tuesday, focusing on the best of the reviews he and his administration are getting rather than criticism of the federal response to Hurricane Maria.
Trump pledged an all-out effort to help the island but added: "Now I hate to tell you, Puerto Rico, but you've thrown our budget a little out of whack because we've spent a lot of money on Puerto Rico. And that's fine. We've saved a lot of lives."
The burdens of recovering from the storm in a city where people are saving their gas and traffic rush-hour heavy throughout the day helped keep a couple of small protests against Trump's visit down to a handful of people who gathered outside the city's convention center and near the air base where the president spoke.
Other Puerto Ricans said they appreciated the president's visit, and there was praise for Trump even in Playita, where retired government human resources manager Lucy Falero, 70, said, "We have to appreciate this trip."
"We've never had a president who's visited after a disaster like this," she said. "One has to congratulate the president for his motivation."