In Colorado, Both Sides Of The Fracking Debate Target Latino Support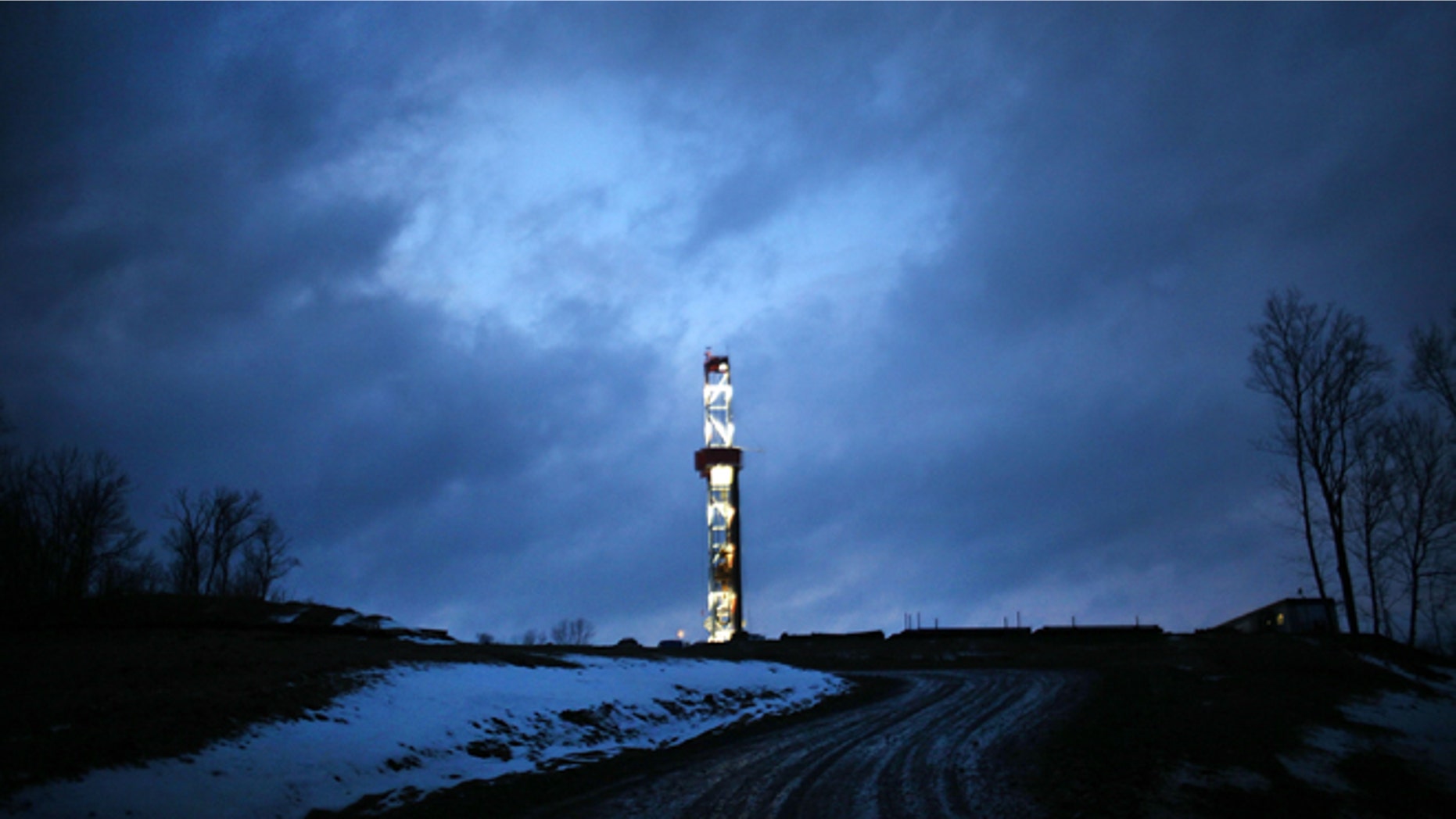 Driving north on Interstate 25 through Colorado, the Rocky Mountains rise on the left to over 14,000 feet as to the right the Great Plains collide with the foothills of North America's largest mountain chain.
While the Rockies' high peaks may dominate the views from the towns scattered along the Front Range – from major cities like Denver to more rural communities like Longmont – in recent years what is under these towns has become more important than what is above.
Large deposits of Pierre Shale, a fossiliferous, dark-grey rock formed 66 million years ago as the North American Inland Sea receded, are at the heart of the fight over fracking between oil and gas companies in the state and environmental groups. And Latinos are increasingly being caught in the crossfire.
Fracking, or hydraulic fracturing, is the controversial practice of sending a mixture of water, sand and chemicals down a wellbore to create small fractures underground in an attempt to release oil and natural gas. Supporters of the technique argue that it is a safe, clean way to extract resources and create much needed jobs, while opponents argue that fracking is environmentally unsafe, causes numerous health issues and, once the shale deposits have been tapped, turn boomtowns into busts.
With 21 percent of Colorado's population being Hispanic, advocates on both sides of the fracking issue have targeted the demographic in a bid to gain support. From Spanish-language websites to claims of high-paying jobs, Latinos have become a key demographic as communities – and the state as a whole – decide what to do with the shale.
"When you have a population that size it's something you just can't overlook," said Jon Haubert, a spokesperson for Coloradans for Responsible Energy Development (CRED), a nonprofit group funded by Anadarko Petroleum Corporation and Noble Energy. "How do you ignore one-fifth of the population of the state?"
Colorado, along with North Dakota, Pennsylvania and Texas, has become one of the key battlegrounds in the fight over fracking. The state has for years been a major oil and gas producer and a place where drilling – traditionally a Republican agenda - has enjoyed bipartisan political support, even from former geologist and Democratic Gov. John Hickenlooper.
Despite the political support oil enjoyed in the state, oil and gas companies have run up against steep opposition from Colorado's electorate. In November voters in Boulder, Fort Collins and Lafayette approved anti-fracking initiatives in landslide votes, disregarding an industry public relations push that cost around $875,000.
The city of Broomfield also defeated a proposed five-year moratorium on drilling and in 2012 60 percent of the people in Longmont voted for an amendment banning fracking and depositing its associated waste within city limits.
"These are the first towns to vote and are setting the stage for what comes next," said Bruce Baizel, the energy program director at the environmental nonprofit Earthworks.
Anti-fracking activists scored major victories after the Novembers vote, but admit that the war is far from over. Public opinion may be on their side for the time being, however oil and gas companies have deep coffers and a public relations push that is heavy on job creation – a plus in a state with an unemployment rate hovering around 6.8 percent.
Compare this to the 2.7 percent unemployment in North Dakota, a state that has seen a boom in drilling, and oil and gas companies' arguments of more, high-paying jobs could be more appealing to jobless Latino workers.
"We want people to know the costs and benefits of fracking and how it will affect them," Haubert said. "We want people to be OK with fracking."
Many of the advocacy groups balk at the claim that jobs in hydraulic fracturing will provide lasting, high-paying employment for Coloradans – Hispanic or otherwise. Beside what the group says is a tenuous assertion of lasting employment, the jobs provide a higher safety risk than other industries.
"To the extent that Latinos may be employed in greater numbers either in the oil and gas industry or in the agricultural industry where these wells historically have been placed, it is reasonable to assume that their health and safety risks would be higher," Judith Blackburn of the anti-fracking group Our Longmont wrote in an email to Fox News Latino.
"We certainly need jobs," she added. "We need healthy jobs. We need safe jobs. And we need long-term jobs, which oil and gas jobs usually are not."
CRED's Haubert argued that environmental groups and other opponents of fracking have misled voters with faulty information about its impact on humans, the environment and communities. He added that the major focus of the oil and gas industries campaign is to right the misinformation that is out there.
"The public has been left out of this conversation," he said. "The answers are already out there but they're in 300-page reports from places like the EPA and the Department of Health, but we're here to simplify it."
Opponents argue that the industry and its advocacy groups are hiding behind this argument without actually giving any real data. CRED's website does feature – in English and Spanish – sections explaining fracking and giving key facts about the process, but anti-fracking groups say that they are giving just as misleading information as organizations like Earthworks are being accused of providing.
The scientific community is currently divided on the negative effects of fracking, but Earthworks points to real-life evidence as a sign of the health and environmental impacts of the process.
"There's a general claim within the oil and gas industry that people are being misinformed or miseducated," Baizel said. "But what do you say about kids getting nosebleeds because of the fumes or chronic headaches and nausea from pits near people's homes."
Representatives for Anadarko Petroleum Corporation, Noble Energy, Shell and Chevron could not be reached for comment.
Latino groups caught in the middle of this debate don't see themselves as that much different in terms of their concerns from every other Coloradan. Hispanics are split down the environmental and economic divide that the rest of Colorado's electorate is dealing with, said Amanda Gonzalez, the executive director of the Colorado Latino Leadership, Advocacy and Research Organization (CLLARO).
"For some it is a very contentious issue in regards to the environmental problem," Gonzalez added, "while others in the community support fracking because of the jobs that it creates."
"Like everyone else, it all depends on your needs and what you're concerned about."