In bid to save Colombian peace deal, archrivals President Santos and Uribe agree to meet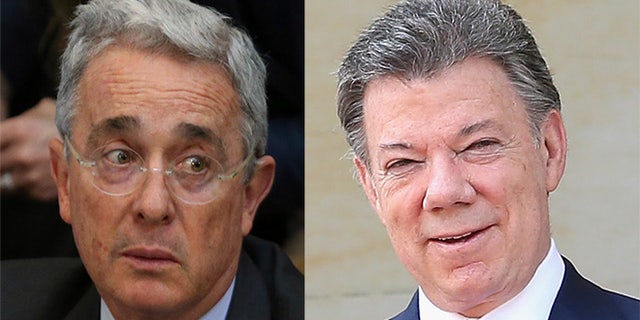 NEWYou can now listen to Fox News articles!
Putting their differences aside, Colombian President Juan Manuel Santos and his predecessor Alvaro Uribe have agreed to meet face-to-face for the first time in six years.
Uribe, a hard-line conservative who vocally opposed the now doomed peace deal with the FARC, has said he is not interested in assuming responsibilities that belong exclusively to the government, but he reiterated his willingness to provide input on a way forward.
President Santos is moving quickly on two fronts to save a peace deal narrowly rejected by Colombian voters on Sunday.
Government officials led by chief negotiator Humberto de la Calle met with their counterparts from the Revolutionary Armed Forces of Colombia on Tuesday in Cuba's capital to check on the rebels' willingness to reopen negotiations.
Santos, after a day of consultations with business leaders and evangelical Christians, who campaigned hard against the accord, said he was extending until Oct. 31 the cease-fire with the FARC to give peace a chance.
FARC leaders have made clear they have no intention of resuming warfare but also insisted the vote has no legal implications and the deal signed last month in front of several heads of state is final.
"Time is very important. We can't prolong this process and this dialogue for a long time because we're in a gray zone, a sort of limbo, that is risky and can wash away the entire process," Santos said.
Any renegotiation would likely lead to tougher terms for the rebels than the ones in the accord reached in August, and it's not clear the rebels are ready to return to the drawing board.
Shortly after Santos announced he was extending the cease-fire, rebel leader Timochenko tweeted: "And after that the war continues?"
Ever since the deal was narrowly rejected Sunday in a referendum, Presidents Santos and Uribe are trying to project a conciliatory tone — unlike the public feuding and trading of insults to which Colombians have grown accustomed in recent times.
Santos was defense minister under Uribe, when they joined forces with the U.S. to beat back the rebels, and Uribe helped elect him president. But the two angrily split shortly after Santos took office.
Prior to the referendum, polls had indicated the "yes" vote was winning by an almost two-to-one margin.
But Uribe tapped into widespread resentment of the rebels. Specifically, he argued that provisions for keeping rebels who committed serious war crimes from going to jail and instead awarding them with seats in congress insulted victims and set a bad example that criminal gangs would seize on.
The electoral upset boosted the former president's political standing to the point that analysts speculate a weakened Santos can only rescue the accord by inviting Uribe to directly negotiate a solution to the impasse with the FARC.
Based on reporting by the Associated Press.
Like us on Facebook
Follow us on Twitter & Instagram