Improve UN protection capacity in Darfur: Tanzania leader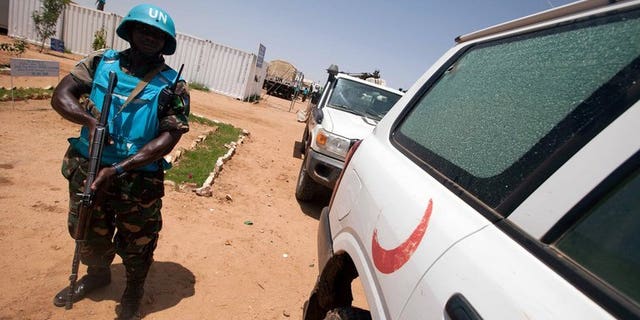 ARUSHA, Tanzania (AFP) – Tanzania's president on Monday called for the beefing up of the protection capacity of peacekeepers in the hybrid UN/African Union force in Sudan's Darfur region, after seven peacekeepers were killed there in an ambush.
"The time has come to take a fresh look at the way we keep peace in Darfur and at the way peacekeeping forces protect themselves," Jakaya Kikwete said in a speech in Dar es Salaam.
Kikwete was paying homage to the Tanzanian soldiers killed by unidentified gunmen on July 13 in the troubled western Sudanese region and whose bodies were repatriated Saturday.
The peacekeepers' "capacity to protect themselves needs to be reinforced to reduce the number of dead and wounded," Kikwete said.
"We are going to express our concerns to the competent authorities at the UN and the African Union," he went on, calling the seven victims "heroes." The seven were part of a patrol that was ambushed in the worst attack in the five-year history of the African Union-United Nations Mission in Darfur (UNAMID).
The attack, in which a further 17 peacekeepers were also wounded, brings to around 50 the total number of men with UNAMID killed since the force's deployment in 2008.
Rebels have been fighting the government for a decade in Darfur, but UNAMID says clashes between rival tribal and ethnic groups have been responsible for most of the worsening unrest there this year.
UN experts, human rights activists and tribal leaders have accused government security forces of involvement in this year's tribal fighting.
UN Secretary General Ban Ki-moon expressed outrage at what he called a "heinous attack" and called on Khartoum to take swift action to bring the perpetrators to justice.
The UN has repeatedly made similar calls after previous attacks on its peacekeepers in Sudan, but UN sources say they are unaware of anyone having been held accountable.
UNAMID, with about 20,000 military and police peacekeepers, is one of the largest such missions in the world, and has a mandate to protect civilians.