Identity of alleged Mexican capo's son questioned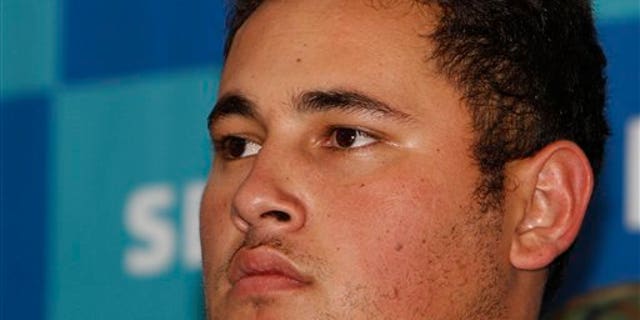 MEXICO CITY – Mexican and U.S. authorities said Friday they are checking DNA and photographs of a detained drug suspect whom they introduced as the presumed son of fugitive drug kingpin Joaquin "El Chapo" Guzman.
The Mexican navy presented a young man amid great fanfare on Thursday, identifying him as Jesus Alfredo Guzman Salazar, who is believed to be son of the head of Mexico's powerful Sinaloa Cartel. But by Friday, both Mexico and the U.S. officials were scrambling after his lawyer told Mexican news media that he is Felix Beltran Leon, a car salesman from western Jalisco state who has no relationship to Guzman.
The lawyer, Heriberto Rangel Mendez, told The Associated Press he would show proof of the man's identity, but did not immediately offer further comment.
The Mexican Attorney General's Office issued a statement saying information identifying him as son of Guzman came from the U.S. The U.S. Drug Enforcement Agency said the information came from Mexico.
"The Mexican Navy and Mexican law enforcement have said this is El Chapo's son and that's what we took," said DEA spokesman Rusty Payne, noting that the DEA is working separately to confirm the man's identity.
An official with the Mexican attorney general's office, who wasn't authorized to speak on the record, said the office is also studying photographs of Guzman and his family. The suspect didn't resemble a photograph of Guzman's son recently issued by the U.S. Treasury Department.
The possible misidentification could be embarrassing for both countries in the cat-and-mouse game they are playing with Guzman, who has been on the run since escaping from a Mexican prison in a laundry cart in 2001. The Treasury Department has called him the world's most powerful drug lord.
The Mexican Navy said that Guzman Salazar has been taking on an increasing leadership role in the cartel and purportedly served as the administrator of his father's fortune, estimated by Forbes magazine at about $1 billion.
Mexican authorities have said that the man they presented to the news media on Thursday was captured during a raid by marines in Zapopan, an upscale suburb of the western city of Guadalajara, thanks to intelligence work and information from U.S. authorities. Also captured in the raid was an alleged 19-year-old Sinaloa cartel member, Kevin Daniel Beltran Rios. The pair was caught with a grenade launcher and four grenades, two assault rifles, two pistols and $135,000 in cash.
Guzman Salazar is wanted in the United States on an outstanding extradition request, to face charges in Chicago related to drug trafficking.