Hyperinflation renders Venezuela a nation of broke millionaires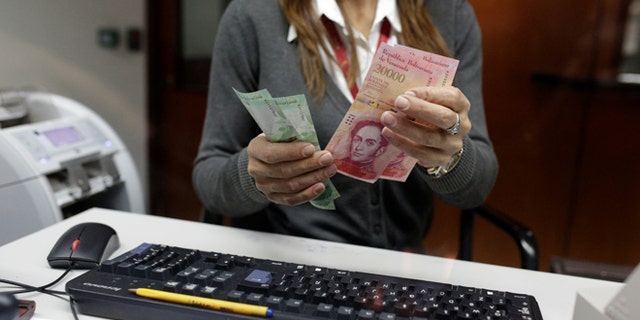 Venezuela may now be the country in the world with the most millionaires. There is, however, a caveat.
That money isn't worth much anywhere else in the world.
VENEZUELA'S MADURO: TRUMP IN THE WHITE HOUSE CAN'T BE WORSE THAN OBAMA
Amid rampant inflation, widespread shortages of everything from toilet paper to medicine and a failing economy, the Venezuelan government recently introduced three new bank notes into the market ranging from 500 to 20,000 bolivars.
But while somebody in Caracas can now carry 1 million bolivars in his billfold, in terms of U.S. currency those 50 bank notes are only worth only about $300 on the country's black market and one bill is valued at less than $6.
NEW VENEZUELAN VP'S ALLEGED TIES WITH HEZBOLLAH, RADICALISM RAISE CONCERNS
"That won't get you very far," Chris Sabatini, a professor at Columbia University's School of International and Public Affairs, told FoxNews.com. "It's like the government has almost given up. They are just adding zeros to the end of these bills and they don't mean anything."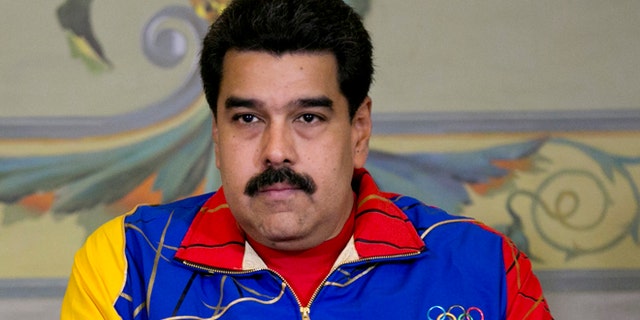 Sabatini added: "There's going to come a time when they're going to run out of space on the bill for all those zeros."
Venezuelan President Nicolás Maduro said the switch to the new bills was to combat smuggling along the country's border with Colombia. He added that transnational gangs hold "entire warehouses full of 100-bolivar notes in the [Colombian cities of] Cucuta, Cartagena, Maicao and Buaramanga."
The government also believes that the new bills will help make shopping easier for Venezuelans as they currently have to carry large wads of bank notes around with them to obtain even basic supplies. Before the new notes were introduced the highest bill in Venezuela was 100 bolivars, which is worth about 3¢ on the country's black market.
No official inflation data is available for 2016, but many economists believe Venezuela ended the year in triple digits, and it is forecasted to hit 1,600 percent this year.
Despite government assertions that the new currency is meant to combat smuggling, many Venezuelans appear are skeptical.
"I think it is more of the same," one Caracas resident waiting outside a bank told the BBC earlier this week. "Effectively what we are doing is putting more money on the street, attracting more inflation."
Since global oil prices plunged in 2015, Venezuela hasn't had the funds to import basic goods such as food and medicine, creating acute shortages and stirring anger toward Maduro.
Adding to the overall misery are a drastic rise in violent crime, especially in the capital city of Caracas, rolling blackouts and widespread and often times bloody protests against the government. There have been casualties and deaths on both sides of the protests and accusations from the international community of human rights abuses and political oppression.
"The pressure that Venezuelans face every day is tremendous because of all the uncertainty," Sonia Schott, the former Washington, D.C., correspondent for Venezuelan news network Globovisión, told FoxNews.com. "Nobody knows what will happen the next day."
Adding to the difficulties with the new bills is that 100 bolivar bill makes up to nearly 50 percent of the banknotes used in the country, according to Central Bank data released in November, with more than 6.1 billion of the 100 bolivar bills currently in circulation.
The Maduro government initially imposed a 72-hour time limit for citizens to change or deposit their 100-bolivar notes for the newer, higher bills, but this led to long lines at banks and, in some cases, riots.
Authorities said there were protests and looting in at least six cities last month, including Maracaibo, where police put down looting near a bank building, and the eastern state of Bolivar, where mobs sacked several businesses. Young men waved their 100-bolivar bills in the air and chanted "they're useless," then turned and ran as police fired tear gas canisters. Dozens of people were arrested.
The deadline for removing the 100 bolivar note from circulation has been extended multiple times since and, currently, the bill will remain in circulation until Feb. 20.
"There is clearly no strategy in Venezuela but to surrender," Sabatini said.
The Associated Press contributed to this report.