Hurricane Helene strengthens off coast of Africa, churns in Atlantic
NEWYou can now listen to Fox News articles!
Hurricane Helene continued to strengthen as it swirled westward in the Atlantic Ocean on Monday.
The National Hurricane Center in Miami said in its 11 a.m. ET advisory Helene is strengthening quickly over the tropical Atlantic with sustained winds of more than 105 mph. It is currently located about 375 miles west of the Cabo Verde Islands, an archipelago near the African coast.
"Some additional strengthening is expect today, and Helene is forecast to become a major hurricane by tonight," the center said. "Steady weakening is forecast to begin by late Tuesday."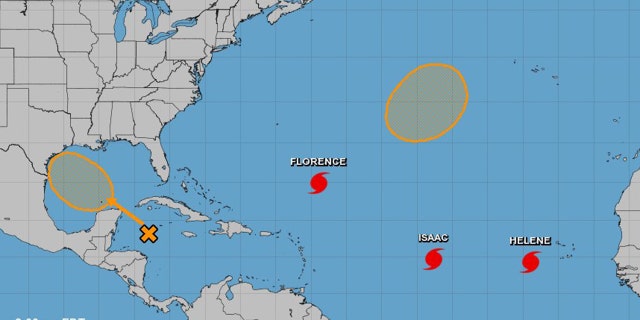 HURRICANE FLORENCE BECOMES CATEGORY 3 STORM AS IT BARRELS TOWARD CAROLINAS, MID-ATLANTIC STATES
Helene is one of three hurricanes churning in the Atlantic Ocean and heading west toward the United States or Caribbean islands.
Hurricane Florence was upgraded to a Category 3 storm with sustained winds of 115 mph. It is rapidly increasing and making its way to the Carolinas and Mid-Atlantic states.
Hurricane Isaac, the fifth hurricane of the 2018 Atlantic season, is about 1150 miles east of the Windward Islands with maximum sustained winds of 75 mph. Forecasters said at 11 a.m. ET that while it is expected to accelerate over the next 36 hours, it is not showing little change Monday morning.
Hurricanes Isaac and Helene are not threats to the U.S. at this time.