Hungary orders 30-day border closing, refugees met with tear gas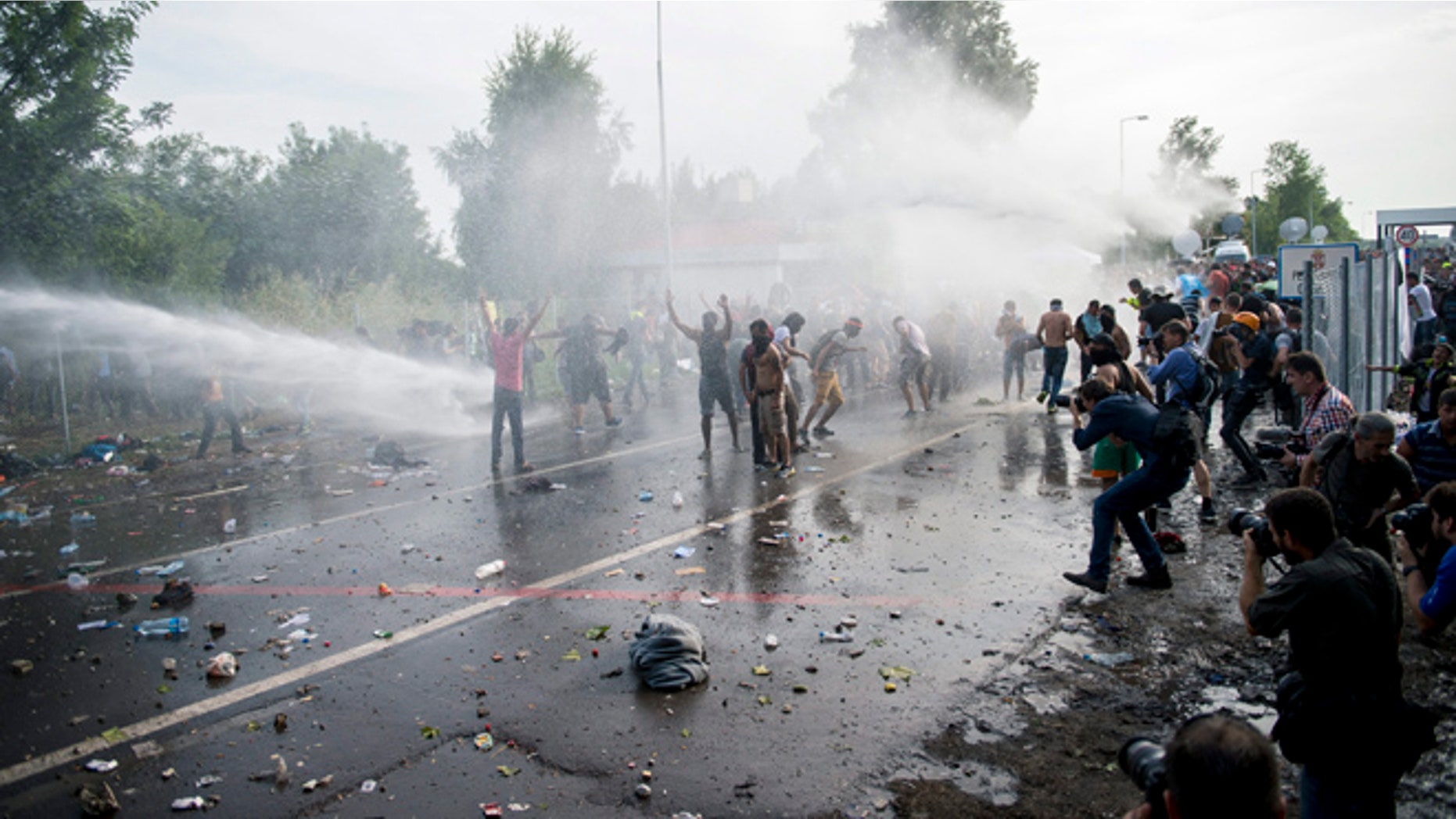 Hungary told Serbia Tuesday that it is ordering a 30-day closure of the border crossing between the two countries following clashes between refugees and Hungarian police.
Refugees were met with tear gas and water cannons from Hungarian police as they tried to breach a 110-foot barbed-wire fence.
Under a new series of laws in effect Tuesday, it is illegal to cross the border from Serbia into Hungary. Hungarian authorities say they have arrested 519 refugees attempting to do so and convicted one Iraqi man, who a judge banned from returning for one year, Hungarian media reported. He must also pay $70 in court costs.
In the past few months, Hungary has become a main entry point into the European Union for refugees, many of them fleeing the war-torn Middle East. More than 200,000 have entered the country so far this year, almost all via the southern border with Serbia.
On Tuesday, Hungarian authorities declared a state of emergency. The government continues to deny the closed border signals callousness toward refugees, claiming most of those entering Hungary are actually economic migrants.
"Based on our history, we are always in solidarity with the refugees," Peter Szijjarto told The Associated Press. "What we're saying is that we cannot accept economic migrants because we cannot bear the burden of that."
Most of the refugees hope to reach Germany, where Chancellor Angela Merkel's government has said it expects some 800,000 refugees to arrive in Germany this year alone. The vice chancellor has said the number could even reach 1 million.
Merkel and Austria called Tuesday for a special European Union summit next week to delegate responsibility for the influx to the various member nations.
Some refugees are choosing to avoid Hungary and take a longer route to Germany through Croatia. Croatia's Prime Minister Zoran Milanovic criticized Hungary's decision to seal its border with Serbia and said his country will not do the same, Reuters reported.
"Barbed wire in Europe in the 21st century is not an answer, it's a threat," Milanovic said.
In Greece, police say they have arrested around 5,000 refugees. Meanwhile, Austria has begun selective controls of vehicles at three main border crossings with Hungary as it tries to impose order over the stream of people.
The Associated Press contributed to this report.