Hungary: Lawmakers pass billboard law, opposition cries foul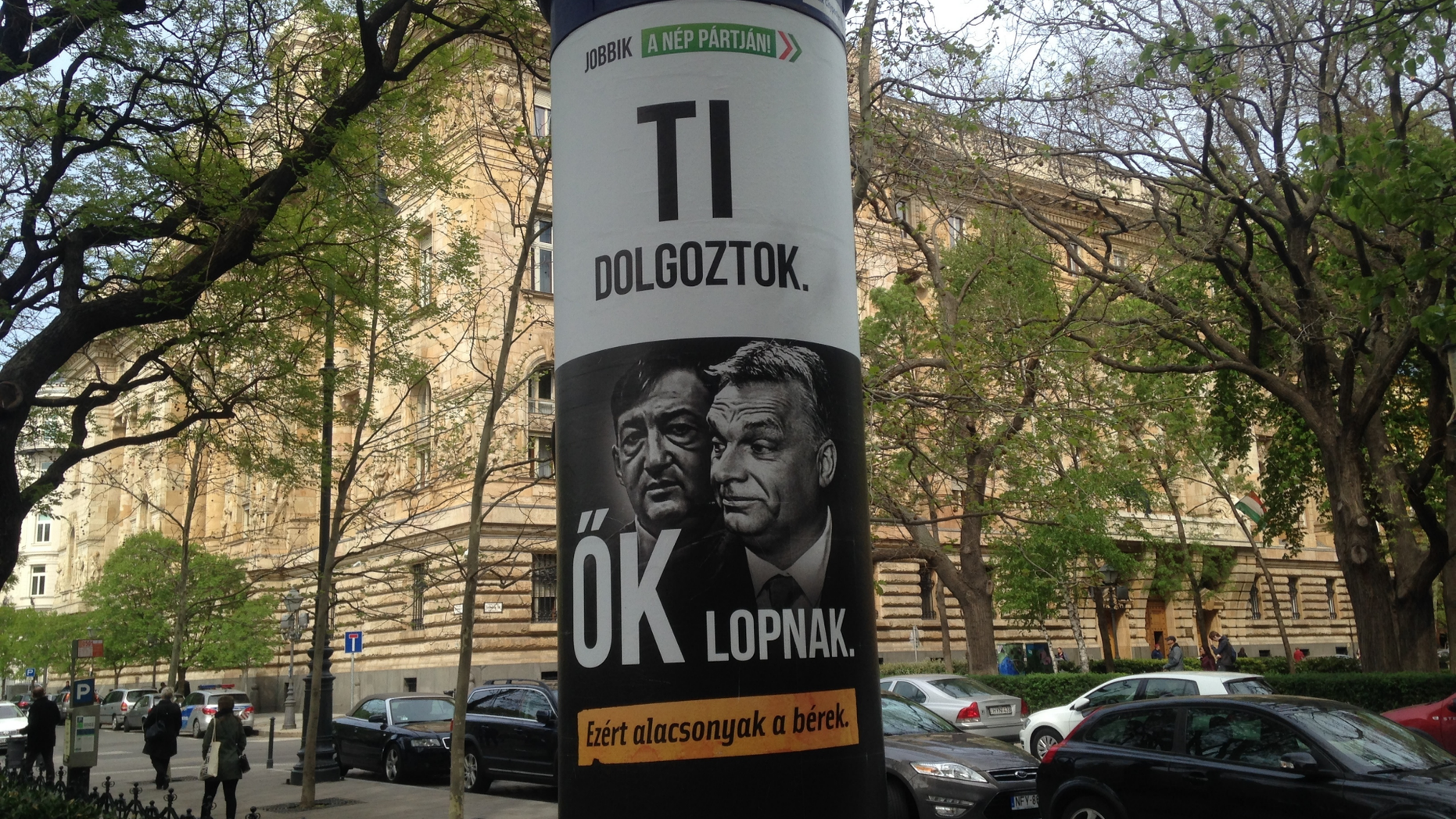 BUDAPEST, Hungary – Lawmakers from Hungary's governing parties on Friday approved legislation on political advertising which opposition parties say will limit their billboard campaigns while increasing the government's publicity advantage.
The new rules include a ban on billboard owners giving discounts to most political parties, subject to heavy fines.
The government says the aim of the law is to fight illegal party financing, a problem it says was highlighted by a recent hard-hitting billboard campaign by the far-right Jobbik party.
One Jobbik billboard said Prime Minister Viktor Orban and his allies were stealing while other Hungarians have to work for their money. The billboards are in spaces rented at reportedly large discounts from Lajos Simicska, a businessman and former ally of Orban's.
The governing Fidesz party said Simicska had "bought Jobbik by the pound." He accumulated his fortune mostly through state construction projects during the decades when he was close to Orban. Their falling out became public in early 2015.
"Simicska allowed the use of billboards for pennies and in this way illegally financed Jobbik," Fidesz parliamentary leader Lajos Kosa said before the vote. "Those who fail to support this bill unequivocally support corruption."
Jobbik and other opposition parties, however, fear the government will increase its rising use of public funds for its own billboard campaigns, as well as provide funds for similar campaigns by supportive civic groups.
"It is clear that the interest of Fidesz is to have only government propaganda flowing everywhere," said independent lawmaker Marta Demeter.
The government cause has also been boosted by the purchase of large media portfolios by current Orban allies, who have transformed their outlets into unquestioning supporters of the prime minister's policies. State media has also become an uncritical broadcaster of government propaganda.
Friday's vote was needed after Fidesz last week failed to secure opposition support for even stricter legislation that would have banned most political advertising outside of the campaign periods before elections.
Opposition lawmakers said they would challenge the constitutionality of the new law.
"The government is constantly trying to limit the possibilities of the opposition," said Akos Hadhazy of the Politics Can Be Different party. "This is only about the fact that the prime minister gets furious when he sees a billboard ... which says that he may be stealing."