Hundreds of girls kidnapped from Nigeria school, parents say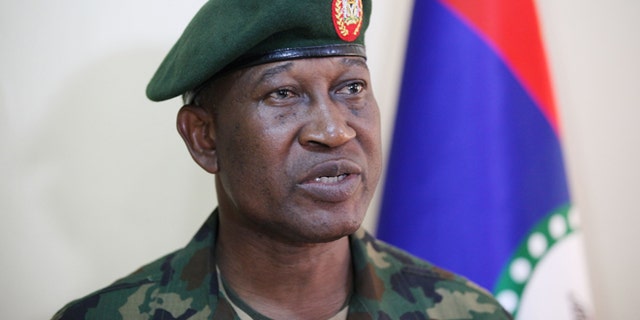 More than 200 girls and young women remain missing a week after Islamic extremists stormed a boarding school in Nigeria, despite a "hot pursuit" by security forces and an independent search by parents who headed into a dangerous forest to find their children.
At Chibok, the scene of the attack, weeping parents cried on Monday, begging the kidnappers to "have mercy on our daughters," and for the government to rescue them. "I have not seen my dear daughter, she is a good girl," cried Musa Muka, whose 17-year-old Martha was taken away. "We plead with the government to help rescue her and her friends; we pray nothing happens to her."
Although at least 200 remain missing, dozens of the students managed to escape their captors, jumping from the back of an open truck after they were kidnapped in the pre-dawn hours of Tuesday last week or by running away and hiding in the dense forest. The number who escaped depends on whom you speak to -- 39, 43, maybe more than 50.
A parent, Shettima Haruna, told Reuters several parents took motorcycles into the forest.
"We met some men in the Sambisa bush; they told us the Boko Haram camp is still inside and far," Haruna told Reuters. "They said we may not come out alive ... and we then returned beaten by rains."
Folly Teika, whose daughters Aisha and Hima were among those abducted, said while searching she came across people in a village called Bale.
"They said they saw a lot of girls that same Tuesday morning fetching water from a stream and leaving ... They told us they were certain that girls are still close by, but they advised strongly not to go into that direction because we weren't armed," she told Reuters.
"All we want from the government is to help us bring our children back," father Pogu Yaga said.
The mass abduction is a major embarrassment for Nigeria's military, which had announced last week that security forces had rescued all but eight of those kidnapped -- and then was forced to retract the statement. It came from Defense Ministry spokesman Maj. Gen. Chris Olukolade. "The operation is going on and we will continue to deploy more troops," Olukolade on Tuesday told The Associated Press, adding that air and land patrols are hunting for the students.
The Nigerian Air Force has halted what were near-daily air bombardments of the forest -- presumably because of the kidnapped students. The extremists have abducted handfuls of students in recent months, but this mass kidnapping is unprecedented.
Nigeria's military is already confronted by mounting criticism over its failure to curb the five-year-old Islamic uprising despite having draconian powers under an 11-month state of emergency in three northeastern states covering one-sixth of the country. It seems every time the military trumpets a success in its "onslaught on terrorists," the extremists step up the tempo and deadliness of attacks. More than 1,500 people have been killed in the insurgency so far this year, compared to an estimated 3,600 between 2010 and 2013.
Military and government claims that the extremists were cornered in the remote northeast were shattered by a massive explosion April 14 at a bus station in Abuja, the capital in the center of the country, which killed at least 75 people and wounded 141.
The leader of the homegrown Boko Haram terrorist network, Abubakar Shekau, in a video received Saturday claimed responsibility for the Abuja bombing, but said nothing about the kidnapped girls. Shekau repeated his opposition to "corrupting" Western influences, saying, "Everyone that calls himself a Muslim must stop obeying the constitution, must abandon democracy, must stay away from Western education." Boko Haram means "Western education is sinful" in the local Hausa language.
The Islamic insurgency has forced some 750,000 people, including hundreds of thousands of farmers, to flee their homes, raising fears of a food shortage. Refugees in neighboring countries said they were escaping militant attacks, as well as the often brutal response of Nigeria's military.
In Chibok town, even the number of students abducted is in question. Education officials had said 129 -- which was the number of students writing an exam. The girls had been recalled to write a physics exam as the school, and all schools in Borno state were closed four weeks ago by the government because of the increased attacks. But as parents rushed from across Borno state to the boarding school , the number of missing grew. On Monday, parents gave the visiting Borno governor a list of 234 missing girls and young women, ages16 through 18.
School principal Asabe Kwambura told The Associated Press the number of students accounted for is 43 and the number missing is 230. The extremists set the school ablaze, leaving only burned-out shells.
As confidence in the military eroded, the parents and other Chibok residents pooled money to buy fuel for motorcycles and headed into the Sambisa Forest, a nearby known hideout of extremists.
A parent who did not give his name described the civilian search to Borno state Gov. Kashim Shettima when he visited Chibok on Monday. The father said they pursued the abductors some 50 kilometers (30 miles) deep into the forest, getting directions from villagers and a lone herdsman, who all said they had seen the girls. The father described thick forest with trees blocking the sun and sky. Then they came to a fork in the footpath and saw an elderly man.
"He confirmed to us that he saw our daughters, with their kidnappers. He said the girls were brought down from the truck and made to trek into the forest. He pointed to us the direction they took them, but warned us that if we ventured into that part of the forest without any security personnel we would all be killed together with our daughters."
At that point the search party returned to Chibok, he said. Some got lost in the forest and took three days to get back to the town on foot.
He said they never once encountered any soldiers. And the only security in Chibok is a handful of police officers, according to education officials.
According to Reuters, the attack underlined how powerless the military has become at protecting civilians in Nigeria, despite a state of emergency nearly a year old that was supposed to destroy it.
The Associated Press contributed to this report.