Human traffickers using Uber drivers to shuttle migrants through Mexico, official says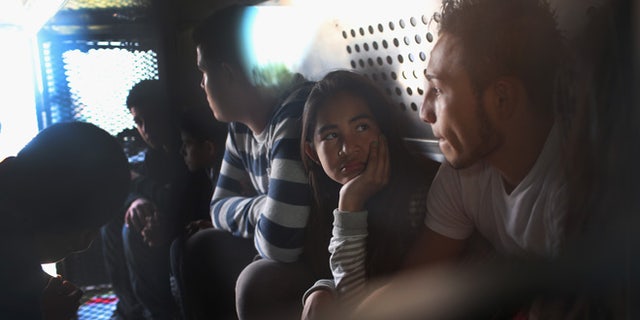 Human traffickers in Mexico are reportedly using Uber drivers to shuttle Central American migrants through the country's northern border with the United States.
Early last month, Mexican authorities stopped a caravan of five vehicles carrying 34 Central American migrants between the northern Mexican states of Zacatecas and Coahuila.
A Coahuila state official at the National Migration Institute (INM) told Reuters that four of the five vehicles were linked to the popular app-based taxi service, although it is still unclear whether or not the traffickers had hailed the cars themselves. The drivers told authorities that they did not own the cars but were drivers for Uber.
In a statement, Uber Mexico said that it was not responsible for the incident and that it was cooperating fully with authorities in the investigation.
"The company does not own the cars registered on the platform, nor does it employ the drivers, who are independent contractors," Uber said.
A company spokesperson told Fox News Latino via email, "This alleged activity is in no any way connected to the Uber platform. The story is concerning actions taken by people in their own free time in their cars."
According to the company, only three of the drivers were registered in the database. Reuters reported that one of them was fired for unrelated reasons about nine months ago, while two were let go when the INM brought the matter to Uber's attention.
There has been a surge of migrants – especially women and children – crossing Mexico in route to the U.S. and, facing pressure from their counterparts to the north, Mexican authorities have been cracking down on human trafficking.
"First we saw them on trains, then on buses, then on trucks and today we see them in rented vehicles," said Segismundo Doguin, the Coahuila state official.
The Uber drivers allegedly left from the city of Monterrey before picking up the migrants about 200 miles to the south in Matehuala. The caravan was headed toward Reynosa on the border with the U.S. state of Texas.
The migrants told authorities that they paid about $162 for the ride.
This is not the first time that Mexican authorities have caught smugglers being driven by Uber drivers, as earlier this year seven other vehicles hauling migrants were detected in the area of San Luis Potosí state, an INM official in Coahuila told Reuters.
Like us on Facebook
Follow us on Twitter & Instagram