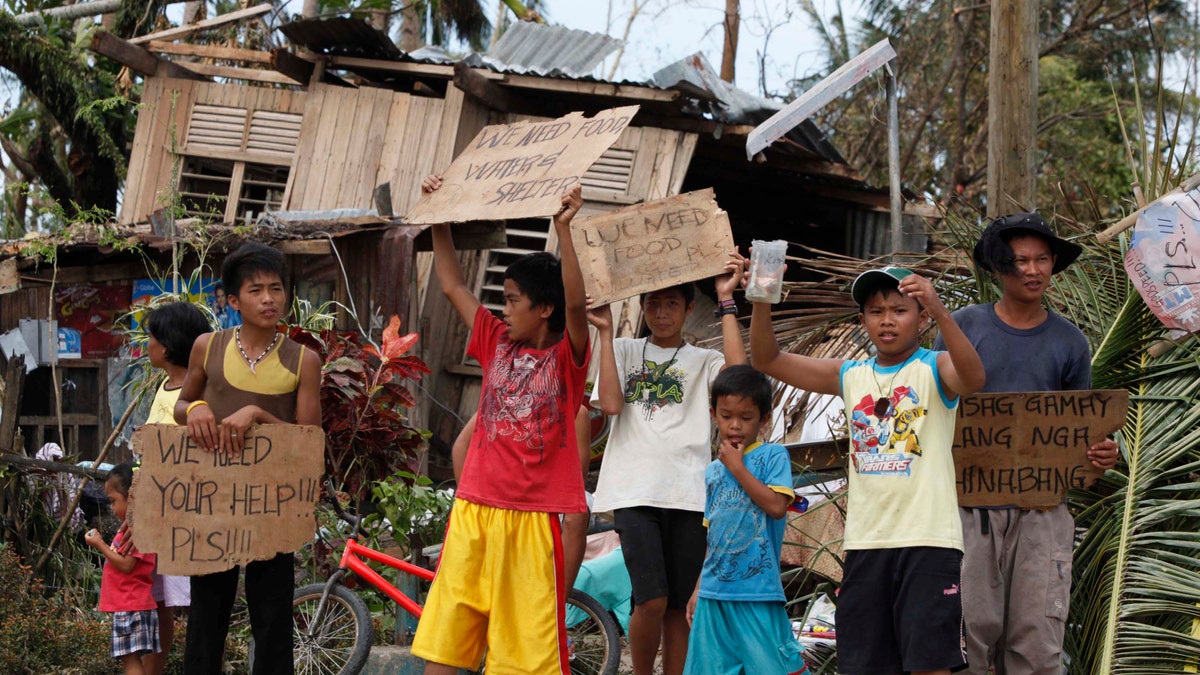 Visit these links to learn how to help victims of the deadly typhoon in the Philippines:
The World Food Program is working to bring food to refugees around the world and people facing hardship due to natural disasters. The organization is mobilizing quickly to reach those in need in the Philippines, according to its website, and donations will help provide emergency food assistance to families and children in the area devastated by a typhoon.
The Philippine Red Cross (PRC) has deployed assessment, rescue and relief teams to evaluate the damage from the typhoon and to support rescue efforts.
The American Red Cross, which responds to about 70,000 natural and man-made disaster each year, is accepting donations to help people affected by the Pacific typhoon, according to its website. Donations can be made in honor of or in memory of an individual.
AmeriCares is a non-profit emergency response and global health organization. In a statement on its website, AmeriCares says it delivers medical and humanitarian aid to people in need worldwide in times of epic disaster or daily struggle.
The Salvation Army is accepting donations specifically for Typhoon Haiyan. According to a Salvation Army statement, cash donations allow disaster responders to immediately meet the specific needs of disaster survivors without incurring many of the costs associated with sorting, packing, transporting and distributing donated goods. The relief services are funded entirely by donors and the Salvation Army says it uses 100 percent of all disaster donations to support disaster relief operations.
Mercy Corps is deploying emergency responders to the Philippines and will be working with partners on the ground to meet the urgent humanitarian needs of survivors, the organization says on its website. Mercy Corps says donations will help survivors meet their basic needs and begin rebuilding after the typhoon.
INTERNATIONAL RESCUE COMMITTEE
The International Rescue Committee (IRC) has dispatched an emergency team to the Philippines to respond to basic safe water, hygiene and sanitation needs. The IRC plans to expand its response as determined by needs on the ground.
THE AMERICAN JEWISH JOINT DISTRIBUTION COMMITTEE
The American Jewish Joint Distribution Committee has begun collecting funds for relief efforts and consulting with local authorities, the Filipino Jewish community, and global partners to assess the unfolding situation on the ground and ensure survivors' immediate needs are addressed.
JDC has provided immediate relief and long-term assistance to victims of natural and manmade disasters around the globe, including Haiti, Japan, and South Asia after the Indian Ocean Tsunami, and continues to operate programs designed to rebuild infrastructure and community life in disaster-stricken regions.
Samaritan's Purse has deployed disaster response specialists, including water and nutrition experts, to the Philippines, according to its website. Their team is working with local Christians to coordinate relief efforts on the hard-hit islands of Leyte and Samar.
Emergency teams from Doctors Without Borders (MSF) have been in Cebu city (second largest city in Philippines) since Saturday, Nov. 9. MSF will strengthen its team with an additional 50 people including medical personnel, logisticians and psychologists arriving in the next few days. Currently based in Cebu, teams-- including two doctors and an orthopedic specialist-- will also go to Tacloban and islands west of Cebu.
The MSF teams will organize drug supply, medical equipment and material to purify water, as well as essential items for distribution such as plastic sheeting, cooking items and hygiene kits. They will also monitor possible outbreaks of infectious diseases.

BAPTIST GLOBAL RESPONSE
A disaster-relief team from the Southern Baptists of Texas Convention will join others already in the Philippines to help with survival needs, Pat Melancon, managing director of disaster response for Baptist Global Response, said on the group's website. Another group will later make assessments to devise a long-term strategy to help survivors rebuild their lives. The Baptist Global Response hopes to send hundreds of thousands of dollars to Tacloban, Cebu and Panay provinces.
OPERATION BLESSING INTERNATIONAL
Operation Blessing Foundation Philippines, the local outreach of Operation Blessing International, has deployed disaster relief teams in several areas of the country and are helping clear roads and other debris so personnel can make it into the hardest-hit areas. The organization also has a medical team on the ground and will begin medical operations shortly, according to a press release.
The U.S. government is providing $20 million in immediate humanitarian assistance to benefit populations that were hit by Typhoon Haiyan, according to WhiteHouse.gov. The website has offered a list of recommended charitable organizations to donate to.