House Minority Whip Steny Hoyer: Puerto Rico bill 'is the best we've got'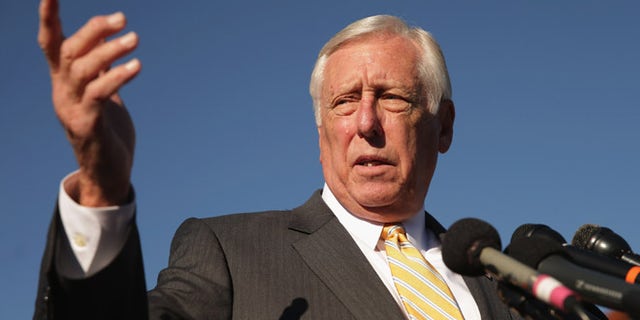 NEWYou can now listen to Fox News articles!
House Minority Whip Steny Hoyer (D-MD) said on Tuesday that the House-led plan to restructure Puerto Rico's $70 billion in debt is "the best we've got" – even it doesn't meet all the provisions that Democratic lawmakers hoped for.
Speaking to Fox News on Capitol Hill Tuesday morning, Hoyer said that the bill is the quickest way to help relieve the ailing U.S. territory of the crippling debt it has amassed.
"To delay further would be more dangerous than waiting," Hoyer said. "There needs to be a way. This bill gives a way to restructuring."
The Republican bill, which calls for several layers of oversight through a control board, has the tentative support of the Obama administration and is backed by Democratic leaders. Democratic presidential candidate Bernie Sanders, however, bucked party leaderships this week and said the deal makes a "bad situation worse."
Hoyer's comments came only hours after Puerto Rico's governor Alejandro García Padilla unveiled a stark budget that sets aside more than $200 million for a critical bond payment as the U.S. territory sinks into a deep economic crisis.
The proposed $9.1 billion budget for the upcoming fiscal year is $700 million smaller than the current one and calls for nearly $3 billion in cuts to government operating expenses.
Legislators have to approve a budget by July 1, the day a $2 billion debt payment is due. Padilla said he set aside only $209 million to help pay interest linked to that debt. The anticipated default is scheduled to be Puerto Rico's biggest one yet.
"We have made clear that we're not going to pay more than what is fair so as not to affect essential services," he said in a televised address. "Paying it in full would have meant stripping health services from approximately more than a million people, or we would have had to lay off countless number of police officers, closed a hospital, be left without school transportation or garbage collection."
Puerto Rico is being smothered by $70 billion in public debt that García has said is unpayable as he seeks relief from the U.S. government because there are no local or federal laws that allow Puerto Rico to declare bankruptcy. A recently approved U.S. House bill would allow for some restructuring and establish a federal control board, but the U.S. Senate still has to debate the measure as Puerto Rico's government warns it is running out of time and money.
The proposed budget does not call for any new taxes or more borrowing.
"We will depend exclusively on money collected by the Treasury Department," García said. "It has never been so difficult for a government to present a budget. We are at a stage of uncertainty."
Fox News' Chad Pergram and The Associated Press contributed to this report.
Like us on Facebook
Follow us on Twitter & Instagram