Horned husband attacked his wife with 8-inch knife in jealous rage, police say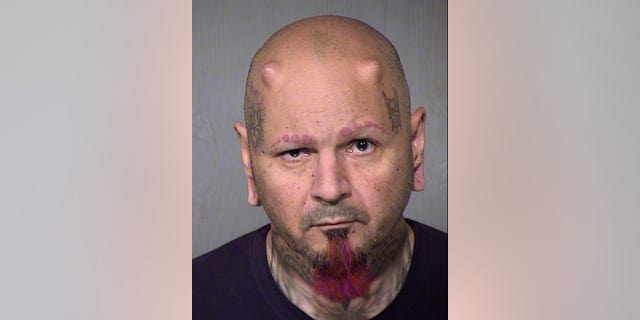 NEWYou can now listen to Fox News articles!
His devilish attitude and actions – not to mention looks – may land an Arizona man behind bars for a very long time.
Juan Vargas Rodriguez – a 53-year-old Glendale man with horn implants, dot tattoos for eyebrows and a pink-and-red beard – was collared on felony aggravated assault with a deadly weapon after he allegedly attacked his wife with an 8-inch blade.
The police report on the incident details how the attack happened: "[Rodriguez's wife] got home late from work, and they started to argue. He was jealous and thought she was cheating on him. He told her to sleep in the closet, and she said no, she wanted to sleep in her bed."
It goes on, "When she exited the closet, he grabbed her by the throat and pushed her across the room. He pulled a large serrated knife from his waistband (approximately 8 inches in length) and held it in the air. While he had the knife in the air and his hand on her throat, he said 'you're going to die, [expletive],' and the victim thought he was going to kill her. He swung the knife with a wide straight right arm hook motion toward her."
Rodriguez's wife suffered a cut on the top of her left forearm and bicep; the point of the knife also struck the side of her left breast.
While the two wrestled for control of the knife, the woman was also cut between her thumb and index finger.
The struggle ended after the suspect's adult daughter intervened and was able to get the knife away from Rodrigiuez.
When police showed up, Rodriguez – who is scheduled to be in court on June 6 – told them he "kind of blacked out with rage" and did not remember attacking his wife. He also said he did not mean to harm her.
Like us on Facebook
Follow us on Twitter & Instagram