Holloway's Mom Confronts Van der Sloot in Jail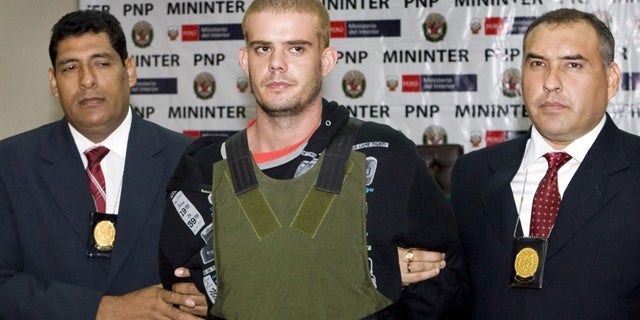 The mother of missing American teen Natalee Holloway confronted suspect Joran Van der Sloot in a Peruvian prison after sneaking in with a Dutch journalist, local media reported Friday.
Van der Sloot, 22, is being held in a maximum security prison in Lima, pending trial for allegedly beating to death 21-year-old Stephany Flores in his Lima hotel room in May.
He is the prime suspect in the 2005 disappearance of 18-year-old Holloway in the Dutch Caribbean island of Aruba.
Beth Holloway, formerly Beth Twitty, entered the Castro Castro Prison with Dutch TV journalist Peter de Vries, who is investigating her daughter's disappearance. Holloway managed to speak to Van der Sloot for about five minutes, Peru's 24 Horas reported, but was removed from the facility after it was found she did not have permission to speak to him.
"Beth Twitty and Joran van der Sloot met and they spoke for five minutes," Gyofred Munoz Care, a reporter with 24 Horas, told NBC.
"But when Beth Twitty asked direct questions about the crime, he refused to answer without having his lawyer present."
Van der Sloot's lawyer, Maximo Altez, told NBC that "the Dutch media is using Beth Holloway to create a TV special which would include her, the Flores family, and an interview with Joran van der Sloot."
A grand jury in Alabama, where Natalee Holloway lived, indicted Van der Sloot on June 30 for wire fraud and extortion. He allegedly demanded $250,000 from Beth Holloway to tell her where to find her missing daughter's remains.
Van der Sloot was arrested twice in the Holloway case and spent three months in jail but was never charged. Holloway's body has never been found.
In May, he traveled to Lima, where he allegedly killed Flores after she stumbled upon computer files with information on the Holloway case.
NewsCore contributed to this report.