High-profile meeting between Venezuela and Iran should set off alarm bells, experts say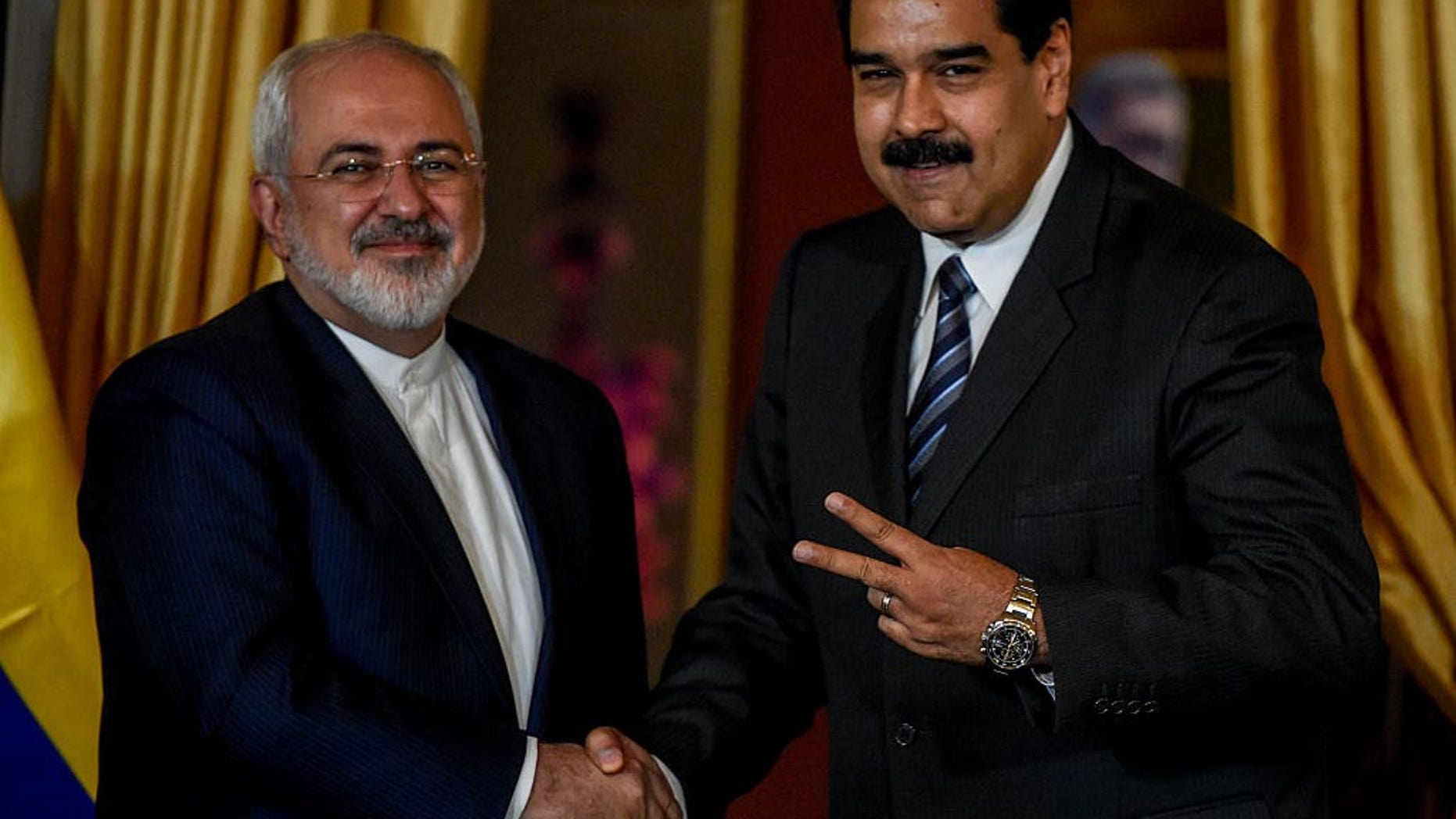 Caracas, Venezuela – Venezuela's President Nicolas Maduro made room in his high-pressure agenda to receive Iran's foreign minister over the weekend, and he made sure the meeting was broadcast on national TV.
Maduro gave Mohammad Javad Zarif a warm welcome in the Presidential Palace of Miraflores. They shook hands as they announced an alliance to stabilize oil prices.
"We continue to build common ground and a new consensus on stabilizing oil markets, strengthening industries, strengthening OPEC, to strengthen the closeness and alliance with the production countries of OPEC," said Maduro as he greeted Zarif, the highest-ranking Iranian official that has visited Venezuela since 2013.
Political analysts here say the encounter was a political show aimed in part at irritating the United States, repeatedly pointed at by the socialist government as conspirator to overturn the regime. A partnership between the two countries is sure to infuriate Washington because it shows Iran's influence in Latin America, the U.S.' neighbor, is growing.
"I've visited Iran more than 20 times, I deeply know the good nature, the good, deep spirit of the Iranian people and I love it. I love Iran as much as I love our Commander Chavez," Maduro said during the visit. He then announced the appointment of a new ambassador to the Islamic nation, Gen. Jesus Gonzalez Gonzalez, and proclaimed the start of a "new stage" in the countries' relationship.
"We are going to create a new dynamism in Venezuela-Iran relations," he said, announcing the creation of a special commission to follow up on their bilateral deals.
Critics say the alliance should be seen as troubling.
Miami Congresswoman Ileana Ros-Lehtinen said Iran was using its growing clout in Latin America to expand "Iran's radical extremist network."
"The timing of Zarif's trip is significant as Iran could use many of these rogue regimes to circumvent remaining sanctions, undermine U.S. interests, and expand the drug trafficking network that helps finance its illicit activities," Ros-Lehtinen said in a statement. "The threat to U.S. national security interests and our allies should be setting off alarm bells."
Experts say Maduro, a socialist leader whose government is on the brink of collapse, seems to be looking at Iran to help solve its social ills. But they doubt that strengthening relations with Iran will help to solve the country's acute economic and social problems, rooted in the dramatic drop of oil prices since 2014.
In fact, many note that both countries privately disagree on the fundamentals of the oil crisis.
"While Iran's policy is to increase its production to get more money, Venezuela is asking to reduce global production to push for a price increase," said Gustavo Salcedo, an expert in U.S.-Venezuela relations, to Fox News Latino.
Still, Salcedo noted that Washington probably won't see the rapprochement with good eyes. "It adds to Venezuela's political internal situation, which right now is the main focus for the White House and Department State regarding the country," Salcedo said.
Others downplayed the visit.
"The political air has changed in Latin America and the Bolivarian influence is fading quickly. Countries like Argentina, Brasil and Paraguay are no longer part of that alliance," said Milos Alcalay, former Venezuelan ambassador to the UN, to FNL.
The diplomat said Maduro's statements on Saturday are more part of a political show than a real game changer for Venezuela.
"All the companies built between Venezuela and Iran in the past have been a complete failure and that will not change in the future. Now both countries are facing crises of their own and Teheran doesn't really have resources to help Venezuela's economy," the former ambassador told FNL.
Zarif's visit to the region, a tour that also took him to Cuba, Nicaragua, Ecuador, Chile and Bolivia, seems to indicate a rekindling of Iran's interest in the region.
However, some remain skeptic of the true value of the visit, which included a delegation of 80 businessmen.
"Maduro made a big deal out of the visit because it's useful for him to tell the world that his government is not politically isolated and it helps his anti-U.S. image," Alcalay said. "Other world leaders are skipping Venezuela when they visit Latin America, so he used the opportunity."