Heartbreak for family of American killed in Spain while celebrating anniversary
The father of a Northern California man identified as the American citizen killed in the deadly truck ISIS terror attack in Barcelona, Spain, says his only consolation is that 42-year-old Jared Tucker likely died happy.
His father, Dan Tucker, said he had not seen his son happier than he had been in the last year.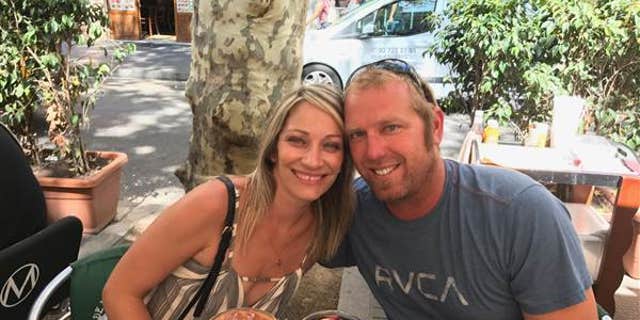 He had "a magnetic personality and people loved him," his dad said. He liked to fish, play golf and other sports, and he was deeply in love with his wife, his father said.
Heidi Nunes, 40, of Walnut Creek, Calif., said she and her husband were in Europe celebrating their one-year wedding anniversary, according to NBC News. The two already had made stops in Paris and Venice. Nunes said the couple were savoring drinks in the famous tourist area of Las Ramblas when chaos broke out.
CIA WARNED BARCELONA ABOUT TERROR THREAT, REPORT SAYS
Nunes said the attack occurred shortly after her husband left to go to the bathroom, and she went off to look at some jewelry.
"Next thing I know there's screaming, yelling," Nunes told NBC News. "I got pushed inside the souvenir kiosk and stayed there hiding while everybody kept running by screaming."
Nunes shared a picture taken of her and her husband, who leaves behind three daughters, shortly before the terror attack, smiling and enjoying drinks.
BARCELONA TERROR ATTACK DEATH TOLL RISES, FOURTH SUSPECT ARRESTED
"The picture was taken about an hour before the attack while we were sitting at a little patio," Nunes said.
The couple had sent joyful pictures from their first trip to Europe, a vacation they'd saved for to their kin back home. The last pictures arrived to his family in Northern California a day before tragedy struck.
Jared Tucker worked with his father at a family-owned pool business in the San Francisco Bay Area since he was 16, his father said.
About eight hours after a vehicle rammed into a crowd of pedestrians in Las Ramblas, killing at least 13 people and injuring dozens of others, another attack was carried out in the Spanish resort town of Cambrils, where at least one person was killed. Police have arrested four people in connection with the terror attacks in Barcelona and Cambrils.
The Associated Press contributed to this story.