Gunman kills top member of the Afghan peace council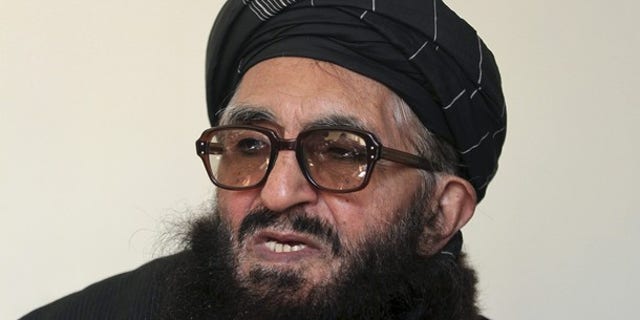 KABUL, Afghanistan – An assassin armed with a silenced pistol shot dead a top member of the Afghan peace council Sunday at a traffic intersection in the nation's capital, police said. The killing strikes another blow to efforts to negotiate a political resolution to the decade-long war.
Arsala Rahmani was a former Taliban official who reconciled with the government and was active in trying to set up formal talks with the insurgents.
He was shot at an intersection in western Kabul by a gunman in a white Toyota Corolla while being driven to his office, said Mohammad Zahir, head of the city police's criminal investigation division. He did not have a bodyguard with him at the time.
"Only one shot was fired," Zahir said. "Our initial reports are that it was a pistol with a silencer. Rahmani died on the way to the hospital." Zahir said an investigation was under way.
The Taliban denied responsibility for the killing, although they had earlier indicated that they would target peace negotiators.
Rahmani was one of about 70 influential Afghans and former Taliban appointed by President Hamid Karzai to try to convince insurgent leaders to reconcile with the government.
The U.S. has backed the council's efforts to pull the Taliban into political discussions with Kabul as part of its strategy for reducing violence and turning over responsibility to Afghan forces so international combat troops can go home or move into support roles by the end of 2014.
But this effort suffered a major setback in September 2011 when former Afghan President Burhanuddin Rabbani, who was head of the peace council, was assassinated by a suicide bomber posing as a peace emissary from the Taliban.
The U.S. has its own contacts with the Taliban, but in March the militant organization said they were suspending contacts with the United States over what they said was a lack of progress in releasing Taliban prisoners from U.S. detention in Guantanamo.
The last substantive discussions between U.S. officials and Taliban representatives were in January, and both initiatives to build trust and move toward real peace talks are in limbo.
A year ago, U.S. Secretary of State Hillary Rodham Clinton said the United States was launching a "diplomatic surge to move this conflict toward a political outcome."
The alternative to a political resolution is a protracted conflict that neither the war-weary Afghans, Americans or Europeans want or can afford.
On Twitter, the U.S. Embassy in Kabul called the assassination of another peace council member "a tragedy."
NATO praised Rahmani for "turning his back" on the insurgent movement and said his contributions will be missed.
"The only possible aim of this attack is to intimidate those, who like Rahmani, want to help make Afghanistan a better place for its citizens and the region," the coalition said in a statement.
Afghan Foreign Ministry spokesman Janan Mosazai said work toward reconciliation with the Taliban would continue despite Rahmani's killing.
"No one but the sworn enemies of peace in Afghanistan and the region would commit such a heinous act," he said in a statement.
Rahmani, who was in his 70s, served as deputy minister of higher education during the Taliban regime, which ruled Afghanistan for five years and sheltered Al Qaeda before being driven out of power in the U.S.-led invasion in late 2001. He reconciled with the government established in Kabul after the Taliban's fall and subsequently served in parliament.
Rahmani was one of several former members of the Taliban who were removed from a U.N. blacklist in July 2011. The decision by a U.N. committee eliminated a travel ban and an assets freeze against Rahmani and the others -- a move seen as key to promoting the peace effort.
Taliban spokesman Zabiullah Mujahid said in a statement that his group had nothing to do with Rahmani's assassination.
When they announced the start of their annual "spring offensive" earlier this month, the Taliban said that members of the peace council -- who they view as government collaborators -- would be among their primary targets.
The offensive, which comes every year as the weather warms, normally leads to an increase in attacks as the insurgents seek to intimidate the government and retake territory lost over the winter.
Publicly, the leadership of the Taliban has said that it will not talk to the Afghan government, which it calls a puppet regime of the U.S. and its international partners. Privately, however, some representatives of the Taliban who are open to negotiating a settlement have met with U.S., Afghan and other international officials.
Rahmani, along with other members of the peace council, was trying to forge relations with those Taliban amenable to peace talks.