Guam residents relieved - for now - after North Korea tones down missile threat
HAGATNA, Guam – Residents and officials in this U.S. territory greeted news that North Korea was stepping back from a planned missile strike on the island with some relief and tepid celebration.
After threatening to strike the island with four medium-range ballistic missiles, North Korea officials toned down their warning on Tuesday and said they would "watch a little more the foolish and stupid conduct of the Yankees."
"This information at least gives us reason to believe that Kim Jong Un has kinda paused his intention of shooting anything in our direction," Lt. Gov. Ray Tenorio told reporters. "So we find the silver lining around the cloud and hope that that's an indication that he is pushing off his intention of firing four missiles in Guam's direction."
WHERE IS GUAM AND WHY WOULD NORTH KOREA ATTACK IT?
Still, residents on the island remained on edge. At about midnight, a radio station mistakenly issued a "civil danger warning" in Guam – which turned out to be a false alarm that officials blamed on human error.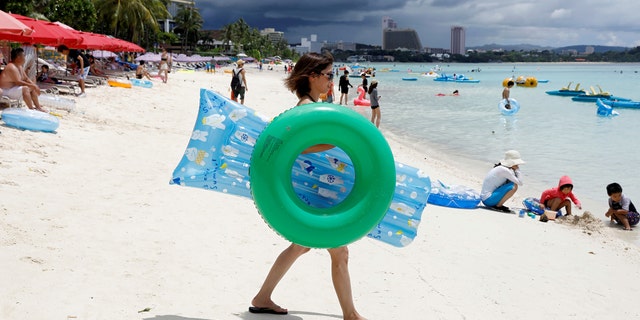 In response to Trump's threat of "fire and fury" comment, North Korea dictator Kim Jong Un ordered his military to prepare a response by targeting Guam. On Monday, military leaders presented Kim with maps and photos of potential flights paths aiming for Guam.
"Obviously it is something we need to pay attention to," said ship captain Eric Lewis. "They're serious and if [President Donald] Trump gets serious, then we will have some real trouble out here."
AFTER NORTH KOREA NUCLEAR THREAT, GUAM RESIDENTS PREPARE FOR POSSIBLE MISSILE STRIKE
Ground zero for Korean missiles is 18 miles off shore, about an hour by boat. An unarmed missile could splash here and no one on Guam would even know it was fired. But the U.S. military, which has two bases on the island, is not taking the threat lightly.
On Monday, Defense Secretary James Mattis told reporters a North Korean attack on Guam "could escalate into war very quickly," adding "it's game on" should the hostile country try to fire missiles in that direction.
"The bottom line is we will defend the country and for us (the military) that's war," said Mattis.
On Guam, where $7 out of every $10 is generated by tourism, those remarks are comforting.
"The ocean is our railway, our roadway to the Pacific, so we are concerned about what impact (a missile) would have with cargo coming in and out of Guam," said port director Joann Brown.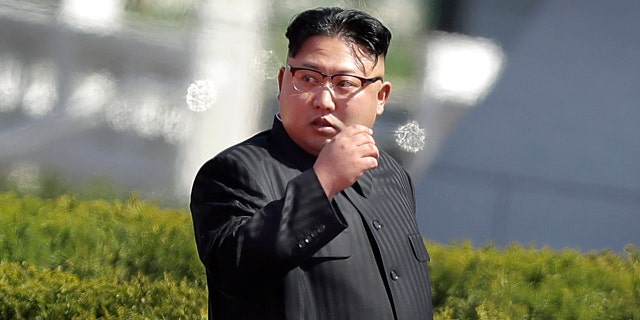 The Commonwealth of Micronesia, which represents dozens of islands and roughly 500,000 residents, depends on the port in Guam for 90 percent of its goods. The port unloads huge cargo ships from China and the U.S. on a daily basis, suppling the islands with everything from cars to paper. Guam is the largest island between Hawaii and the Philippines, site of a former U.S. naval base.
"We sell two things," said George Charfauros, Guam's Homeland Security advisor. "We sell paradise—beaches, clean water, sunshine. And then we also sell strategic location. There's a delicate balance in that."
The U.S. military occupies about one-third of the island. The rest supports tourism, but remains largely rural. With clear waters in the 80's, and a coral reef surrounding the island, Guam is popular with divers. Marine biologist Ashton Williams worries about an armed missile strike.
"First, the fish would be killed by that, along with marine mammals and the turtles we love so much – not to mention damage to the coral reef," Williams said as she prepared to jump off a Micronesian Dive Association boat. "Once the corals break, they take years, even decades to build back up. We also have fish who live in the coral reefs and if we don't have corals, we don't have fish, and if we don't have fish that is going to bring down our tourism industry."
Tourism, however, is up 7 percent over last year, according to officials, as Japanese and Korean tourists learned long ago to dismiss the idle threat of North Korea's supreme leader.
"It is a crisis," said Leo, a vacationer from Japan. "But I think, to many of us, we all realize that there's very little that we can do that's within our control, right?"
Paradise in the crosshairs. Up to 15,000 tourist a day on Guam decided that's OK, dismissing fears of a North Korean missile attack.
Kim said he would step back from the planned missile strike on the condition the U.S. military stop or temper maneuvers on the Korean Peninsula, including a joint exercise with South Korea beginning August 21.
The U.S. said it has no plans to postpone those exercises, putting the ball back in Kim's court.
But experts say the conditional tone coming out of the hermit kingdom is encouraging – providing a diplomatic window for the two powers to open peace talks.
"The decision is to live life," said Tim, a Guam resident. As for the tourists, "they're already here. They're going to enjoy it."