Government's Obamacare Point Person Says Spanish Enrollment Site Still On Hold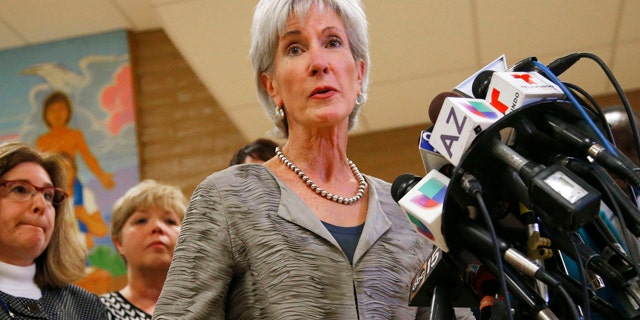 Health and Human Services Secretary Kathleen Sebelius has promised to review the performance of contractors who helped build a foundering website intended to help people buy health insurance.
She also addressed concerns over her department's rollout of a Spanish-language version of the enrollment site.
Sebelius said Friday she would make sure taxpayers got their money's worth from the private companies contracted to build HealthCare.gov.
Sebelius, the Obama administration's public point person on implementation of the new health care law, was in Phoenix on Thursday amid calls for her resignation over the technical issues that have prevented people from signing up for coverage online.
"The majority of people calling for me to resign I would say are people who I don't work for and do not want this program to work in the first place," Sebelius said during a visit to the Wesley Health Center.
"I have had frequent conversations with the president and I've admitted to him that my role is to get the program up and running and we will do just that," Sebelius added.
Sebelius toured a Health and Human Services call center and spoke with "navigators" who have been trained to educate people about enrolling for coverage. She said consumers can enroll in-person, by filing paperwork or contacting a call center. The nation's 17 call centers are equipped to answer questions in 150 languages, she said.
Sebelius said nobody has been fired over the technical glitches and a lot of the problems were caused by a surge in demand.
She also said the website "It's certainly not perfect but getting better by the day," although still needs improvement. She said the Spanish language version of the site was on hold until the bugs are worked out on the overall system.
Sebelius also noted that the open-enrollment was only three weeks into its 26-week stretch.
"In football terms, it's early in the first quarter," she said.