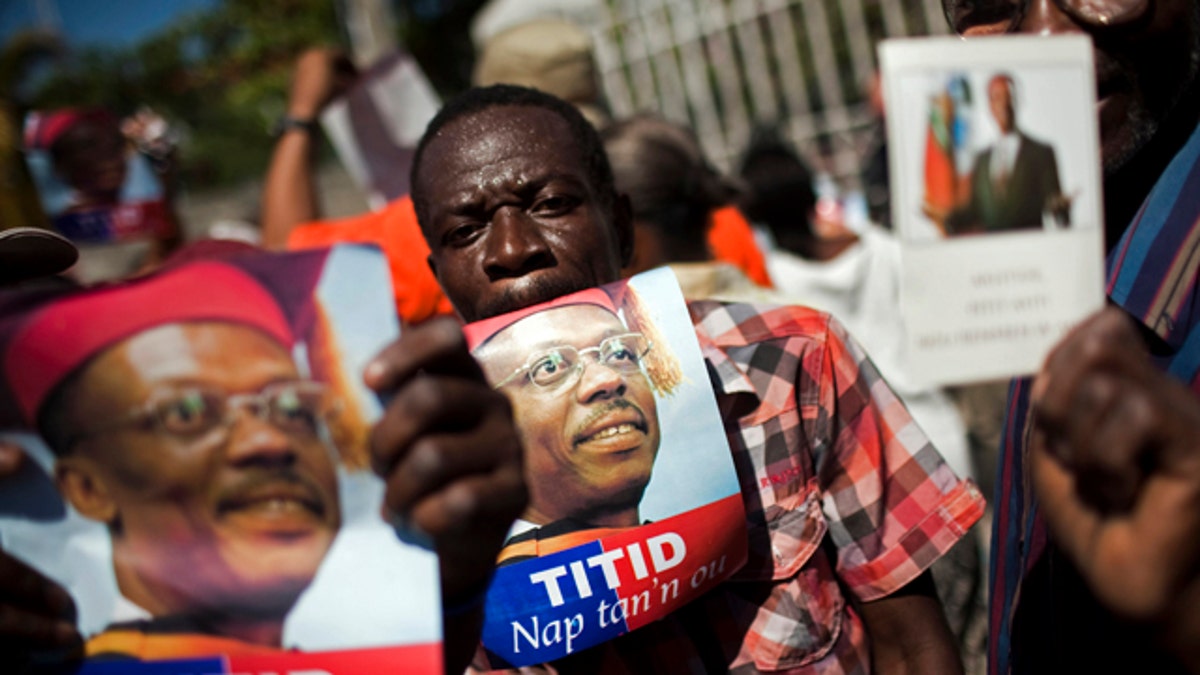 PORT-AU-PRINCE, Haiti -- Haitian electoral officials dropped the government-backed candidate from the upcoming presidential runoff on Thursday, ending a standoff with the U.S. and other international powers over the results of a first-round of voting that was marred by fraud and disorganization.
The electoral commission said the March 20 runoff will match former first lady Mirlande Manigat against Michel Martelly, a carnival singer known as "Sweet Micky." The announcement, which came after dawn following more than 13 hours of deliberations, means government-backed candidate Jude Celestin is out of the race.
The decision is expected to head off a repeat of rioting that spread throughout the country in December after the commission announced that Celestin had edged Martelly for a place in the runoff according to the preliminary results of the Nov. 28 vote.
This time, cheers erupted outside the commission's office and throughout the surrounding streets of Petionville, a suburb in the hills of the capital.
U.S. Secretary of State Hillary Rodham Clinton flew to Port-au-Prince on Sunday to meet with all three candidates and reaffirm in person to President Rene Preval that Washington backed an Organization of American States report recommending that Celestin be dropped from the race.
The top American official at the United Nations, Susan Rice, said last month that U.S. support depended in part on following the OAS recommendations, heavy pressure from the most important and influential donor nation for Haiti, which faces a long list of problems for this year.
Haitians in the capital had awaited the results nervously, with workers rushing home and banks closing early on Wednesday. The U.S. Embassy alerted U.S. citizens to the "potential for elections-related violence throughout Haiti for the duration of the elections period."
"We are satisfied with the decision. Everyone can go about their business today without problems," said Emmanuel St. Louis, 34, a maintenance worker who voted for Martelly. "(Now) we need a different council to run the second round so all people are allowed to vote."
The first round saw widespread disorganization, violence, intimidation, fraud and a call on election day from nearly every candidate -- including Martelly and Manigat -- to cancel the vote while it was going on.
An OAS team said that recalculating the results based on estimates of fraud would create a Manigat-Martelly faceoff in the runoff.
That report was criticized by some Haitians and observers as international meddling in Haitian affairs and ratification of a flawed election.
"The OAS and the international community meddled in the election process to put in candidates that don't represent the people's votes ... Only an annulment and new election can solve this," said Yves Pierre-Louis, the leader of the popular organization Tet Kole after results were announced. He pledged a second-round boycott.
The U.S. Congressional Black Caucus issued a statement on Monday breaking with the State Department and calling for new elections.
But State Department spokesman P.J. Crowley said Wednesday night that officials in Washington were awaiting a second round as scheduled. There was no immediate reaction from Washington on Thursday morning.
The long delay in announcing the ruling gave the impression that the Preval administration would defy the international pressure and either put Celestin through or cancel the election outright.
Electoral council members are approved by the president, and Preval resisted calls last year to reform the council.
The council debated through the night and into the morning at the former Gold's Gym used as its headquarters since the earthquake. Journalists who arrived at 6 p.m. Wednesday expecting a press conference found themselves waiting, chatting and sleeping on the floor, some using riot gear as pillows, for more than 13 hours.
Finally, around 7 a.m. Thursday, council spokesman Richardson Dumel arrived -- only to meticulously describe all 110 pending legislative races before making the presidential announcement.
The decision appears to end a chapter of Haitian history, an era of rotating leaderships that began in 1990 with the country's first democratic election of the liberation theologian turned political leader Jean-Bertrand Aristide.
Preval rose to power as Aristide's prime minister and the two men governed the Caribbean nation for more than 16 of the last 20 years -- with interruptions due to ousters of Aristide followed by the rule of a military junta and U.S.-backed interim government.
Preval and Aristide have broken ties now, partly because Preval failed to return his former mentor from exile. But his government said this week it had agreed to issue Aristide a diplomatic passport, and the possibility of his return is seen as a wild card that could disrupt the planned runoff.
Even if Preval's newly formed Unity party will not hold onto the presidency, it will be a strong force in the legislature. It either advanced to a runoff or won outright in 68 of the 99 lower-house seats and in all but one in the Senate.
Whoever holds power in the coming year expects to oversee billions in promised quake reconstruction aid. Washington still holds nearly $1 billion that was promised for last year. The new leader will also be tasked with getting nearly 1 million earthquake survivors out from under tarps and tents and jump-starting a reconstruction that has barely begun.
Manigat is a socially conservative constitutional law professor whose husband briefly served as president under a military junta following the 1986 ouster of ex-dictator Jean-Claude Duvalier.
She told AP in an interview late last year that Haiti is too dependent on foreign countries and would like to see U.N. peacekeepers leave by the end of her term, replaced by a Haitian security force.
Martelly is a populist with a law-and-order platform that includes the reconstitution of Haiti's banned armed forces. Drawing support from people who had planned on supporting fellow musician Wyclef Jean until his presidential bid was disqualified, Martelly's political popularity surged when people saw him as a martyr to Preval's aspirations in the preliminary results.
His campaign includes staff who worked on U.S. Sen. John McCain's 2008 presidential bid and he said after meeting with Clinton last week that he would work in partnership with the United States.
Haiti now faces a period of legal uncertainty. Preval's five-year term is scheduled to end Monday under the constitution. An emergency law passed by members of his former party in an expiring Senate would allow him to remain in office for up to three more months, in part because his 2006 inauguration was delayed.
But if Preval steps down as scheduled, the Haitian constitution says the highest-ranking member of Haiti's supreme court would take over the country pending an election to be held no less than 45 days and no more than 90 days later. The court's presidency is currently vacant.