'Girl fight club' shows adults encouraging children to brawl on camera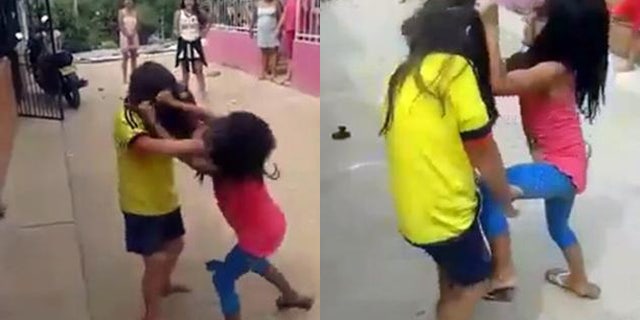 A video showing two young girls fighting on the street encouraged by their mothers has outraged social media users in Colombia.
The clip was published online earlier this month where it's claimed the incident took place in the city of Bucaramanga in the countries Santander region.
The footage shows the two little girls viciously fighting each other while the mothers, and what appears to be other family members, encourage them.
Local social policy counsellor, Martha Jimenez de Gomez, said: "Violence is not only carried out with weapons.
"Violence is being generated from the home and if the child sees this behaviour is being approved he or she keeps that behaviour until being an adult.
"These parents have to be held responsible by the National Institute for Welfare.
"But it is also crucial for societies to reject such behaviour if it is to be eradicated."
Government officials were also quick to react with the National Institute for Welfare stating: "A team of professionals was sent to the Lizgano II neighbourhood from northern Bucaramanga to check the identity of the girls and their families."
Regional director of the National Institute for Welfare Margy Leon said: "This is a regrettable situation.
"We can't accept that someone is allowed take advantage of the innocence of these underage girls in such a manner."
According to local newspaper La Vanguardia, one of the girls is six years old and the other one is five years old.
Authorities found out that the families live in poverty and NGO workers urged that rather than punishment they needed psychological guidance.
The names of the people involved have not been made public, and they will forced to undergo psychological counselling provided by the state.
Click for more from News.com.au.