Giant wave kills American tourist in Mexico's Cabo San Lucas, injures another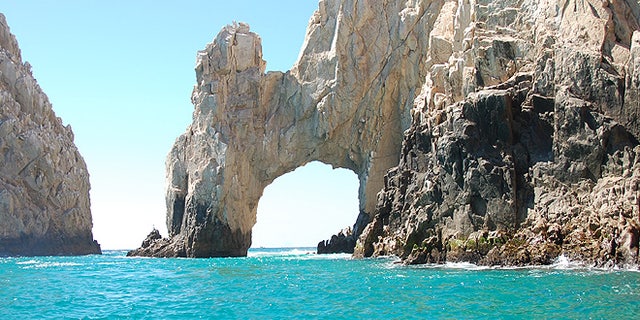 A 65-year old woman was killed when a giant wave struck two American tourists strolling on the beach near the famous stone arch in the Mexican resort town of Cabo San Lucas.
U.S. State Department officials on Thursday confirmed the death of Sandra Dilland, who was returning to her hotel at Cabo San Lucas along with her unidentified 70-year-old companion when the couple was struck by a rogue wave and dragged out to sea on Tuesday.
Dilland was declared dead and the man was listed in serious condition on Wednesday following a rescue by Navy personnel, the Associated Press reports.
Officials at the U.S. Embassy in Mexico told FoxNews.com they had no information pertaining to the incident on Thursday. A U.S. Navy spokeswoman confirmed that U.S. Navy officials were not involved in the recovery of Dilland's body or the rescue of her companion.
Authorities said Dilland had a Wisconsin driver's license and the man had one from Nebraska, but it was unclear where they were currently living or whether next of kin have been notified.
In September, a California man died after a rogue wave pulled him and his wife into the water in Cabo San Lucas. Ted Park, 72, and his 66-year-old wife, Sinae, of Walnut Creek, were struck by the wave on Sept. 19. Ted Park's body was later found by a naval boat, while his wife suffered respiratory problems following the incident, the Associated Press reported.
A total of 61 U.S. citizens have drowned in Mexico from January 2010 through June 2012, according to State Department statistics. Of those fatalities, three occurred in Cabo San Lucas.
The Associated Press contributed to this report.