Germany's Merkel: Europe must agree how to achieve growth, reforms in France crucial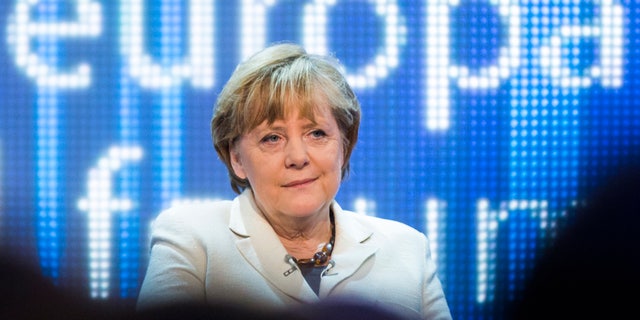 BERLIN – German Chancellor Angela Merkel said European countries must agree on how to generate sorely needed economic growth, and stressed it was important that France pursue reforms to become more competitive.
Merkel spoke at a European policy forum in Berlin a day after new figures showed that the eurozone contracted for the sixth straight quarter in the January-March period, its longest-ever recession, with nine of 17 member countries in recession. France, its second-biggest economy, was the latest addition to that list.
"What we need above all is a common understanding in Europe — and there unfortunately isn't one yet — of what actually makes us strong and where growth comes from," Merkel said.
Germany, Europe's biggest economy and the largest contributor to rescue packages for struggling countries in the eurozone, has faced persistent criticism for favoring a crisis response that focuses on debt reduction.
Officials in Berlin continue to insist that budget austerity has to be part of the answer, and that doing so doesn't conflict with growth — though they also stress that reforms, for example to make labor markets more flexible, are just as important.
How to pull Europe out of its economic rut has been a source of friction between Merkel's center-right coalition and French President Francois Hollande's Socialist administration, which says austerity should be eased to let the economy grow.
Merkel dismissed criticism of her views, arguing it was good that European countries should have a debate on how to improve the economy.
"I know that in the long term Germany will only do well if all of Europe does well, and Europe won't do well if Germany does really badly."
Merkel said that France is of "existential significance" to Europe and the eurozone. "So it is the wish of every responsible German politician, and of course mine too, that France approves the things that are necessary to achieve French competitiveness so that France can be successful," she said.
At the same conference earlier Thursday, Merkel's finance minister said there were limits to what the world's central banks could do to solve economic problems and warned there was too much money flooding global financial markets.
U.S. and Japanese authorities have already cut their interest rates to near zero. The European Central Bank this month cut its main rate to a record-low 0.5 percent, but companies in parts of Europe are still struggling to borrow at reasonable rates.
Finance Minister Wolfgang Schaeuble argued that medium-sized companies' financing difficulties are a result of a wider crisis of confidence and said that even zero interest rates ultimately wouldn't help.
"Monetary policy can't solve the problems that have to be solved by financial and economic policy, structural policy," he said, adding that the ECB is doing its job well but can't be expected to do politicians' work.
More broadly, Schaeuble said, "we have much too much liquidity from the world's central banks." He insisted that "when we have so much liquidity ... this is a placebo, we do not solve the problems."