German government wants faster identification of art stash possibly stolen by Nazis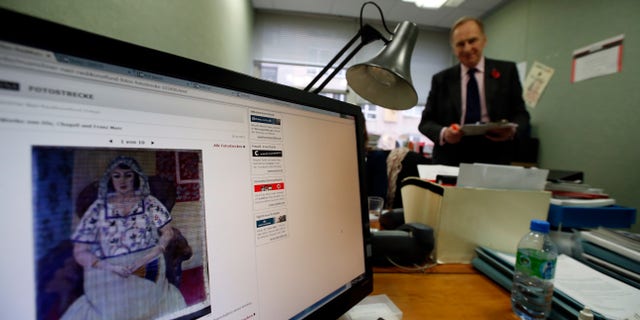 BERLIN – As Jewish groups, art experts and others piled on the pressure, the German government announced Monday it will push for faster identification and publication of details of a recovered trove of some 1,400 pieces of art, many of which may have been stolen by the Nazis.
Details were scant Monday, but German Chancellor Angela Merkel's spokesman said that later in the week, authorities will lay out how they intend to go about publicly identifying the looted works. He gave no timeframe for releasing the much-awaited information.
"We can well understand that especially Jewish organizations are asking many questions. They represent older people who were treated very badly," said the spokesman, Steffen Seibert.
Officials have released few details about the art found in the Munich apartment of 80-year-old Cornelius Gurlitt, though it is known to include pieces by Henri Matisse and Pablo Picasso. The discovery resulted from a tax probe that's ongoing, adding to secrecy concerns.
Prosecutor have said there's evidence that one item -- a Matisse painting of a sitting woman -- was stolen by the Nazis from a French bank in 1942. Other items in the trove had been denounced as `degenerated art' by the Nazis, taken from museums and sold abroad.
Some of the artworks may have been taken from or bought for a pittance from Jewish collectors who were forced to sell under duress. For the heirs of those collectors, the discovery has raised hopes, while the slow release of information has stirred frustration.
Also Monday, Stuttgart state police spokesman Horst Haug said that local police last week took 22 pieces of art from a home in Kornwestheim in southern Germany to a safe location "because parts of these paintings were associated with the Munich art discovery."
German media identified the owner of the paintings as Gurlitt's brother-in-law, who reportedly was worried about the safety of his art due to the recent media frenzy.
Foreign Minister Guido Westerwelle, meanwhile, warned that Germany's reputation abroad would suffer if it didn't take a more proactive approach to publicly identifying the artworks in the Munich trove.
"We should not underestimate the sensitivity of this issue around the world," Westerwelle told the German news agency dpa. "Transparency is at the highest importance now."