Gaza Strip Attacks By Israel Draw Condemnation From Latin American Nations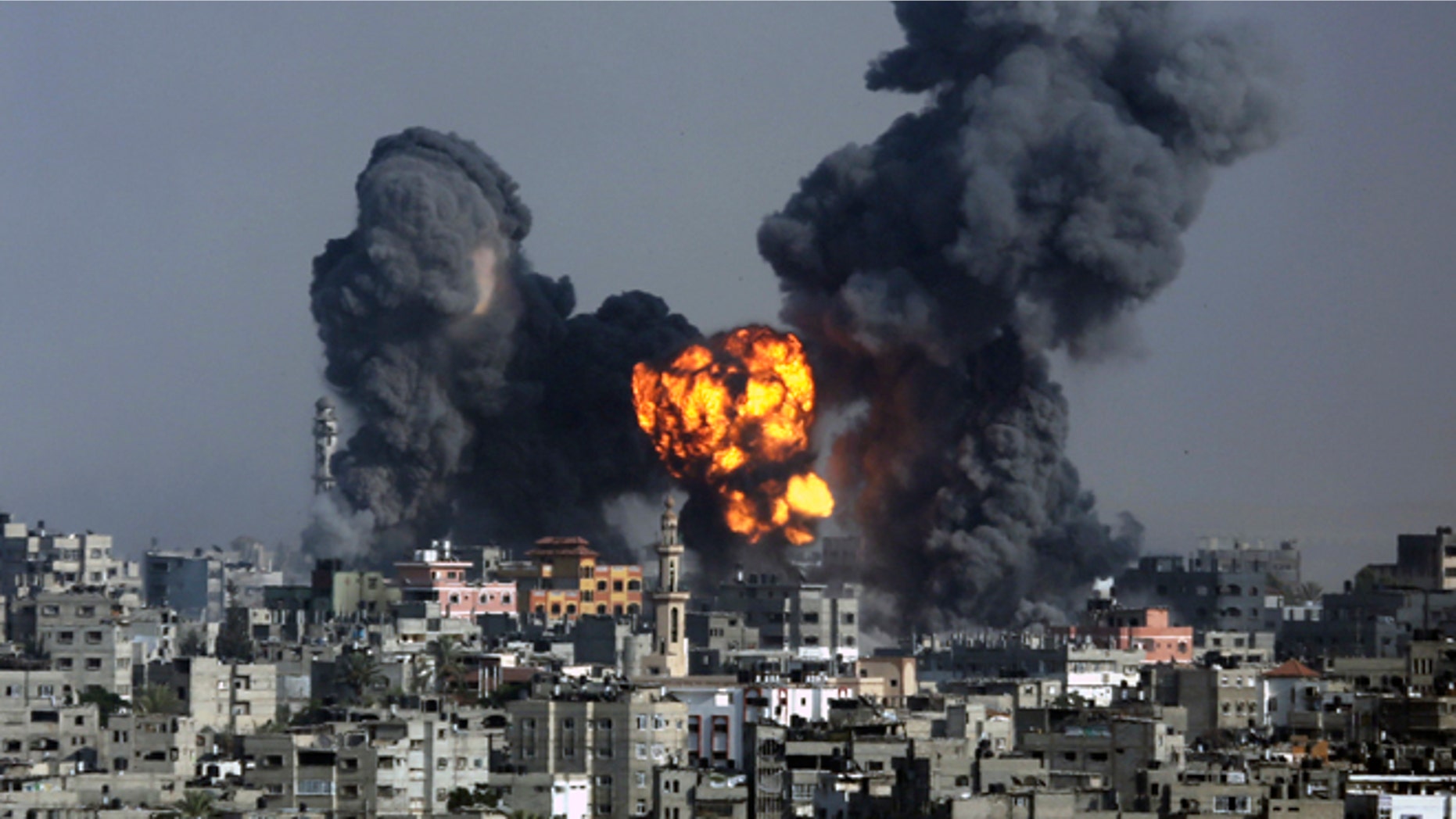 As U.S. Secretary of State John Kerry landed in Jerusalem to meet with other world leaders in an attempt to broker a truce between Israel and Hamas militants, many countries in Latin America began to voice their anger at the air strikes and ground war waged by Israeli troops in the Gaza Strip.
Argentina became the latest of the so-called moderate Latin American nations to condemn Israeli attacks in Gaza in response to rocket attacks into Israel by the Palestinian group Hamas. Speaking at a meeting of the United Nations Security Council, Argentina's Representative Maria Cristina Perceval condemned the use of force in the Gaza Strip by the Israelis.
Perceval said that Israel used an "indiscriminate abuse of militarism" and that the citizens living in the Gaza Strip "paid the price of the disproportionate use of force."
The Argentinians joined neighboring Brazil and Chile in condemning the use of force by Israel in Gaza, marking a sharp contrast from previous battles between Israeli and pro-Palestinian forces in the past.
"The Brazilian government vehemently condemns the Israeli bombardment of Gaza with disproportionate use of force," a statement by the Brazil Ministry of External Relations said, according to The Jerusalem Post. "It equally condemns the firing of rockets and mortars from Gaza into Israel."
Both Brazil and Chile have deep economic and military ties with Israel, giving more weight to each nation's condemnation of the attacks in Gaza. In the last 15 years, Brazil has bought and leased both weapons and fighter planes from Israeli – worth billions of dollars – and Israel's three major manufacturers of unmanned air vehicles submitted proposals in a bid to for the Chilean Air Force back in 2010 following years of collaboration between the two nations.
Chilean President Michelle Bachelet not only condemned the attacks on Gaza, but the country went so far as the freeze the Free Trade Agreement negotiations that were underway between Israel and one of Latin America's strongest economies.
"As a non-permanent member of the [U.N.] Security Council for the 2014-2015 period, Chile expresses its condemnation and regret toward the violence which has cost the life of both Palestinian and Israeli civilians," a statement from Chile's Foreign Ministry read, following the announcement of aid for Palestinian victims in the Gaza Strip, The Santiago Timesreported.
Argentina, Brazil and Chile's condemnation of Israel's attacks on Gaza is not the first time that countries in Latin America have chimed in of Middle East affairs. But criticism of Israeli military movements tends to come from the more-left leaning governments politically aligned pro-Palestinian forces.
In the midst of the 2008-2009 three-week conflict between Palestinian militants and Israel, then-Venezuelan leader Hugo Chávez cut ties with Israel, and Bolivia severely limited them. After the 2010 raid on the so-called Freedom Flotilla to Gaza by Israeli forces, Nicaragua suspended ties with Israel and Ecuador recalled its ambassador.
Cuba, a longtime supporter of Pro-Palestinian groups including Yasser Arafat's Palestine Liberation Organization (PLO), broke off diplomatic ties with Israel in 1973 and pro-Palestinian groups have also received financial and diplomatic support from Cuba as well as intelligence training from Cuba's General Intelligence Directorate.
Israel launched a massive air campaign on July 8 to stop relentless Hamas rocket fire into Israel, and expanded it last week to a ground war aimed at destroying tunnels the military says Hamas has constructed from Gaza into Israel for attacks against Israelis. More than 630 Palestinians and about 30 Israelis have been killed in the violence. Israel says its troops have killed hundreds of Hamas gunmen, while Gaza officials say the vast majority have been civilians, many of them children.
Kerry plans to meet with Israeli Prime Minister Benjamin Netanyahu later this week on what appeared to be a crucial day in the talks. U.S. officials have downplayed expectations for an immediate, lasting truce between Israel and Hamas, which controls Gaza.
Israel and the U.S. back an unconditional cease-fire proposal that has been offered by Egypt, which would be followed by talks on a possible new border arrangement for Gaza. Israel and Egypt have severely restricted movement in and out of Gaza since Hamas seized the territory in 2007.
But Hamas has rejected repeated Egyptian truce proposals. The militant group, with backing from its allies Qatar and Turkey, says it wants guarantees on lifting the blockade before halting its fire. In addition to discussions with Egypt officials, including President Abdel-Fattah el-Sissi, Kerry spoke several times Tuesday from Cairo with Turkish Foreign Minister Ahmet Davutoglu and Qatari Foreign Minister Khalid al-Attiya.
Earlier this week, Netanyahu said the international community must hold Hamas accountable for the latest round of violence, saying its refusal to agree to a cease-fire had prevented an earlier end to the fighting. He has long accused Hamas, whose charter calls for the destruction of Israel, of not wanting a two-state solution.
Egypt has also been negotiating with some Hamas officials, but relations between the two sides have been strained since Egypt outlawed the Muslim Brotherhood, which has ties to Hamas, after last year's overthrow of former President Mohammed Morsi.
At least some diplomats also see cease-fire negotiations as an opportunity to revitalize stalled peace talks between Israel and Palestinian authorities that were personally shepherded by Kerry but broke off last April following nearly nine months of frustrated attempts. Kerry has stopped short of advocating a new round of peace talks. Still, he has left the door open for broad negotiations between Israel and Palestinian officials once a cease-fire is in place.
The Associated Press contributed to this report. 
Follow us on twitter.com/foxnewslatino
Like us at facebook.com/foxnewslatino