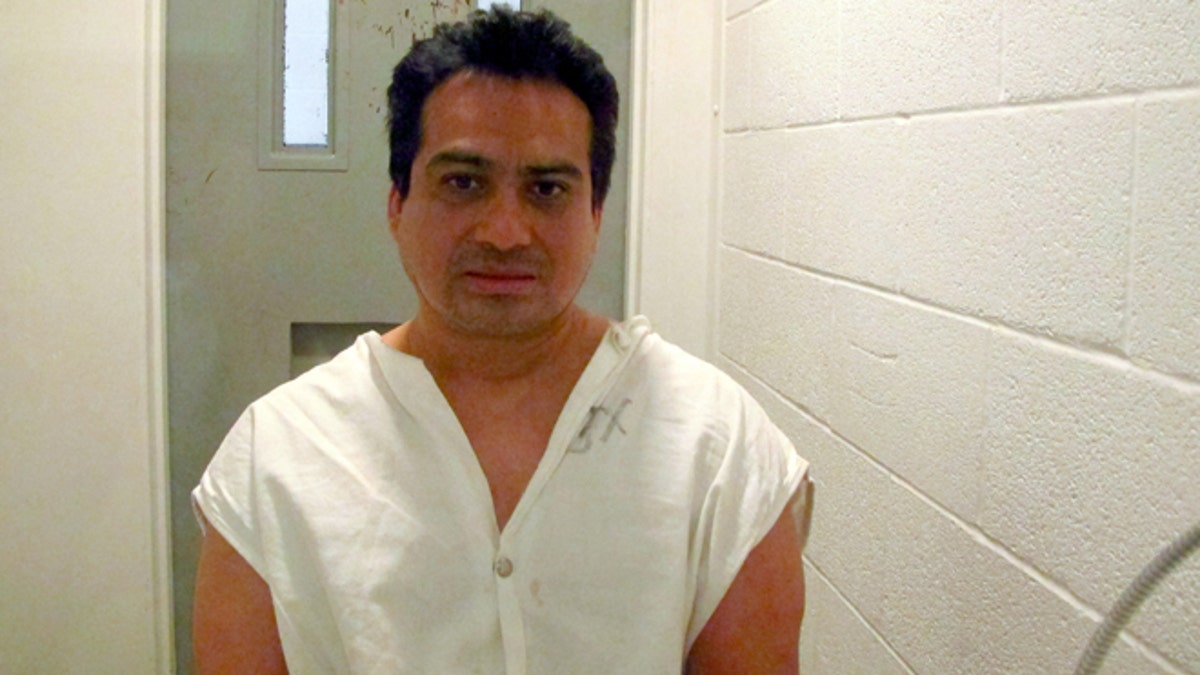 AMARILLO, Texas (AP) – José Salaz knew that he was being hunted after he escaped from a prison in south Texas and tried to start a new life in Mexico with his wife and children.
He was always looking out for the police and managed to elude capture every time they approached him. In the process, he managed to spin out more than 15 years of freedom, which until recently qualified him as the fugitive who spent the longest time at liberty in the recent history of Texas.
Today, he is back in Texas and behind bars, facing at least 13 more years in jail for assault and kidnapping.
In his first interview since his extradition last year, Salaz, 39, told the Associated Press that he has no regrets for having fled, despite that life as a fugitive was "very hard," because he had to support his family.
Salaz says he sold corn on street corners in Mexico and worked in construction and at a tire repair shop, knowing all the while that freedom depended upon his remaining alert.
"I knew that they were looking for me, so I was always careful," Salaz said in the William P. Clements Jr. Unit outside Amarillo, where he is kept in isolation for security reasons.
For a time he lived with his wife in Monterrey, where the couple had two more children, giving them a total of five. Then, sometime before 2010, he saw that police were talking to their neighbors and fled to the Mexican state of San Luis Potosí, where he stayed a few months.
After he returned, the police came to his house and spotted him before he managed to escape again, out the back door. From then on, Salaz said, he lived elsewhere and only saw his wife and children once a week—a tactic that allowed him to elude authorities for several more years.
"For many years, we knew where he was," said John Moriarty, who was inspector general of the Texas Department of Criminal Justice for most of the time Salaz was a fugitive. "We couldn't get him out of Mexico. It was pretty annoying."
Texas officials worked with Mexican and the U.S. Marshals Service to find Salaz, a U.S. citizen convicted in 1996 of aggravated kidnapping with a deadly weapon and two counts of attempted capital murder of a Houston police officer.
According to a 2014 Marshals Service release, Salaz and an accomplice began a firefight after learning that the men making the ransom exchange were undercover police officers.
Salaz was serving three concurrent 35-year sentences when he escaped from the recreation yard of the minimum-security Garza East Prison in Beeville on March 22, 1997.
During his time on the lam, investigators spoke frequently with his mother, father and some of his 10 siblings—all of whom in the Houston area – as well as his wife in Monterrey, to try to discover his whereabouts.
When they finally captured him in 2013—16 years after his escape—he was on his way to meet his wife. Authorities have not said who told them about the meeting.
"They had me surrounded" Salaz said. "There was no way to escape."
Salaz will serve out his sentence in a cell in solitary in a maximum security prison in Texas.
"With the network he had in place, we had to place him in a high-security facility away from the border with Mexico," said Bruce Toney, current inspector general of the state prison system in Texas.
Prison officials say the Salaz's escape one year after his conviction was well-planned and that others were involved, including driving a vehicle very close to the prison to help him escape to the south.
However, Salaz tells a different story. He says he decided to escape without any planning and that nobody helped him. When he escaped from the yard, he climbed over three 16-foot, razor-wire topped fences while wearing shorts and tennis shoes.
Bleeding from numerous wounds, Salaz said he crossed forests and fields on foot during the first night. For two weeks, he hid during the day and walked at night. He finally managed to take a bus to Laredo and crossed the border on foot.
"On one hand I was afraid, but then was happy that I managed it," said Salaz, whose flight cost two guards their jobs and caused two others to be placed on probation.
In 2028, when Salaz comes up for parole, Toney says his agency do everything it can to keep him behind bars.
Until then, Salaz said, has no intention of causing trouble.
"I want to end this, be a new man and start again," he said.
Like us on Facebook