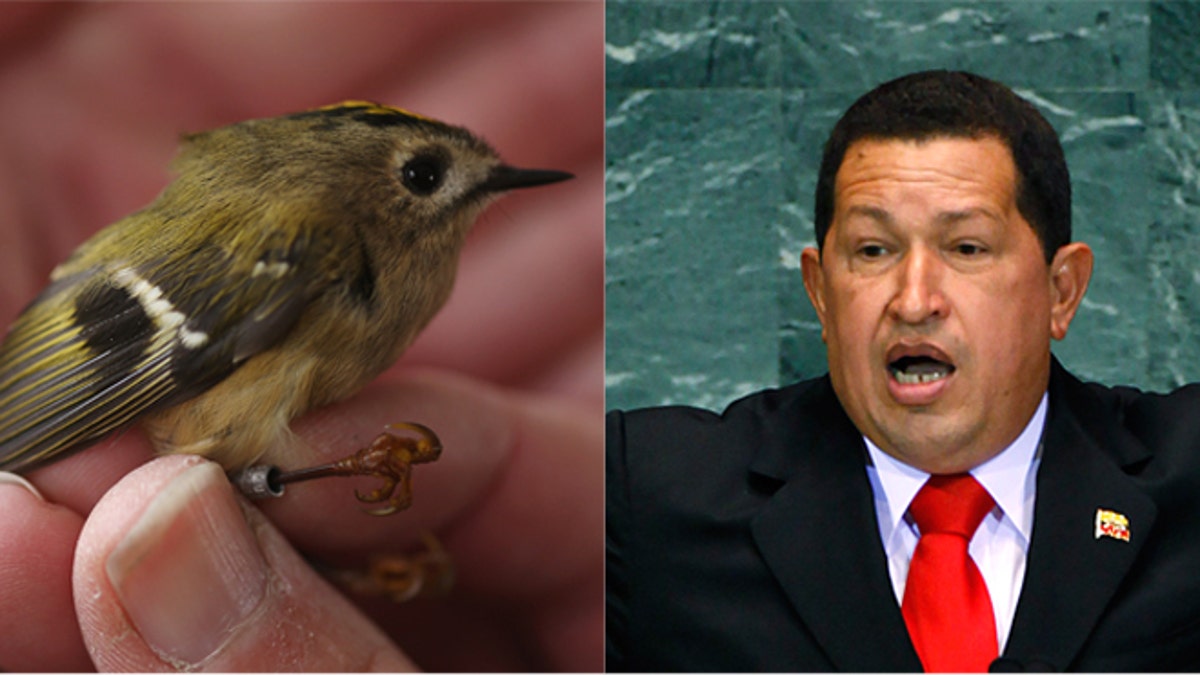 It's been a long, strange trip in Latin America this year. Besides the big headlines like Hugo Chávez's death and the now infamous handshake between Barack Obama and Raúl Castro there were some more far out stories coming from the region in 2013. Fox News Latino has compiled our top ten most bizarre stories from Latin America in 2013.
10: Colombia's Crooks Take To The Catwalk: In most countries prisoners dress in either bright orange, black-and-white stripes or maybe pink if you're in Arizona's Maricopa County. In one Colombian prison string bikinis, headdresses and floor length gowns are part of the dress code…at least for one day. For the last 18 years, the 2,222-inmate Buen Pastor women's prison in Bogotá has hosted a beauty pageant to crown the jail's "Reina Madre" or "Queen Mother." This year's pageant featured TV and musical celebrities serving as judges. While most of women are incarcerated, none of them will receive extra time for any crimes of fashion they may have committed.
9: Ancients Peruvians Were Really Attached To Their Dogs: Peruvian archeologists unearthed the mummified remains of some 137 dogs thought to be more than 900 years old, in an archaeological complex located within Lima's main zoo. According to Peru's El Comercio, the dog skeletons were found in resting positions alongside human remains and were possibly buried with their owners as part of a ritual ceremony. And they called it puppy love.
8. Uruguay's President Plans To Adopt Dozens Of Kids After Leaving Office: Don't get any weird ideas, people. Uruguay's "poor president" wants to adopt 30 to 40 poor children after he leaves office and have them come live with him and his wife on their ramshackle farm on the outskirts of Montevideo. While living with the 71-year-old world leader and his wife, the children will be brought into the family and also taught how to work the land. Besides teaching these kids how to farm, the childless president said that he also had to start thinking about succession. "My family are the children of the poor who want to work, those are my kids – so I'm determined to start this rural trade school," he said.
7: Bolivia's Brewery Riding On High Times: A brewery in Bolivia has come up with a way to get buzzed in more ways than one: coca beer. Combining the thirst-quenching ability of beer with the stimulating effect of the Andean nation's coca leaf, Ch'ama is a coca and barley-based alcoholic drink that brewers claim helps locals and visitors cope with Bolivia's notorious high altitude. Local bar owners said the speedy suds have become very popular with tourists "who want to try something new," according to Alejandra Orihuela, owner of a bar named K'umara ("Healthy" in Aymara).
6: California Woman Mistakes TJ in Mexico for T.J. Maxx…With Terrible Results: A woman from the San Diego area who had been missing for four days was found in Mexico. Ann Terhune, 60, left a San Diego library and decided to go to T.J. Maxx. "I was just enjoying driving," she said, "and it started raining, and I guess my vision was impaired by that." Eventually, she missed a road sign that warned her she was entering Mexico. "People were saying, 'Didn't you see the big sign that said Welcome to Mexico?' And I didn't." When she realized her mistake, she was 15 miles south of the border in Rosarito. Then she ran out of gas. When she came back from the nearest station with a can of gasoline, her car was gone. After sleeping in a convenience store, getting kicked out of motels and being afraid to ask to borrow a phone, a Mexican cop finally offered her a ride to the border. She never did make it to T.J. Maxx.
5: Justin Bieber Runs Amok in Latin America…Enough Said: Ahh, the Biebs. For about a month, the Canadian pop star provided daily entertainment thanks to his antics in the region. From graffiti tags in Brazil and Colombia to stomping on the Argentinean flag during a concert to a sex romp that ended with shots of a dozing Bieber going viral, the singer really made himself known during his tour, and made at least one Brazilian woman a true "Belieber."
4: A Real Crappy Situation In Venezuela: A contested election, furor in the streets of Caracas, food shortages, rising crime rates and a floundering national oil company. Things didn't seem like they could get any worse for newly-elected Venezuelan President Nicolás Maduro. Then the country ran out of toilet paper. Maduro announced that his government had imported 50 million rolls of TP to help clean up the situation and called on Venezuelans to stay calm as some media opponents criticized his administration for the stinky state of affairs.
3: Environmentalist Ties The Knot With A Tree: The old saying is that marriage is like a tree and it needs roots to grow. Well, what happens when you marry a tree? That's exactly what one Peruvian environmentalist recently did when he tied the knot with a tree in a strange ceremony in Argentina. Richard Torres – activist, actor and Johnny Depp doppelganger – walked down the aisle to wed his woody sweetheart to raise awareness for environmental concerns. Talk about being a real tree-hugger.
2. Oh, Baby! 82-Year Old Discovers She's Been Carrying Fetus For 40 Years: Doctors in Colombia discovered a 40-year-old fetus inside an 82-year-old woman who had been complaining about stomach pain. The woman checked into a Bogotá hospital where X-rays revealed the shocking discovery – a dead, decades old, calcified fetus – inside the woman's abdomen. Doctors believe the woman had a medical phenomonen called a lithopedion, or "stone baby," which occurs most commonly when a fetus from "abdominal pregnancy," which implants outside the uterus, dies and calcifies because it is too large to be absorbed by the body.
1. The Late Hugo Chávez Tweets To Nicolás Maduro: Venezuela's Nicolás Maduro claimed to have received a couple of tweets from Hugo Chávez, shortly after Chávez's March 5 death. No, the formerly prolific tweeter and late president did not use the social media service from beyond the grave. Instead, he allegedly visited Maduro in the form of a bird. The first time was in April, while Maduro was on the campaign trail, and the feathery Venezuelan president that he was happy with the way Maduro was running the country. Maduro's claim sparked a controversy, with some fans expressing admiration for Maduro's remarks, others, shockingly, calling him crazy.
Follow us on twitter.com/foxnewslatino
Like us at facebook.com/foxnewslatino