French terror cell linked to Paris attacks jailed for up to 16 years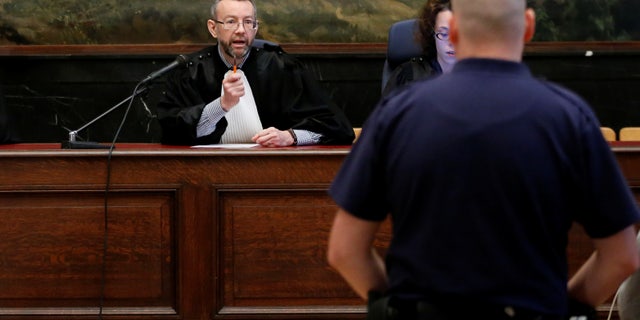 NEWYou can now listen to Fox News articles!
A Belgian court on Tuesday sentenced the leaders of an extremist cell linked to the deadly attacks in Paris last year to up to 16 years in prison.
The court in Brussels jailed Marouane El Bali, the trial's star defendant, Souhaib El Abdi and Mohamed Arshad for 16 years. A fourth man, Omar Damache, received an eight-year sentence.
In total, 16 people were convicted for being members or leaders of "a terrorist group." Some were also found guilty of planning attacks in January 2015. Nine of the defendants are still at large.
Belgian police stormed the suspected plotters' hideout in the city of Verviers, eastern Belgium, on Jan. 15, 2015, killing two men and arresting El Bali, 26, who surrendered.
Police were fired on at least 40 times, and reported finding three Kalashnikov-style assault rifles, four handguns, chemicals to make explosives and 23 items of police uniforms inside the Verviers residence.
El Bali was charged with the attempted murder of police officers.
El Abdi's lawyer, Xavier Carrette, said the ruling was unfair.
"Clearly the attacks in Paris and Brussels made an impression on the judge," Carrette told reporters. "I think they wanted to make an example of them. Using justice in this way is not a good form of justice and it is not this kind of justice that will improve things."
"Sixteen years is something we have never heard of here before in Brussels," he added.
According to Belgian authorities, the suspects were being directed from afar by Abdelhamid Abaaoud, who was hunted down by French police and killed days after the Nov. 13 attacks that killed 130 victims in Paris. Like El Bali and the two men killed in the Verviers raid, Soufiane Amghar and Khalid Ben Larbi, Abaaoud was from the multiethnic Molenbeek neighborhood of Brussels.
Belgian officials have said they linked Abaaoud to the plot by tracing a Greek cellphone being used by someone calling himself "Omar."